Sudha Murty: A Philanthropist's Saree Vow and a Literary Couple's Love for Books
Sudha Murty, the Chairperson of Infosys Foundation, is a remarkable woman known for her inspiring journey and impactful contributions. She's not just a renowned author with a vast collection of over 150 books but also an educator, philanthropist, and dedicated social worker. Her story challenges traditional gender norms, as she pursued a career in engineering, a field predominantly occupied by men. Despite her significant net worth of Rs 700 crore, Sudha's humility shines through in her lifestyle choices. For the past three decades, she has refrained from buying new sarees.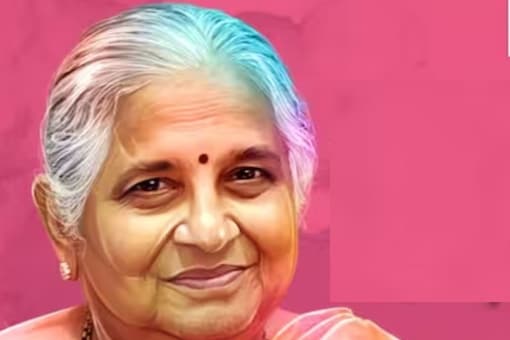 In a revealing interview, Sudha shared the reason behind this decision, which stems from a deeply spiritual experience. During a visit to the holy city of Kashi, she made a sacred vow to give up something she cherished the most. In her case, it was shopping, especially for sarees. Her commitment to this vow is unwavering, and she now limits her purchases to essential items only.
read more :Hockey Sarpanch Inspires Change: Neeru Yadav's Journey
Sudha's husband, N R Narayana Murthy, co-founder of Infosys, shares a similar perspective. The couple's spending habits revolve around their passion for books, amassing a staggering collection of around 20,000 volumes. They both value knowledge and learning, evident in their shared passion for reading.
Notably, Sudha's sarees are not just garments; they hold sentimental value. She receives them as gifts from her sisters, close friends, and occasionally from the NGOs she supports. Among her cherished possessions are two hand-embroidered sarees given to her by a group of brave women who overcame adversity. Sudha's commitment to her principles and her connection to those she works with is truly inspiring.
Sudha Murty's Diverse Impact
Sudha Murty's contributions to society have earned her numerous accolades, including the Padma Shri Award for her exceptional social work in 2006 and the Padma Bhushan in 2023. Her journey began in a Kannada-speaking Deshastha Madhva Brahmin family, where her father, R. H. Kulkarni, was a surgeon and her mother, Vimala Kulkarni, a school teacher. Sudha and Narayana Murthy are parents to two children, Akshata and Rohan Murthy. Akshata's influence extended beyond the family, as she is married to UK Prime Minister Rishi Sunak, showcasing the Murty family's remarkable impact on various aspects of life, from business to politics. Sudha believes that the role of a wife can be transformative, illustrating the power of family dynamics. Her daughter Akshata even played a significant role in shaping Rishi Sunak's dietary preferences, demonstrating the profound influence one can have within the family.
Like this post?
Register at One World News to never miss out on videos, celeb interviews, and best reads.