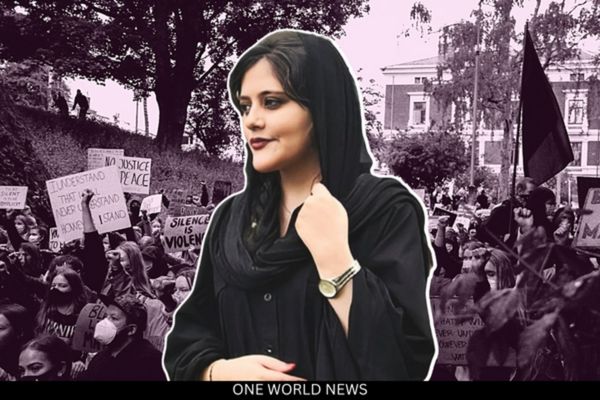 Iran- where women die for improper hijab, Anti-hijab protests demand justice for Mahsa Amini
---
Anti-Hijab Protests: The world woke up to the viral videos where some women chopped off their hair and some burnt  their Hijab. They are Iranian women.
Why are Iranian women cutting their hair and burning their hijabs? 
Massive anti-hijab protests erupted in Iran following the funeral of Mahsa Amini, who reportedly died in police custody after being arrested by the country's notorious morality police. While the protesters held the morality police responsible for the death of the young woman, the police, on the other hand, claimed that Amini died due to a heart attack. The police had also released closed-circuit footage from the police station, which shows when Amini collapsed.
The deceased's kin said she had no history of heart disease.
What Happened to Mahsa Amini? 
This is us,our voice.#مهسا_امینی #Mahsa_Amini pic.twitter.com/yIp40wSFgQ

— pinki. (@iitsysmn) September 20, 2022
Mahsa Amini, a Kurdish woman, died in the hospital on 16 September, three days after she was arrested and reportedly tortured by the morality police in Tehran. This was a punishment for allegedly violating the country's strict hijab law. As per the reports, she was not wearing the Hijab properly. She was in the custody of the moral police.
Demonstrators immediately gathered outside the Kasara hospital in Tehran, where Amini was being treated. Human rights groups reported that security forces sprayed pepper spray against the protesters, and several were arrested.
Amini's body was then transported to a native province of Kurdistan for burial. Her body was laid to rest in a hometown 460 km from Tehran in northwest Kurdistan Province.
Amini's death has triggered an outcry against the morality police from celebrities and prominent figures on social media. Iran's judiciary has launched an investigation into the matter.
What is happening in Iran? 
Women of Iran-Saghez removed their headscarves in protest against the murder of Mahsa Amini 22 Yr old woman by hijab police and chanting:

death to dictator!

Removing hijab is a punishable crime in Iran. We call on women and men around the world to show solidarity. #مهسا_امینی pic.twitter.com/ActEYqOr1Q

— Masih Alinejad 🏳️ (@AlinejadMasih) September 17, 2022
Several videos surfaced on social media showing protesters shouting anti-government slogans.
Death to the dictator, WOMAN, LIFE, FREEDOM, were some of the slogans chanted by the crowd, while some women took off their head scarves. Police were seen firing tear gas, and some even suffered an injury.
After the situation went out of control, the government of Iran suspended the internet.
What is an improper Hijab? 
Mahsa Amini used to wear Hijab but according to her preference. And this is unlawful in Iran. Under Iran's Sharia (Islamic) law, Head scarves have been compulsory for women in Iran since the 1979 Islamic revolution. Members of the morality police enforce the strict dress code. Women are obliged to cover their hair and wear long-loose-fitting clothes. And who do not abide by these laws face public rebuke, fines, and even arrest.
Iran & Its Burqa Battle
See how Girls are mercilessly Beaten, assaulted & humiliated Publicly by Psychopath Radical Predators in Iran for not wearing #Hijab .Bloody Morality Police Monsters😡violently assault Girls enforcing Hijab Compulsion. These Extremist countries r living Hell 4 women#MahsaAmini pic.twitter.com/UEVwnN97si

— Jyot Jeet (@activistjyot) September 18, 2022
Anti-Hijab protests & controversies are not new to Iran. Iran's government has been criticised in recent years over the treatment of people, especially young women, and videos uploaded on social media have shown officers forcing women into police vehicles.
A 5 July order by president Ebrahim Raisi enforced the hijab law. This resulted in a new list of restrictions on how women should dress. Women who do not comply with the Islamic Dress code in Iran are barred from entering government offices and banks.
Women are even prohibited from appearing in advertisements due to hijab rules.
Currently, only two countries, Iran, and Afghanistan, have imposed Hijab on women of their countries. However, this time it seems that these massive protests in Iran may force its government to loosen the strict rules of Burqa slightly.
Liked this post?
Register at One World News to never miss out on videos, celeb interviews, and best reads.