The month of June is all about refreshing festivals!
---
India is the nation of festivals.  Every year varieties of festivals are celebrated in our country with zeal and enthusiasm. We are blessed with our heritage culture. So, instead of planning a trip or shopping immensely this June- it's time to visit the real India and participate in its festivals.
Here, are a few events for you to enjoy in the month of June:
1.Sindhu Darshan Festival of Leh: Held on the full moon of the month June (Guru Purnima) the Sindhu Darshan Festival is the celebration of the Indus River (also known as the Sindhu River). This festival signifies communal harmony and unity of India it is celebrated in Leh (Jammu & Kashmir). One of the most important traditions of the festival includes bringing water from various parts of India and immersing it in the Indus River, thereby representing a diverse culture that lives in harmony. It is all about unity. Post the immersion, prayers are conducted, followed by sightseeing and the day ends with a bonfire for all participants.
Details:
When: 23rd-26th June
Where to Go: Leh, Jammu, and Kashmir
2. Mango Festival of Delhi: The International Mango Festival in Dilli Haat is exactly where you want to be this summer. Summer is all about refreshing and varieties of mangoes. Summers are actually incomplete without mangoes. This festival in alliance with Delhi tourism was started to promote the ample variety of mangoes available in India. However, it has grown to a large scale, hosting over 1100 different varieties of Mangoes. There are a number of activities conducted to promote the native and hybrid mangoes, like mango tasting, mango slogan writing, trivia, mango eating competition and a lot more. Don't miss it!
Details:
When: 24th-26th June
Where: Dilli Haat, New Delhi
3.Sao Joao Festival of Goa: Goa has always been India's favourite destination and the Sao Jao Festival one of the state's most colourful carnivals. Goa is the best place to try exotic drinks and it is one of the best vacation destinations. Legend has it that Mother Mary broke the news of Baby Jesus' coming into the world to her sister Elizabeth, who was expecting St. John at the time. The news got St. John so elated that he leapt within her womb, which is now celebrated by locals jumping into wells and ponds shouting 'Viva San Joao'. People wear vibrant clothes and coronets made of fruits, leaves and flowers. This festival is known as the 'Festival of Fertility' is full of joy and happiness.
Details:
When: 24th June
Where: Goa
Also Read: Basic Travel Etiquette: Are You Ready For A Vacation?
4.Hemis Festival of Ladakh: The Hemis festival is dedicated to Lord Padmasambhava, who is known as the 'Second Buddha' all across the Buddhist community. It is believed that his life mission was to improve the spiritual condition of all living beings. On the day of his birth which comes once in 12 years in the Monkey Calendar, there is a celebration at the Hemis Monastery, Ladakh. On the day of the festival, a Tibetan table is placed on a dais, pots of uncooked rice, tormas and incense sticks are placed above. The ceremony begins with the beats of drums and is characterized by the Mystic Mask Dance, referred to as the Chams performance.
Details:
When: 26th, 27th June
Where: Ladakh, Jammu, and Kashmir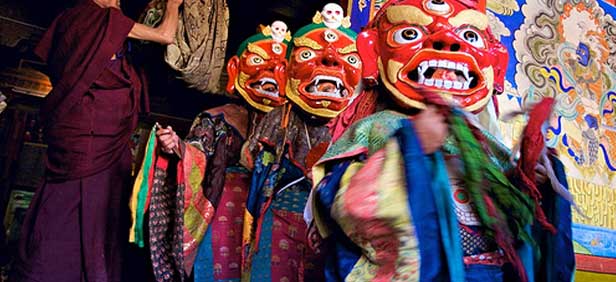 5.Champakulam Moolam Vallamkali festival of Kerala: The popular Snake boat race (Vallam Kali) is one of the oldest and most popular boat races in Kerala. It is one of the beautiful festivals you can witness anywhere.  Legend has it that it was started in commemoration of a Christian family who supported a Hindu King in transporting a Krishna Idol. The king, overwhelmed with the affection of his Christian subjects started the water carnival in Champakulam. Today, even after 500 years, the boat race takes place every year followed by feasts and other interesting activities.
Details:
When: 20th June
Where: Kerala
6.Saga Dawa of Sikkim: The holiest festival for the Mahayana Buddhists, Saga Dawa celebrates the life, death and nirvana of Lord Buddha. This festival signifies Peace and is celebrated by lighting butter lamps in the monastery. The highlight is a procession that starts from the Tsuk-La-Khang Monastery carrying Holy Scriptures. People who are part of this procession are given blessings.
Details:
When: 2nd June
Where: Sikkim
7.Mirchi Roohani Music Festival of Mumbai: Organized by Radio Mirchi, this wonderful festival brings together Legendary Indian singers and musicians. Soul performances by iconic singers like Rekha Bhardwaj, Wadali Brothers are given.
Details:
When: 4th June
Where: Mumbai
Have a news story, an interesting write-up or simply a suggestion? Write to us at info@oneworldnews.in