Sushma Swaraj Death Anniversary, a woman who was known as 'Jan Ki Neta'
---
Dear Sushma Ji,
Sushma Swaraj Death anniversary: Here is a thank you note to you on the behalf of every strong woman. 6th August marks the death anniversary of Sushma Swaraj. It's been 3 years now and we are now left with mere memories. Your aura and charisma is something that cannot be forgotten.  Your contribution to Indian politics is incredible. Thank you for always being fearless and being available for the people of the nation.
Sushma Swaraj was known as the Jan Ki Neta.  August 6 marks the third death anniversary of Sushma Swaraj. She died due to a cardiac arrest last year. Today, politicians from all walks of life are pouring tribute to the strong lady.  Here are a few things that she has in her kitty! Indeed she is a true inspiration to millions of women out there.
(1952- 2019)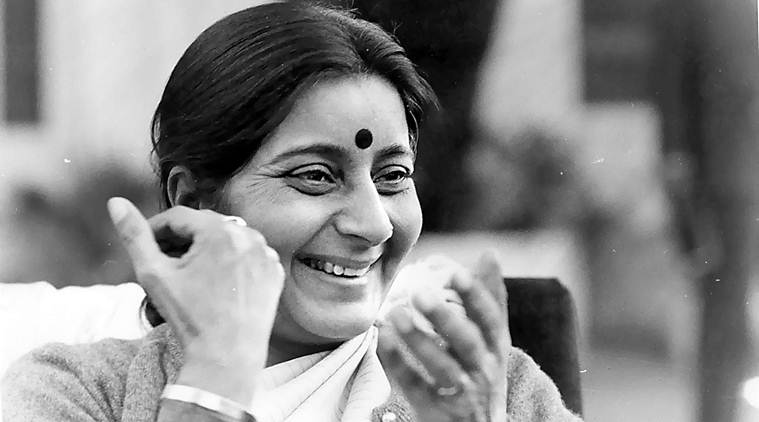 (1952- 2019)
Sushma Swaraj was the youngest cabinet minister in the Haryana government. She went on to become the first woman chief minister of Delhi.  She didn't stop here. Later, she became the first woman spokesperson for a national political party in the country.
She did some commendable work during her tenure as external affairs ministers. She handled some sensitive issues with utmost grace which included Indo- Pak and Sino – India relations. Notably, she was called Jan Ki Neta because she was always just a tweet away. She was very active on social media.
(A strong woman)
The way she resolved the prickly Doklam standoff between Indians and Chinese will be remembered forever.
Swaraj was a well-read woman and was a brilliant orator. Always right on facts and she used to speak with conviction. She was respected all across the globe. Sushama Swaraj was a law graduate and she used to practise in the Supreme Court.  Notably, she was elected 7 times as the member of parliament.
Her fiery speech of 1996 was last year trending when Article 370 was revoked. Interestingly, her last tweet too came on the same page. She wrote, "Thank you Prime Minister. Thank you very much! I was waiting to see this day. "After that, she was taken to AIIMS where she was declared dead.
Take a look at the speech:
https://www.youtube.com/watch?v=diOKcfiKAIE
What an orator she was! Her death was an end of a golden chapter of Indian politics.
Sushma braved odds to marry, she taught us –' Love matters'
Sushma Swaraj was married to his husband for 44 years. They enjoyed a heart-warming camaraderie with each other and their story was known to all. Their love story started in their college days.  She was bold even when it came to love life. There was a time when Sushma Swaraj said she wanted to quit politics to spend more time with her husband.
Their love wasn't a bed of roses. Their family were against the decision as she came from an orthodox Haryana family but she took a stand. And proved you need to take a little pain to be with someone who you love!
Sushma Swaraj was one of the most loved Indian Politicians. She has set many benchmarks and we will always remember her for her incredible contribution to Indian Politics. Smriti Irani lovingly called her Didi. In her interviews, Smriti has repeatedly said that she has learnt a lot from Sushma Swaraj and we couldn't agree more. In the history of Politics, Sushma Swaraj will be known for her prompt decisions, fearlessness and the passion for serving her nation. She is indeed an inspiration for many women out there.
Liked this post?
Register at One World News to never miss out on videos, celeb interviews, and best reads.