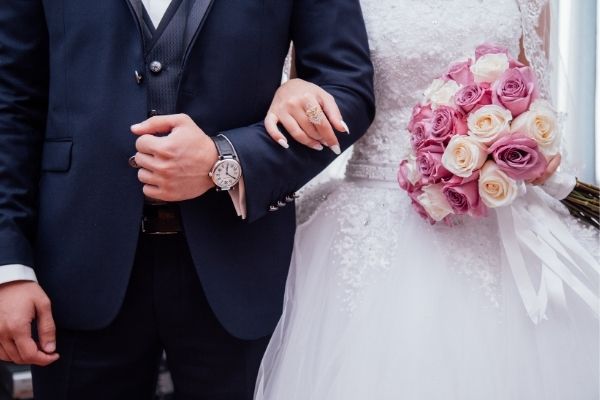 This isn't like any other home wedding blogs you've read. This is different.
---
Getting married in a simple, intimate location with just your family and friends seems like THE PERFECT PLAN.
You don't want to skip this one so keep reading because these real reasons to organize a home wedding may surprise you, and it does make sense.
Now, just when you thought what could be more amazing than celebrating the biggest occasion of your life at a place you feel the happiest and most comfortable in?
Believe it or not but COVID-19 has already changed the way people think, feel, and plan. Couples are trying hard to manage the emotional and financial burdens of this year, and they're shifting wedding planning to be online, reducing guest lists and at the same time expanding them virtually, and celebrating with most, but not all, of their loved ones with of course safety protocols.
With everything's that going on, couples are even more in love and are feeling confident in the decisions they've made together.
Now, what's different about this post is that it's based on real data from couples who got married in 2016 – 2020. These are the real thoughts from real couples who chose to elope and organised home wedding!
Here are some facts about why couples are choosing home wedding ceremonies:
Let's stay within budget: The absolute reason in this scenario because downsizing on everything is the first step to planning your home wedding. Ideally, in Indian weddings, there is a guest list of 200-500 people who come to your wedding, eat food and go and you are left with the ones you love the most i.e. your family and friends. With this, you can easily tone down the guest list and plan the food, seating, and other arrangements accordingly.

It is your home: Helps you make more amazing memories in a space you already love and cherish. We know home is where the heart is and which is exactly why many couples choose to exchange their vows in their own backyards because your home is, after all, the place where you have experienced life's most significant moments.

Make the most of the money saved: Since you have toned down on the guest list and have other necessary arrangements taken care of, your wedding expenses will eventually come down. It can be estimated from an average of INR 10-20 lakhs or even more which is usually spent on such events, with home wedding trends, couples are now just spending around INR 2-4 lakh more or less on the smaller ceremony and parties for their friends.
Now, with so much money being saved, do something for yourself or just simply start a retirement fund. Rather than spending the money that you earned by working hard in some party for other people, you can invest it for your future like creating an emergency fund by opening an RD or FD, spending on home decor, furnishing, purchasing a new car and plenty of other things.
Family & Friends: It just you, your family and friends that matters the most on your special days because the rest is the crowd and you don't have to deal with it if it is a home wedding. The whole arrangements like decoration, stage set up, performances, music and singing and the food are prepared by your own family and not by some hired wedding planner.

Virtual Streaming: Since it is a fact that all your loved ones cannot be physically present for the wedding, you can live stream the ceremony to them using technology so that they can still be present at the wedding even if it is virtually. Though it is true that their physical presence will matter the most, but this way, no one will be missing out on anything and will get to see whatever is going on. Particularly at this difficult time where the Coronavirus pandemic has taken our freedom of organizing big events, live streaming your whole wedding actually suits this current scenario of a pandemic. The same thing can be done for the invitations using.
Read more: Just Friends? Here are surprising facts about what guys really think of their female friends
A few ideas for home weddings that are totally low maintenance, and covering all the major areas to provide a beautiful and impactful look:
A beautiful flowery entrance: If there are any local vendors around you, then ensure to decorate your home entrance with roses, lily, orchid, and jasmine.

Make Rangoli: It would be a good time to showcase your art skills as rangoli is a traditional thing to make at Indian weddings. Play with colours and flowers to make one at the entrance and if possible make more at various spots at home.

Ceilings with Drape: You will be surprised to see what a little fabric can do. If you have some extra fabric or even dupattas, use them. Keep it formal and elegant with white fabric.

Hang flowers and dreamcatchers: Add a few elements like flowers, lanterns, and dreamcatchers that will draw guests' eyes upward. It creates a surreal space for the rituals and looks magnificent in small intimate weddings.

Stair as your aisle: Stairs can be the perfect aisle to walk down with the love of your life. So, decorate it nicely with fabrics, flowers, and lights.

Fairy lights: All you need is some of the twinkling fairy lights you used in Diwali to turn the look of your home upside down to give it a magical look.

Paperwork: With no doubt, this is the easiest way to add a pop of colour to your intimate wedding decoration. There are many tutorials on Youtube to create some amazing paper flowers.

Candles and light: Your food table also needs some attention so use floating candles and tealights and place them on the dinner table. Light them up because these beauties will brighten up your wedding shenanigans.

Pictures and selfies: This is your place which you will cherish for the rest of your life. Decorating this spot is essential because memories will be made here. Use materials that are easily available like coloured tissue paper tassels, balloons, garlands of greenery, flowers, and lights.

Food display: Garnish all the food items in a way that looks tempting. Half of your work will be done if your arrangements for food and booze are impressive and well appreciated by the guests.
Hosting your wedding celebration at your place will always hold a special meaning to you and in your life simply because one of you grew up here, and when your whole family members decorate it for you, really makes an unforgettable experience, indeed which is why we call it Ghar wali Shaadi.
HappyyyWedding!!
Have a news story, an interesting write-up or simply a suggestion? Write to us at info@oneworldnews.com