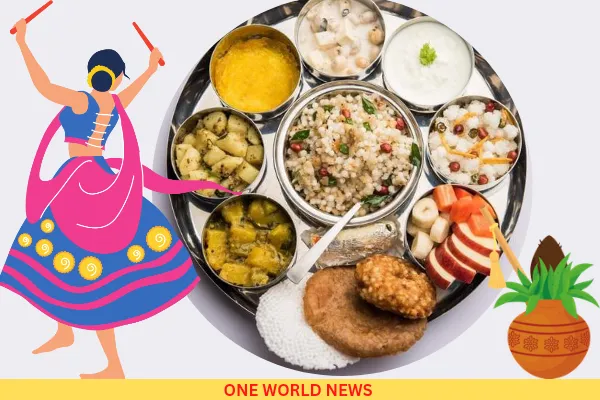 ---
Navratri Fasting Rules: India is known for its culture and tradition all over the world. It is also called the land of festivals. Navratri holds a special place in our catalogue of festivals. Staying away from greasy, heavy or unhealthy food, Indian detox time is here. Fasting around this time helps to cleanse and detoxify your body.
Alcohol and Non-vegetarian food:

Consumption of alcohol

, c

hicken, mutton, fish, lamb, eggs and all non-vegetarian products are strictly avoided during this time. These foods fall under the category of Rajasic foods. Devotees who aren't fasting but worship Maa Durga should also try to avoid having non-vegetarian food.

Onion and Garlic: During Navratri, it is advised to prepare meals without the usage of onion and garlic. According to Ayurveda, garlic and onion should be avoided during seasonal change as they are Tamasic in their nature and it tends to heat your body temperature from within.
Salt:

You are not allowed to use normal table salt during Navratri. Sendha namak is used for preparing your meals during this time because it has low sodium content in its nature.
Spices:

The

inevitable spices

of an Indian household

like

haldi, coriander, and cumin seeds

are

commonly avoided during the Navratri fasts. You can use sendha namak and chilli powder and some households use cumin powder as well.
5. Grains, Flour and Rice: Several types of flour including corn flour, semolina, rice flour, all-purpose flour, whole wheat flour, and gram flour are strongly prohibited during the fasting of nine days. You can use buckwheat flour (kuttu) or water chestnut flour (singhara ka Atta) instead. Even if you can't have your regular rice these days, you can use the special vrat ke chawal, popularly known as Samak ke Chawal for your daily meals.
Wake up early, bathe and pray to the nine forms of Goddess Durga to seek her divine blessings during this auspicious period.
Navratri is one of the biggest Hindu festivals. It is celebrated twice a year with great zeal and fervour all across the nation. The nine-day-long festival has already begun. The idols of Maa Durga are decorated with Kumkum, bangles, flowers, and jewellery. There is positivity all around. The city is decorated like a new bride. Well, Goddess Durga is believed to have nine avatars and each female deity signifies a distinct power. During Navratri, a lot of people give up non-veg and some people also give up onion and garlic. Devotees of Maa Durga observe fast during these nine days. Here are Navratri Fasting Rules if you are observing fast.
Kuttu Ka Dosa
If you are a dosa fan, then Kuttu ka Dosa with potato filling will help you to get over the usual kuttu ki puris and will keep you full for a longer time. Do not forget to serve it with mint and coconut chutney.
Do not drink a lot of Tea/Coffee
Many cups of coffee and tea during the day can make acidity. So, you should not rely on Tea and coffee only. Eat fast snacks at regular intervals of time. 
 

Aloo ki Kadhi
Make your Navratri fast special by trying Aloo ki Kadhi. Move over the boring Aloo ka falahar and try Aloo ki kadhi.
Drink a lot of water
Drinking a lot of water during the fast will keep you hydrated and will also boost your immunity system. So, you should drink water for energy, you can also increase your intake of juice.
Banana Walnut Lassi
Charge up yourself with this nourishing drink. Lassi made with the goodness of bananas, honey, and walnuts will keep you energized throughout the day.
Happy Navratri to all!
Like this post?
Register at One World News to never miss out on videos, celeb interviews, and best reads.