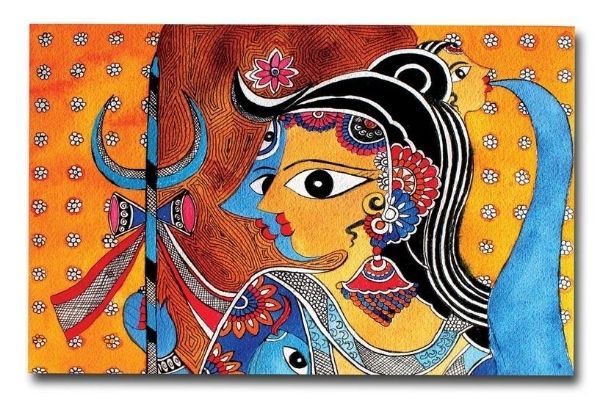 Madhubani Artwork is Bright & Contemporary and its history will leave you in Awe!
---
Pandemic has changed a lot of things around us. From our eating habits to meeting habits, things will never be the same again. Basically, we are left with only one option – Adapt to the New Normal. When we talk about new normal, it clearly means wearing a mask every time you step out of your house, keeping a sanitizer handy, and maintaining social distancing. Face masks and sanitizer have become our new bag essentials. In that case, people are experimenting with different types of masks too & Madhubani artwork masks are a rage these days.
(Beautiful colors)
Remember artist Remant Kumar Mishra? An artist from Bihar who was not able to make money due to lockdown so he decided to make beautiful masks.  They were cotton hand-painted Madhubani masks, which he sold at Rs. 50. His work went viral on the internet and people immensely loved it. Well, he is not alone. A lot of artists are showcasing their talent and skills by making adorable masks decorated with beautiful Madhubani artwork.  Made of cotton and some beautiful artwork, these masks give so contemporary look.
Let us look back at the History of Madhubani Artwork
Paintings and the artwork reflects the culture and tradition of the place from where they originate.  Rarely any ancient artwork becomes a reflection of modern times and issues but this art form is still so relevant.  Madhubani art originated about 2500 years ago is still very much thriving. Since these paintings originated in the Mithila region of Bihar, they are also known as Mithila art.  Mithila painting or Bhitti Chitra was discovered in the year 1934 when a massive earthquake hit Bihar. William G Archer, who was the officer of Madhubani district ( colonial rule) back then, stumbled on these beautiful painting while examining the damage caused by the earthquake.
Read more: From Chocolate, Paper to Sanitizer Ganesha, Innovative ideas are keeping the festive spirit alive!
 (They are handmade paintings)
Why do we love them?
The first and foremost, bright colours just take away our heart. Notably, they are done using fingers and twigs. In modern times, pen nibs are used to make them.  Notably, the framework of the artwork is prepared by using rice paste. You will find hardly any space in the artwork. If there is a border, they are usually embellished with geometric and floral patterns. Interestingly, natural dyes are used to make these paintings!
Kari Puri Devi and her contribution
Eminent Mithila painting artist Kari Puri Devi passed away at the age of 94. But her incredible contribution of bringing this art form on the global map will also be remembered. She inherited this art form from her parents and other senior members of her family. Deviji went on to become one of the most travelled Mithila artists.  She exhibited her work not only in the country but also in countries like US, UK, Japan and France. Notably, she visited Japan 9 times and spent 9 years in that country, she worked at the Mithila Museum which is located in Tokamachi hills in Japan's  Nigata region.  She also educated other women in the village and made extensive efforts to keep the legacy alive.  Notably, several paintings are made on education, eve-teasing, and other important issues to spared awareness.
 (Know about its enriched history)
Milestones of Madhubani Paintings
1. Sita Devi, a Madhubani artist received a state award in 1969. The government also awarded the National Award that year.
2. In the year 1975, another artist Jagdamba Devi received Padma Shri for her beautiful work.
3. Another noted Madhubani painter is Bharati Dayal.  She was awarded National Award in the year 2006. Her phenomenal work has been displayed  in US Embassy, Ministry of External Affairs India to name a few.
Not Limited to paintings – Home décor items will leave you amazed
They are not just limited to paintings. The artwork has made its way to cushions, bags, cups, mousepads. In fact, they are a rage when it comes to Kurtis and dupattas. They are so desi yet contemporary. The bright colours change the vibe of the out, and artwork keeps the look authentic.  Interestingly, now, they have made way to our masks also.
(Let us support local)
Let us support Local
As our Prime Minister said #vocalforlocal. These artists deserve motivation for their work. Let us support local by purchasing these beautiful masks!  Now, you know the enriched history of Madhubani artwork, why don't you try your hands on it? Start with the mask. Do we need to say it is need of the hour?
Wondering from where to buy?
They are available at Ambapali Emporium, New Delhi.
For further queries, you can dial: 011-23363081
Have a news story, an interesting write-up or simply a suggestion? Write to us at info@oneworldnews.com