Lifestyle
Ganesh Utsav 2021: From Chocolate, Paper to Sanitizer Ganesha, Innovative ideas are keeping the festive spirit alive!
Ganesh Utsav & COVID crisis: Bappa will give you 'Online Darshan' this year
---
 The Ganesh Utsav is one of the biggest attractions in India, especially in Maharashtra. The festival is full of colours, joy, zest and fun. Every year Bappa is welcomed in the most vibrant way. Unfortunately, 2021 is not the same, thanks to COVID 19. It has brought our lives on a halt. Things are not just unpredictable, but they are scary too. But as they say, 'Every Cloud Has a Silver Lining'. Time can be tough but it will change for sure. Lord Ganesha is also known as Vighnaharta. To simply put, Lord Ganesha makes sure that- All is Well in the end. Ganesh Visrajan is not just a ritual, it is an emotion. Devotees dance their heart out and request Bappa to come again next year. Well, this year Visrajans will not take place the way they were used due to pandemic. But people are trying their best to keep the spirit alive.   Notably, Ganesh Utsav this year will be celebrated from August 22 – September 1.
(Ganpati Bappa Moriya)
Bappa goes online this year – Wants you to follow Social Distancing
In fact, this year, Bappa will give you 'online Darshan'.  Keeping in mind the current situation of Pandemic, a lot of zoom and Facebook links are sent to people for Lord Ganesha's darshan. The Corona crisis has hit idol artists hard. The demand for the idols has been reduced this year as people are afraid to step out. A lot of celebs are making Ganpati idols at home. COVID 19 has changed the way of celebrations, and people are making the best possible ways to come out with innovations.
Read more: Lessons by Lord Krishna to cope with 'Difficult Times' that can help you during COVID 19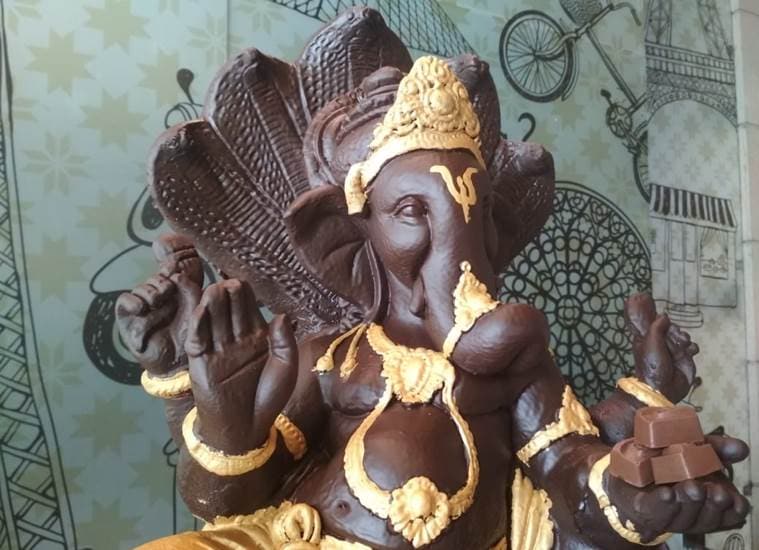 (Chocolate Ganesha)
Read: Ganesh Utsav
Innovative ideas are keeping the spirit alive
From chocolate to Kheer Ganesh idols, we can see a lot of innovations this year. In fact, an artist has designed idol with sanitizer keeping in mind the COVID crisis.  Nidhi Sharma, a woman from Indore has made chocolate Ganesh idol which will be submerged in milk. Another woman from Mumbai, Rinku Rathod is developing a Kheer Ganesh, isn't interesting? An artist from Mumbai has developed Lord Ganesha with a sanitizer so that Ganesha can help us sail through this difficult time. The artist explained the idea by saying, "Ganesh vign harte hai aur ismai sabse bada sign hai corona. Sanitizer unka asthra hai taki woh hume isey mukt karva sake."
(Lord Ganesha will remove all the obstacle)  

Apart from it, an artist Rohit Vaste works on developing paper Ganesh which can be easily dissolved in water. Which means less water pollution. Notably, he is the one who has introduced paper Ganesh in India and all across the globe. Interestingly, you can order the idols online and get it delivered at your doorstep.
Checkout the link here:
Bappa is coming: Let us expect some Good News
Lord Ganesha is known for taking away every obstacle from our life. 2021 has been a tough year and a lot of us are still struggling to cope with the situation. Many people died due to COVID, and many lost their livelihoods. Finally, Bappa is coming! In that case, we are hoping the situation will change. Happy Ganesh Utsav to all our readers! Be safe and do not forget to maintain Social Distance. 
Before we wrap up. Here is a gentle reminder: 
The World is going through a tough time to support each other let us contribute by purchasing idols from the local vendors. let us spread Happiness and Positivity. 
Have a news story, an interesting write-up or simply a suggestion? Write to us at info@oneworldnews.com