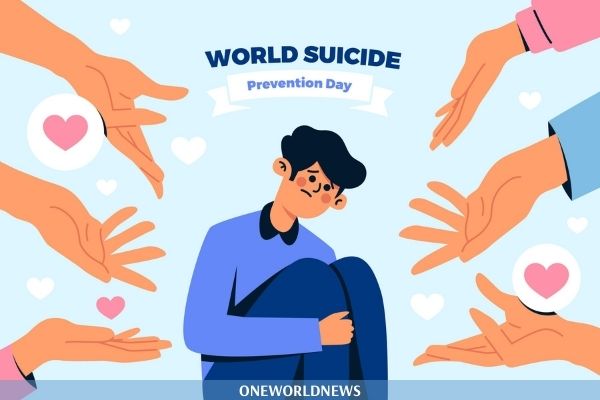 World Suicide Prevention Day 2021: Where does India stand? 
---
World Suicide Prevention Day 2021: As per the data of the World Health Organization, over 7,00,000 people die by suicide every year. This means, in every 40 seconds one person ends his or her life. As per a study, every person who dies by suicide may have attempted suicide at least 20 times before succeeding in doing so. 
In 2019, apart from high-income countries, lower- and middle-income countries contributed 77% to the global suicides. It is the fourth leading cause of death among teenagers, aged between 15-19. Therefore, World Suicide Prevention Day is observed every year on September 10.
When did it start? 
Drawing the world's attention to such a crucial issue every year World Suicide Prevention Day is observed on 10 September. On September 10, 2003, in Stockholm Sweden, the international association for suicide prevention teamed up with the World Health Organisation. They planned to create a day dedicated to a crucial that 'Suicides are Preventable'. The goal was to shine a light on the problem around the world. And hope to reach out to these people, before it is too late. 
The first year was a success and in 2004, WHO formally agreed to co-sponsor the event again. And also made it an annually recognized day.  Currently, World Suicide Prevention Day is observed in over 60 countries with hundreds of events around the world.
In 2016, WSPD (World Suicide Prevention Day) launched a two-toned ribbon to raise even more awareness. The yellow and orange colour represents a candle flame. This symbol is often seen in the events that are trying to create awareness, about suicide prevention. The ribbon was even added as a twitter emoticon, for #WorldSuicidePreventionDay in 2018. This hashtag will be back again this year. It is also available in 16 different languages. 
Creating hope through action
Each year WSPD has a theme and this year's theme for the day is "Creating hope through action". The theme is chosen so that all feel supported, equipped, and inspired. As per the reports of PubMed Central (PMC), the suicidal tendency is directly linked to mental health. After corona wreaked havoc across the globe, mental health problems became even more of a concern. There are various phycological implications of quarantines, social distancing, and other restrictions.
The local organization will honour that theme with several different events and fundraisers. 
The International Association for Suicide Prevention informed on their website about 3 particular groups that would play a key role in the prevention of suicide. 
1.The first group includes those who have successfully battled with suicidal tendencies or bereaved someone because of suicide.
2. The second group includes civic leaders who have the potential to influence society and support those who are at risk of suicide. These people had played a pivotal role in influencing people whether it be in hospitals, schools, communities, or government organizations. 
3.The third group includes all of us. 
Why is hope important? 
Psychology researchers say that hope is the single most important feeling we can have and it is necessary for our mental health. People found their hopes being tested as they struggle to make their dreams a reality, especially during a pandemic. 
Attention Economy: Your Attention is a Resource For Digital Platform's Economy
Hope is the awareness that goals can be achieved. Goals give people momentum to keep living. It is different from wishful thinking. Hope sees the real and hard obstacles on the path to reaching goals, but it motivates us to stick around. 
From the following link, you will get the necessary details about the ongoing and to-be events for World Suicide Prevention Day 2021. 
If you are also struggling as well or wish to sparkle hope of living in someone's life then do join the event on this World Suicide Prevention Day 2021.
Liked this post?


Register at One World News to never miss out on videos, celeb interviews, and best reads.