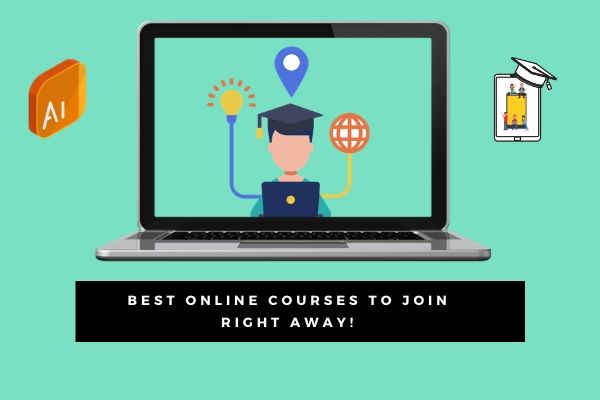 Beat the lockdown blues with some online courses!
---
The sudden outbreak of Covid-19 has brought our life to a sudden standstill. In this tough time when many school, offices, colleges and other institutions have been closed for a month, it is very difficult to keep oneself engaged. Without the commute, all those office gossip session, lengthy lunch, you have too much of extra time in your life. With so many of us not allowed to head outdoors, the best thing to do is to take advantage of the current situation by leveling yourself up.
Here are some of the best free online courses to make the most use of your time during this lockdown.
1. Artificial Intelligence
IIT Delhi offers free online course on Artificial Intelligence through NPTEL. The course introduces the variety of concepts in the field of artificial intelligence. It describes a variety of models such as, search, logic, Bayes nets, and MDPs, which can be used to model a new problem. It also teaches many first algorithms to solve each formulation.
2. Writing of Mass Media
Those interested in Writing for Mass Media can visit the official portal of SWAYAM- ugcmoocs.inflibnet.ac.in- to take free online classes on this. There are different study module like, narration, creative writing, writing for radio, magazines, books, marketing material and more.
Read more: 5 best Ted Talks by women that everyone should watch for daily motivation
3. A life of happiness and Fulfillment
One of the best course offered on course judging by its popularity, ISB professor Dr. Rajagopal Raghunathan's course takes a deep dive into what make you happy. He draws from psychology, neuroscience, behavioural decision theory and more, giving a structural approach plus practical tips to a happy life.
4. Food and Nutrition
Our eating pattern has a direct connection with our well-being. The pattern of eating has changed significantly in the recent times. This course will teach you more about food and nutrition, diet, food safety etc. You can sign up on SWAYAM
portal to learn more about this.
5. GATE preparation
The aspirants who wish to clear Gate examination can log on to the NPTEL website –nptel.ac.in – to sign up for free preparation guide for Gate examination.
Have a news story, an interesting write-up or simply a suggestion? Write to us at info@oneworldnews.com