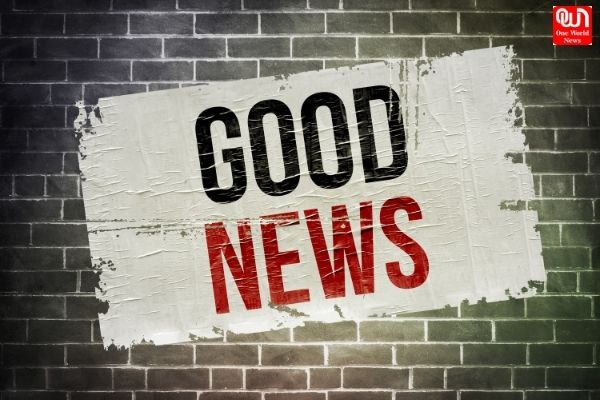 Here are the weekly good news to lift up your mood!!
---
Good news of this week that focuses on the brighter side of the world, and not the gloomy and the dark. The motive is to showcase stories of hope, innovation, human triumph, inspiration, and different walks of life. Therefore, here are weekly good news to lift up your mood 
Over 5 crore workers registered in the E-Shram portal
APPEAL – All workers in unorganized sector in Ramban District are urged to get themselves registered on e-Shram portal to access social security & employment-based schemes.@diprjk @OfficeOfLGJandK @DrJitendraSingh @nitishwarKumar pic.twitter.com/pDKUv81M1b

— Deputy Commissioner, Ramban (@dcramban) October 30, 2021
The number of registrations on the E-Shram portal has crossed the landmark of 5 crores in 2 months of its launch. 50.94% of beneficiaries are females and 49.55% male. E-Shram is India's first national database on unorganized sector workers. 
1st direct flight on Shillong-Dibrugarh route launched
Grateful to Hon'ble Union Minister for @MoCA_GoI, Sh. @JM_Scindia Ji for virtually launching the Shillong-Dibrugarh flight. This is another step towards connecting NE closer, a vision at the heart of Hon'ble PM Sh. @narendramodi Ji pic.twitter.com/JJeAls7rqU

— Conrad K Sangma (@SangmaConrad) October 26, 2021
Under Udan, MoS, Civil Aviation General Dr. VK Singh (Retd), Union Minister of Civil Aviation Jyotiraditya Scindia, along with other officials virtually flagged off the first direct flight on the Shillong-Dibrugarh route under the Regional Connectivity Scheme – UDAN.
In 2014, only six airports were operational in the northeast which has risen to fifteen airports in 2021. Within a short span of 7 years, the feat has finally been achieved. 
TATA Power finishes installation of over 1000 EV charging stations in India
Giving a great contribution to India's journey towards green energy Tata power has completed installing more than 1000 electric vehicle (EV) charging stations across India.
The first charging point was installed in Mumbai, thereafter Tata Power EV charging points are available in nearly 180 cities, National highways and other multiple State.
India's largest aromatic garden gets unveiled in Uttarakhand
Research Wing of Uttarakhand Forest Department has opened an 'Aromatic Garden' in Lalkuan, Nainital district. It's spread in 3 acres & has around 140 different aromatic plant species pic.twitter.com/3ADH0SC70O

— ANI (@ANI) October 24, 2021
The biggest aromatic garden of India got inaugurated in Lalkuan of Nainital district in Uttarakhand. 
The garden is spread over 3 acres and has around 140 different aromatic plant species. Here people will find Tulsi Vatika which has more than 20 species of Tulsi. 
Jammu and Kashmir police launch 24/7 public toll-free helplines
Jammu & Kashmir police launched dedicated 24/7 public toll-free helplines at PCR Jammu and PCR Kashmir-Srinagar. Through this helpline, the public can share information regarding militancy, Narcotic-drug peddling, or any other anti-national, anti-social activities and they will also get rewards based on the quality of information shared. 
Jyotsna Reddy becomes the youngest entrepreneur to be awarded National Award 
For her contribution to the development of women and children, beauty render Jyotsna Reddy is honored with the champions of change award.
This award is meant for those achievers who help towards the nation-building of an 'Aatmanirbhar Bharat' through their efforts. 
Teachers trek to provide midday meals
Teachers in a village in Chhattisgarh's Balarampur district became heroes without cape as they walked 8 km, through different terrains like mountains and streams every day, carrying rations to a government school to make sure that students get midday meals. 
The teachers have also urged the state government to build a road connecting the village to the school, which is situated in the hills. 
Things To Do in India Before You Turn 30! Or check your bucket list
Farmers restore a water body
The Kaathivanoor tank was leased to 25 farming families. Due to urbanization, the cultivable land reduced and so did the water availability.
As the population increased, waste dumping increased in the tanks, and soon the farmers were forced to adopt sewage-fed agriculture. 
Now, 5 farmers with the help of DHAN (Development of Humane Action) Foundation restored the tank which is now free of sewage, and groundwater tables have significantly improved. 
Bank Didi
https://www.instagram.com/p/CVAlQN-AofI/
onamani Lohar, a woman from Jharkhand's Mechua village has managed to change the lives of women in and around her locality with the help of her 'home-run bank'.
Since 2017, Sonamani was persuading the women she knew, to start saving and opening a bank account and helped them understand the importance of having a bank account.
Today, Sonamani handles the bank accounts and uplifts the lives of over 2500 women who were abused and deprived of basic resources in their own houses.
Have a happy Saturday!
Liked this post?


Register at One World News to never miss out on videos, celeb interviews, and best reads.