Kaam Ki Baat
How bad is the water crisis in India? The clock is ticking
6 year old died due to the lack of drinking water, the incident is a reminder that the water crisis in India could get worse than the COVID crisis
---
Recently, a 6 –year –old girl in Rajasthan died due to the lack of drinking water. The heart-wrenching incident is a reminder of how bad the water crisis is in India. With the changing weather patterns and recurring droughts, India is water-stressed. According to a report of Central Ground Water Board 2017, as many as 256 out of 700 districts have reported critical and over-exploited groundwater levels. India constitutes 16 per cent of the world population, but the country has access to only four per cent of the world's freshwater, and that's quite alarming. The recent case got us asking – Vikas Kahan hai Is Desh mai? More than 70 years of Independence, Political parties and political leaders have come into power time and again, but they have simply failed to provide basic needs to their people. This incident deserves national attention and we should discuss it actively.
Grave Reality of New India – Many Indians still do not have access to safe drinking water
The unfortunate incident has raised some serious questions on the Ashok Gehlot government in Rajasthan. At a time, when health experts have advised people to wash their hands regularly. Imagine some people not even having access to drinking water. The water crisis in India is the biggest crisis in its history & all the governments should come together to address this alarming situation.
Talking about Rajasthan, fresh drinking water is still a privilege for many people in the state. According to an annual report by National Commission for Women, a rural woman in Rajasthan has to walk 2.5 kilometres to reach a water source. But water scarcity is not limited to Rajasthan, it is prevalent in other parts of the country as well.  Let us give you some hard facts so that you know how grave the situation has become.
More than 50 per cent of the population has no access to safe drinking water. Every year 2 lac people die due to the lack of safe water. NITI Aayog has called it the 'Worst Water crisis in the history of India'. Talking about the health threat, 75 per cent of the population do not have access to drinking water, while 40 per cent of the population will have no access to drinking water by 2030, according to a report.
 Read More: COVID: Can UP's Pink Booths to vaccinate Women help shrink the gender gap?
According to an article on Business Today, 31 Indian cities are exposed to the severe water crisis.  The article is based on the WWF (Worldwide Fund for Nature's Water Risk Filter Report) report. Jaipur topped the list followed by Indore, Thane, Mumbai, Kolkata, and Delhi. The WWF analysis focused on two things in the report – present water stress faced by the cities and projected increase in water stress by 2050. Water scarcity is expected to worsen as the overall population is expected to increase to 1.6 billion by the year 2050.  The main reason for the water scarcity in the country remains climate change, changing weather conditions, overuse and wastage of water, increased human consumption, deforestation, and many other reasons.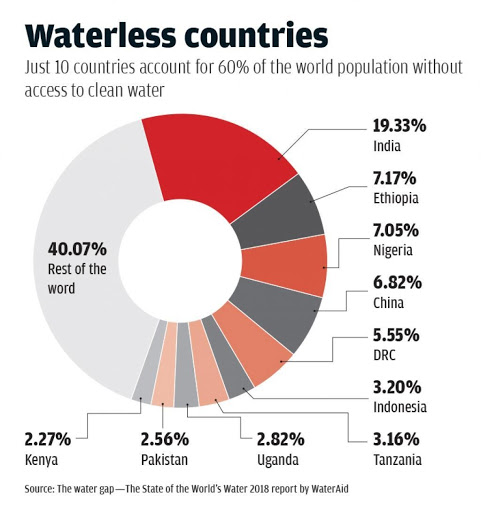 So what's next for India? Will the situation get worse than COVID 19?
6 – year –old died due to the lack of drinking and this has to be taken seriously.  If we don't act now, the situation can get worse than COVID 19. Much of the water crisis in India is not caused by a natural disaster, but rather because of the mismanagement of water resources and lack of planning. The country is in the need of planning and execution to save water.  India's water crisis in 2019 had drawn international attention when Hollywood actor Leonardo Dicaprio tweeted an image from Chennai and wrote, "Only rain can save Chennai from this situation." Well, the government has launched many programs to save water. One of them was Jal Shakti Abhiyan – it aimed to provide piped water to every household within the next 5 years. Notably, the scheme was launched in the year 2019. Apart from it, Jal Jeevan Mission was also announced by the Modi government. The main aim was to provide potable water to every rural household by the year 2024. So far, the mission has served 20 million families with clean water.
Apart from it, the Modi government launched Atal Jal Yojana to conserve groundwater in the 7 Indian cities facing acute water shortage. Prime Minister Narendra Modi had urged farmers to opt for less water-intensive crops.  Atal Jal Yojana was specifically launched for Maharashtra, Karnataka, Haryana, Madhya Pradesh, Uttar Pradesh and Gujarat.
The question is – are the schemes enough?
Looking at the current situation probably not. There is a need for a paradigm shift. According to Mahreen Matto, who is Programme Manager, Water Management at the Centre for Science and Environment, Delhi, we urgently require a transition from this supply and supply more water provision to measure which lead towards improving water use efficiency, reducing water leakages, recharging /restoring the local bodies.  While talking to a leading daily, he further stated, it is time to go back to the traditional practice of rainwater harvesting – catching water where it falls.  Currently, India receives eight per cent of its annual rainfall, which is the lowest in the world.
He explained many other pointers to save water that are note-worthy:
1.Reuse of wastewater – Around 80 percent of the water that reaches households, leaves as waste and pollutes our water bodies and environment, there is a huge potential to reuse them at least for non-potable purposes. 2.He also highlighted the importance of communities and individuals when it comes to conserving water by keeping a check on their usage and reusing water at homes.
To sum up, let us take a look at the famous quote by Confucius
As Confucius once said, "The man who moves a mountain begins by carrying away small stones." – So think today and at least initiate a conversation. 
Have a news story, an interesting write-up, or simply a suggestion? Write to us at info@oneworldnews.com