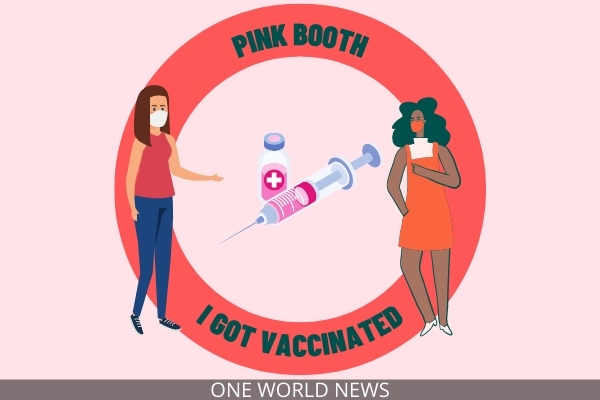 COVID: UP starts pink booths to vaccinate women, how can it help?
---
On Monday, special Pink Booths to vaccinate women were introduced in several parts of Uttar Pradesh. These pink booths are made with the intention to create safe spaces for women so that they can get themselves vaccinated without any fears. The special pink booths have become operational in all 75 districts of Uttar Pradesh since yesterday, i.e. 7th June. Each district is supposed to have at least two such booths. This is essential to help increase the number of women taking the COVID vaccine.
Uttar Pradesh's Chief Minister, Yogi Adityanath, on Monday, tweeted in Hindi, "With the intentions of keeping women of the country safe from COVID pandemic, the Uttar Pradesh's Government has introduced women special vaccination booths will start from today, i.e. 7 June. All the mothers and sisters, get yourself the 'vaccine of win'."
कोरोना महामारी से प्रदेश की मातृशक्ति की सुरक्षा सुनिश्चित करने के उद्देश्य से @UPGovt द्वारा आज सोमवार 07 जून,2021 से सभी जिलों में 'महिला स्पेशल' वैक्सीनेशन बूथ प्रारंभ किए जा रहे हैं।

सभी माताएं-बहनें यथाशीघ्र लगवाएं "टीका जीत का"।

— Yogi Adityanath (@myogiadityanath) June 7, 2021
Lucknow District Magistrate Abhishek Prakash told news agency ANI, "Vaccination of women in Lucknow will begin today with the use of special pink booths. At two vaccination booths, a pink booth has been set up. We've also established a pink both in the rural region of Mohanlalganj tehsil."
This initiative of Uttar Pradesh's government makes much more sense in the light of the recent analysis of the vaccination drive of India, where the gender gap in vaccination is even more than the sex ratio of the country. As of the 2nd day of June, 9,13,81,749 males had been vaccinated, while 7,92,31,870 women had received at least one dosage. This indicates that males account for 53% of the total population vaccinated till now.
The gender gap in vaccination in Uttar Pradesh amounted to 669 women over 1000 men, making it among the three states (Nagaland and Delhi being the other two) to have the highest gender gap in the vaccination drive.
Read More: Only 867 women per 1000 men are getting vaccinated, the gender gap in vaccination worse than India's sex ratio 
How can this initiative help shrinking the gender gap in the vaccination drive?

There can be multiple reasons why we are seeing this gender gap in the vaccination drive. Some of the plausible reasons can be –
– The history of Women's health in the country is well enough to suggest that women's health is not something that's considered as a priority in Indian families, especially in rural setups.
– To get a vaccine, one needs to register online. In a country where a gender gap exists in education and digital literacy, expecting women to book a vaccine online is a problem.
– Lack of awareness and fake news like that of menstruating women should not take vaccines creating tension and raising safety concerns.
– Women's own neglect towards their health.
_ Safety concerns for women at the vaccination centers.
– Lack of availability of vaccines and hence, the families prioritizing men of the family to take the vaccine first, especially in cases where women are housewives and men are working members.
Well, these are some of the known factors, and there can be many more. Allocating pink booths for women can help deal with the above-mentioned points in some or other ways. Obviously, making centres exclusively for women can help them have access to vaccine without the fears and safety concerns. The government should now look for ways to publicise and make awareness campaigns to help women know about the pink booths. COVID has been a disaster for all, and only vaccination can help in dealing with it. Initiatives like pink booths for vaccination, if implemented properly can help in shrinking the gender gap in COVID vaccination drive.
Have a news story, an interesting write-up, or simply a suggestion? Write to us at info@oneworldnews.com