Top 10 TV Series that you can't afford to miss!
---
All those wondering for Top Ten Tv Series, Don't wonder because we have the list right here. Online Streaming services have made content so reachable that everyone is soaked into it. We need some entertainment, thrill, adventure in our life. TV series and Web Series are the best fill at this instance. Today, we will look at the top ten series you must watch before you die. We will be taking these shows from all Genre.
Friends
This show is my personal favorite. The story revolves around six friends in the USA.  How are you living on the earth without listening to Joey's "How You Doing". Watch this American Sitcom and we promise you will laugh your lungs out. The Show has 10 seasons each consisting 22 episodes each.
Game of Thrones
This mega-show revolves around the Iron Throne and 7 Kingdoms who unite to fight the dead army. This show is currently airing its last season and if you have not watched this yet, then you should start watching it right away!
Breaking bad
The story is about a chemistry teacher who becomes bad when he comes to know about his cancer. To provide for his family after his death, he starts a meth lab. Honestly, First 3 seasons are not so great but trust us, the last two seasons are breathtaking.
Stanger Things
This series probably of its kind where aliens invade on a city and few strange things start happening, Do watch it, you will start loving the number 11.
Sherlock Holmes
Who is not a fan of this private detector? Avenger actor Benedict Cumberbatch and Martin Freeman create a great Sherlock- Watson Combo. You may have to watch all the episodes twice as it is confusing as hell. It took twice for me to understand it completely.
Mirzapur
You may not have expected an Indian series making into the list. Kaalin Bhaiya and Munna Bhaiya are too badass to miss. Watch this desi version of Narcos with catchy dialogues and gripping punchlines.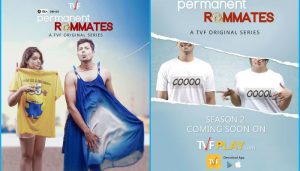 The Permanent Roommates
Putting it in the list with likes of Game of Thrones and Friends may raise some eyebrows but this is a wonderfully made rom-com web series by TVF which you will start adoring the minute you start watching it. Sumit Vyas has his own unorthodox style of acting which win you over. There is Purushottam whose comedy will stick with you even after you are done with the series.
Thirteen Reasons Why
The storyline is about the bullying of a girl in high school who commits suicide. There are thirteen tapes in both the seasons. Each tape telling the resemblance of characters with her death. The first season is terrific and you will feel for the girl "Hannah Baker".
Read More- This Weekend 'SMAAASH' the soaring Temperature of Delhi: Get all deets here!
Sacred Games
Many Indian Wed series and TV series are releasing lately but only three of them have made into the list because of the gripping story they provide. Our own Nawazuddin Siddiqui and overweight Saif Ali Khan completely won me over with persistent dialogues and amazing direction by the Zack Synder of Bollywood Anurag Kashyap.
The Big Bang Theory
If you are into science and discovery, this sitcom which is currently in its final season may be the best thing to watch. The story revolves around four socially awkward and unattractive friends whose life takes a wild turn when they meet a girl.
Have a news story, an interesting write-up or simply a suggestion? Write to us at info@oneworldnews.in