Ashwin has started to prepare for World Cup 2023 in nets 
The preparation for the World Cup has started to lift the trophy in 2023. The journey of 3 hours-long practice session to take a bow from the crowd at Amigaon cricket ground on Friday.
In the limited-overs arena, Ashwin's craft with the red ball often appears less effective. His ODI numbers, while not matching his Test prowess, have modestly contributed to India's bowling arsenal. With 155 wickets to his name in 113 innings, it's clear that he is a valuable asset. However, his average of 33.20 in this format, considering his exceptional skills, might leave some fans yearning for more.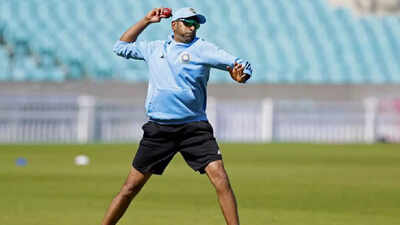 Read more: Triumphant India Shines at Asian Games 2023: Unveiling the Glorious Medal Tally and Complete List of Champions
Batsmen often find it challenging to get the better of Ashwin in ODIs, given his miserly economy rate hovering just under 5. Yet, the absence of a single five-wicket haul in an innings and a solitary four-wicket performance hints at his occasional struggle to break through the opposition's defenses. This aspect of his ODI career raises questions about his ability to consistently provide those game-changing moments, a hallmark of legendary spinners in the shorter formats of the game. Nevertheless, Ashwin's presence remains vital, and his potential to adapt and improve in white-ball cricket is a subject of intrigue for cricket enthusiasts worldwide.
Since the conclusion of the 2017 Champions Trophy, Ashwin's journey in ODI cricket has been marked by a mere four appearances. His omission from the team following the tournament final was largely attributed to India's strategic shift towards more attacking spin-bowling options, prominently featuring the wrist-spin duo of Kuldeep Yadav and Yuzvendra Chahal.
Read more:- New Delhi Welcomes Top Tennis Talent: Fenesta Open National Tennis Championship Returns from October 2 to 1
However, Ashwin's resilience and determination shone through as he embarked on a journey of reinvention, particularly in his all-round game. Recognizing the evolving demands of limited-overs cricket, he honed his skills, making sure he remained a force to be reckoned with, not just as a bowler but also as a contributor with the bat.
This period of introspection and adaptation underscores Ashwin's commitment to his craft and his desire to stay relevant in the dynamic world of international cricket. His ability to evolve and re-emerge as a valuable asset in the white-ball format is a testament to his unwavering dedication to the game and his constant pursuit of excellence. Whether he can secure a permanent spot in the ODI squad remains to be seen, but his journey of reinvention is a testament to his enduring passion for the sport.
Ashwin's age, at 37, might raise some eyebrows, especially in a sport where youth often dominates, but it's his cricketing intelligence and seasoned expertise that set him apart. While he may not boast the agility of some younger players, his ability to outthink his opponents and lead by example on the field makes him an invaluable asset for any team fortunate enough to have him.
Captain Rohit Sharma's recent praise for Ashwin highlights the respect he commands among his peers. Sharma's acknowledgment of Ashwin's class, experience, and recent stellar performances underscores the fact that Ashwin remains a force to be reckoned with. His extensive repertoire of bowling variations adds an extra dimension to his game, ensuring that he can adapt to various situations and conditions.
And @ashwinravi99 is in the World Cup squad for #TeamIndia and we're looking forward to it :)
Congratulations, Ash Anna! #ashwin #worldcup2023 #ind #indvaus #rohitsharma #kohli #cricketingreels #reelitfeelit #reelkarofeelkaro pic.twitter.com/7WKpgIrGXD

— Oaktree Sports (@OaktreeSport) September 28, 2023
However, replacing Axar Patel, originally selected for his all-round abilities and batting depth, presents a unique challenge. While Ashwin can certainly hold his own with the bat, boasting a respectable ODI batting average of 16, he is not a direct like-for-like substitute for Axar. Ashwin's strengths lie primarily in his bowling prowess and cricketing intellect, making the decision to replace Axar a complex one for the Indian cricket team's strategists.
Yuzvendra Chahal's exclusion from the World Cup squad raised questions about India's spin choices. With similarities to Axar and Jadeja, Chahal's batting struggles hurt his chances. Some argued for Washington Sundar over Ashwin, who boasted better bowling stats but a slightly lower batting average. However, Ashwin's past contributions and strong record in Asia made him a valuable asset. The selectors also recognized his distinct skill set, providing a diverse spin arsenal. In the end, the selection dilemma highlighted India's wealth of spin options.
Ashwin, the modern Mankad torchbearer, has transformed cricket and remains a vital influence. His presence in India's dressing room and tactical brilliance could sway crucial World Cup encounters, relying on his talent, adaptability, and unmatched experience. In selectors' eyes, these qualities make him an invaluable asset.
Like this post?
Register at One World News to never miss out on videos, celeb interviews, and best reads.