5 Indian Movies on  homosexuality that were made way ahead of their times
---
Homosexuality is still a taboo in India, despite it, not being a crime anymore. Section 377 of the Indian Penal Code was decriminalised in the year 2018 by a 5 judge constitutional bench of the Supreme Court of India. The bench also included the then Chief Justice of India, Dipak Mishra along with Justices R F Nariman, A M Khanwilkar, D Y Chandrachud and Indu Malhotra. The concurring judgements given by all was seen as an iconic decision that made history. The subject is hardly touched when it comes to cinema. Here is a list of 5 Indian Movies on homosexuality that were made way ahead of their times.
Problematic portrayals of homosexuals in movies
Cinema, they say is a reflection of our society. If that is to be believed then we can conclude that our understanding and acceptance of homosexuality as a society is still very narrow. Not only that, but the stereotypical portrayal of homosexuals is widely accepted and even encouraged. This is very problematic, to say the least.
Only recently have we seen "commercial actors" and big banners portraying homosexuality in movies and beginning a conversation around it. This does not mean that movies portraying homosexuality did not exist before; they did and the actors were bold enough to take the risk, the directors thought beyond commercialisation, and the stories were sensitive- all these factors led to masterpieces that were not known by many and watched only by a few.
So, here a list of few movies that were definitely way ahead of their time in discussing a topic such as homosexuality.
Fire
This 1996 movie was not the only way ahead of its time, it was a masterpiece written and directed by Deepa Mehta. It is the first movie of Mehta's trilogy Elements, the other two being Earth (1998) and Water (2005). The leading roles were played by two absolutely brilliant actresses, Shabana Azmi and Nandita Das.
It is loosely based on a 1942 story Lihaaf (The Quilt) by Ismat Chughtai, who was a revolution in herself.
Daayraa
This 1996 movie directed by Amol Palekar was written by Timeri Murar, an award-winning journalist and novelist. The movie portrays the relationship between a transvestite dancer and a woman who begins to dress up like a man. The movie questions the traditional idea of romantic relationships as well as the gender roles in our society.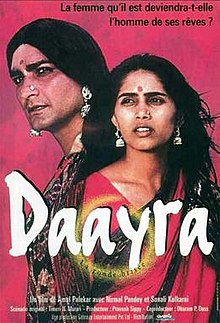 The Pink Mirror or Gulabi Aaina
The 2003 movie by Sridhar Rangayan is still banned in India. The movie explored the topic of homosexuality and transgender with such sensitivity as well as cinematic brilliance, that it has been showcased in many festivals and is a critic favourite. The movie was way ahead of the time it was shot and hence, it was banned in India.
 4.Sancharram (The Journey)
This 2004 Malayalam movie by Ligy J. Pullappally was based on a true story. It shows the journey of a Hindu woman and a Catholic woman and how they grew up together to realise their love for each other.
My brother…Nikhil
2005 was a time when homosexuality was still not being talked about openly in India. So, at a time like this for a Bollywood movie with some leading names to talk about it, was a big deal. This movie was based on the life of Dominic D'Souza, an AIDS activist from India. It showed his journey of finding pit he has AIDS to being ostracised for it and how we build his life back. It is a brilliant movie with some really good actors.
 Movies like Shubh Mangal Zyada Saavdhan, Ek Ladki Ko Dekha Toh Aisa Laga and web series such as Made In Heaven have only been released recently and started a conversation around homosexuality. Keeping in mind the words of Bob Dylan, we should remember "For the times they are a-changing", and we should too.
Have a news story, an interesting write-up or simply a suggestion? Write to us at info@oneworldnews.com