Lifestyle
World Mental Health Day: What are the Challenges with Youth Mental Health
"We need to talk about Mental Health for youth, not because it is trending but because it is Important" – Shantanu Salhotra
---


It is 10th October, it is 2020 and it's World Mental Health Day. Most of all, this year has been one of the most disappointing years for the country and for the world, not just because of the COVID pandemic but also because of the toxic socio-political and economical environment. Every day, we are getting up with the news of some adversities, there are protests going on, the government is showing its darkest face, youth members are being arrested, there are questions on the democratic setup of the country, there are no jobs, students are made to give exams amid pandemic and so on, all adding to the claustrophobic situation that emerged due to COVID crisis. Now, who is the most affected by all of this? Yes, of course, the Youth. The situation is alarming and all of it along with the other personal growth-related factors are absolutely affecting the mental health of the Youth Members.
We spoke to a few youth members, and this is what they said –
"It is not that the lockdown only affected my mental health. I have always had spells of good and bad mental health day ever since my parents asked me to opt for Science as a stream and sent me to Kota, to prepare for engineering. I am right now a student of MSc Physics and a Rapper and can barely say that I feel good about myself for a very long time. I don't find a lot of inspiration to live with my family yet I am living with them for the last 7 months trading my mental health each day. Not that my parents don't love me, they do love me but I miss times when they could understand me. There is often a lot of comment on my academic performance, me being emotional as a boy and being slightly overweighed or me choosing to work on my art and so on." – Shantanu Salhotra aka Ashant Anu, 21.
"I am a woman belonging to a Hindu family which is partially progressive and precisely if there is anything that appears to be most traumatising to me is the discrimination in the treatment of me and my brother in the family and the restrictions imposed on me for precisely less arguable reasons. I often get to hear from my parents that, "tumhe humne liberty de toh rakhi hai" which they never say to my brother. And it definitely traumatises me. I definitely feel overwhelmed when I don't get to a chance to say what I want to, because of my gender. Besides, I have PCOD and the pressure for academic growth and career has always been the reasons for mood swings and anxieties." Akansha, 20.
While these were two broad ideas, others have been around pinpointed their spells of bad days when they get lingered with an existential crisis, productivity anxieties and overwhelming spells because of the adversities all around the world-
Read more: Women and Mental Health: Life Design Coach, Khushii tells about how Mental Health affects Women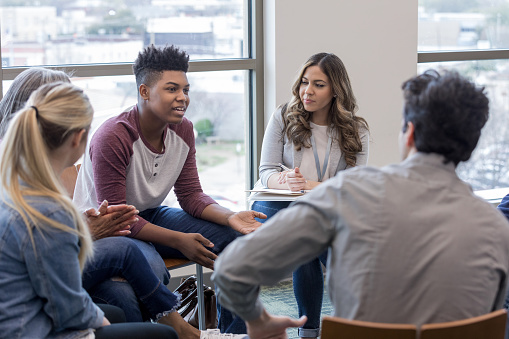 To discuss the challenges with youth mental health, we spoke to Khushii Pathak Mishra a Life Design Coach and here is what she has told about the same –

The first and foremost is the lack of education around mental health not in children but also in parents. There needs to be more education around the importance of mental health at the school level.
When children enter teenage and adulthood the transformation causes a lot of biological, psychological, cognitive and physical level changes thus affecting the mental health of young adults in various ways. They are more vulnerable, insecure of their own self and how society might react to them, they want to explore the world, take some risks, and it gets very confusing for them to figure out everything on their own.
Another challenge they face is the lack of empathy and understanding the adults and society has around mental health in our country. Kids and younger adults are often not allowed to express themselves and made to get back in the corner saying they are too young to give their decisions or opinions, at the same time they don't fit very well among children and teenagers as they feel out of place and hence they often end up blocking themselves out and not finding right support or knowledge to express and educate themselves about changing belief, age, feelings and emotions.
Another factor is their social media presence, which makes them vulnerable and intimidated from the external world. Also, the very fact that the loop of information and updates on social media encircle them with thoughts that can lead to anxieties and stress.
Another factor affecting them is the cyberbullying. Some become prey to cyberbullying and some become the bullies, we as a society need to understand the importance of taking internet access as an amazing tool to become better and learn rather than fall prey to jealousy, sadness, anxiety and stress.
Youth should be exposed to personal growth and development, ways in which they can channel their energy and work on their self-growth, learning, exploring the world and gaining self-confidence.
So, in conclusion, all that we can say is that youth is a period of vigour and enthusiasm and we need their energy to get directed in the right direction. They need the right guidance and support from family and friends which can only come with the awareness for mental health because if not done, they might get attracted to wrong habits and may fall into the trap of loosing oneself. Where kindness, self-love and practising gratitude is one thing that everyone should do for themselves, others can be offering love, affection and efforts in understanding their loved ones to help them sail through there bad mental health days.
Have a news story, an interesting write-up or simply a suggestion? Write to us at info@oneworldnews.com