Women Talk
7 Women's Records In Cricket That Created History
Unbelievable Women's Records In Cricket That Were Created Before Men Did
---
For a very long time, sports was believed to be a male-dominated profession, but women changed our perspective to see it. Today, women in sports and athletics are as famous as men and creating new records everyday. In India, no sports is more famous than cricket and women representing in the blue are building their separate fan base. The Indian women's team made its Test debut in 1976, against the West Indies, almost 4 decades later the first Women's Cricket International match, which was played in 1934.
The first match in the men's category was played in 1877 between England and Australia. Even though women's journey in cricket started nearly 6 decades later than women's, the women have been able to set several records before men did. We have a list of women's records in cricket that they achieved before men in cricket history.
1. The first ODI double century
When we talk about the first-ever double century in an ODI match, most of us recall Sachin Tendulkar's Gwalior inning against South Africa. Undoubtedly, it was the first-ever double century in a fixed-over match, but that was only for the men's category. The first double century in an ODI was recorded much earlier than in 2010 by Australia's Belinda Clark. Clark played an unbeatable inning of 229 runs in 155 deliveries in a Women's World Cup match against Denmark on December 16, 1997.
2. Most World Cup Wins By A Team
The first Women's World Cup was held in 1973, two years before the first men's World Cup. With seven teams – England, Australia, New Zealand, Jamaica, Trinidad and Tobago, and Young England – being the first participants, England bagged the first ICC World Cup. While the Australian men's team remains at the top in the men's category with five World Cup wins out of 11, the Australian women's team has bagged seven World Cups out of 12.
Not only this, the first-ever World Cup century was recorded in the women's event after England's Enid Bakewell and Lynne Thomas hit the first centuries in the opening match against Tobago. The ICC Women's World Cup is the oldest sports championship.

3. Second Most Half-Century In The World Cup Tournament 
Mithali Raj is named amongst the top players while talking about the 'world's best cricketers' of all time. She has been a splendid player and the best captain of India's women's team. Under her captaincy, India reached the World Cup twice in 2005 and 2017. Mithali holds the record for most fifties in the ICC World Cup by any woman and is only the second player to score 11 fifties, only behind Sachin Tendulkar who hit 15 fifties. Mithali also holds the record of playing most matches as a captain in ODI in the women's category, with 155 matches, winning 89 and losing 63.
Read More- Mithali Raj Controversy: When will the war of words end?
4. The First-Ever 400+ Score In ODI
Scoring 400+ runs in a limited over match is not a child's play. But women in the jersey made it possible, and not once, but 5 times. Women scored 400+ in ODI nearly a decade before the men did. On January 29, 1997, New Zealand's women's team scored 455 with the loss of 5 wickets in 50 overs against Pakistan in Christchurch. NZ captain Maia Lewis scored 105-runs in 72 balls with 11 boundaries.
5. Biggest Victory By A Team
Let alone scoring 400+ runs, what if we say that a team defeated another team by a margin of 400+ runs? Sounds impossible, right? But the women made it possible. In the match against Pakistan when New Zealand recorded the first-ever 400+ score, NZ registered the biggest victory by any team to date. New Zealand dusted Pakistan for just 47-runs and won the match by the margin of 408-runs. The biggest victory registered by the men's team is by the margin of 299-runs by New Zealand against Ireland in 2008.
6. Highest Score By A Team
Until England's recent record on June 17, 2022, the highest team score was registered by New Zealand's women's team. England's men's team scored an unbeatable 498-runs against Ireland last month, but the highest standing team score was registered by New Zealand's women's team against Ireland in 2018 after scoring a marvelous 491-runs with the loss of 4 wickets. New Zealand's score is the second-highest team score in cricket history.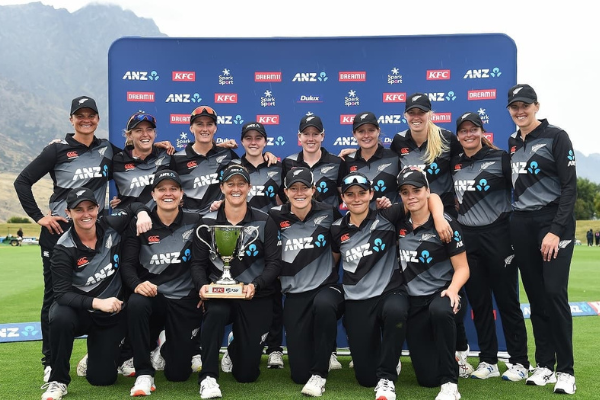 7. First Five-Wicket Haul In An ODI
During the inaugural World Cup in 1975, Australian cricketer Dennis Keith Lillee became the first bowler to take five wickets in a match in the men's category. However, the world record of the first five-wicket haul was registered by an Australian female cricketer Tina Macpherson in 1973. It was the first women's ODI, the second match of the World Cup in 1973 – the first game was washed off. Tina also was the first cricketer to register a five-wicket haul in a debut match.
Although Tina was not the only female cricketer to take five wickets before men did, Glenys Page, a New Zealand player, was another player to take five wickets in a match before a male player. In the same tournament when Tina registered the record, Page took six wickets in the fourth match against Trinidad and Tobago
Liked this post?
Register at One World News to never miss out on videos, celeb interviews, and best reads.