Women Talk
Women's Day Gift Ideas: 4 Instagram Pages that are offering budget-friendly gifts!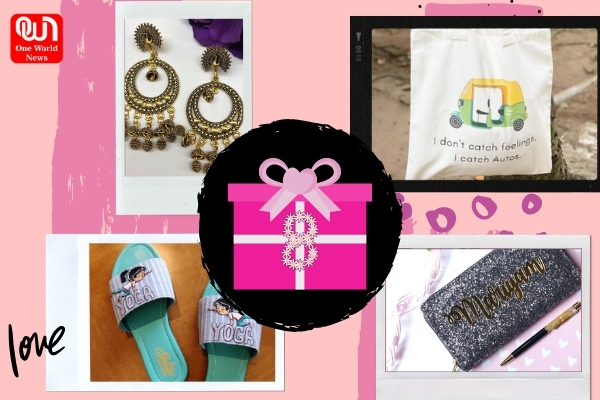 Women's Day Gift Ideas: Gift something unique & thoughtful, check out these 4 quirky Instagram pages  
---
Every Year March 8th is celebrated as International Women's day to celebrate womanhood.  It's time to make them feel special and celebrate their spirit. Women's contribution to different fields is phenomenal. From being a homemaker to a successful entrepreneur, women all across the globe are making a mark. The day is not just a gentle reminder for men but also for women themselves that we should often celebrate ourselves. The theme for 2021 is #choosetochallenge. As Women's Day is around the corner, let us make important women in our life feel special. If you are not able to figure out what to pick, here we are to help you out. Women love thoughtful gifts.  Here are a few women's day gift ideas, take a look.
Without any further delay, let us take a look at the list. Take a look at them and shop your heart out.  We bet you won't be able to resist buying their products.
Women's Day Gift Ideas  – Take a look

1. Sassy Paduka – For the sassy one! 
Just like their name, they have a collection of the sassiest slippers on their Instagram account. Their description reads – Your Solemate! We all know women's love for juttis and slippers. This Instagram account deals in all types of basic and customized slippers. With the onset of summers, it is the right time to pick a sassy paduka for the women in your life. Be it your friend, girlfriend, mother or wife or even daughter. The best part is, these Slippers have a doctor sole and are super comfy to wear.  You can pair these up with your tee and jeans or even with your basic ethnic wear. We are just loving them and can't resist buying. Place your order now.
Read more: International Women's Day 2021: Celebrating the Spirit of Every Woman
2. The Urban Bling – Someone who is always 
Saying No to earrings is hard for women, especially when they are stylish AF! Finding the right pair of earrings is not child's play. The accessory is an integral part of a woman's overall look.  When it comes to earrings a lot of women love to experiment.  But with a plethora of options available, it becomes difficult to choose. If you are planning to gift earrings to someone special, but don't know from where to pick? Check out the page of @theurban-bling. They have a collection of handpicked earrings and different accessories which will surely woo your lady. They deliver all over India so – Fasala mitao with a pair of earrings!!!!!
3. TotesIndia:
Bags are a woman's best friend. It is not just a bag for us, but it is an entire world for us. From carrying makeup to carrying our favourite journal, a bag is the most thoughtful gift for a woman. If you want to try something different, check out the totesindia page. Their tote bags are mindfully stylish and you can even get them customized. They are 100 per cent cotton and super stylish. Totes available on this page can be paired with tee – jeans, Kurta and Jeans or with even palazzo Kurti.  You can check their quirky collection on their website.
4. Giftoblast Official:
If you don't know what she likes, then check out this interesting page. They have a wide gift range. From stylish wallets, customized earrings, to sketch frame, giftoblast will offer many options. According to your wish, you can place an order.  You can simply drop a WhatsApp to enquire about the prices.
Well, gifts are just another way to show our love for women in life. Be it our mother, sister, wife or daughter, their incredible contribution to our life cannot be denied. They deserve to be celebrated every day.  Just a gentle reminder – The Most Precious gift that you can give them is  Respect and your time. Gifts will surely make them happy, but do not forget to respect their work and spend quality time.
Happy Women's Day to all!
Have a news story, an interesting write-up or simply a suggestion? Write to us at info@oneworldnews.com