Women Talk
Taylor Swift, Kozhikode Sarada, Tulsi Gowda and Other Women in News Last week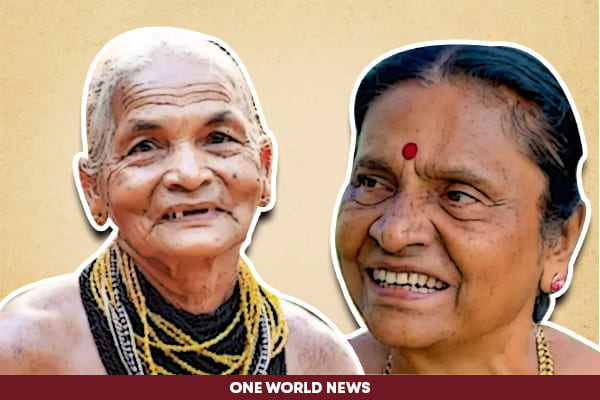 Taylor Swift, Kozhikode Sarada, Tulsi Gowda and Other Women in News this week and other women who made the headlines last week
---
The last week was overall a good week with a few blemishes on it. This week many women made the headlines, some for good reasons and some with not so good reasons. From Taylor Swift, Kozhikode Sarada, Tulsi Gowda to Mynra's new CEO, here's a list of all the women in the news last week.
Kozhikode Sarada passes away
Veteran Malayalam actress Kozhikode Sarada passed away at the age of 84 on Tuesday. The actress was hospitalized at Kerala Hospital after suffering a heart attack. The actress had cast experience in her field as she featured in more than 100 films and TV shows. Her career stretched over four decades starting from 1979 when she made her debut. 
Actor Kozhikode Sarada passed away. Her scenes with actor Manoj K Jayan in Sallappam were exceptional. Not the usual mom-son scenes pic.twitter.com/93d1fPTYce

— Jisha Surya (@jishasurya) November 9, 2021
Taylor Swift named as the most influential person
American singer Taylor Swift was ranked first in the list of 50 most influential people in the world. The list was released by Brandwatch Consumer Research. The list also includes  singer Katy Perry at third place.
Taylor swift has been ranked the most influential person on Twitter .

While Indian PM @narendramodi is 2nd in the list ?

— Priyanshu Khandelwal ??? (@Priyanshuinnn) November 10, 2021
Tulsi Gowda receives Padma Shri
Environmentalist Tulsi Gowda, who is also known as the ' Encyclopaedia of the Forest' was awarded Padma Shri at the age of 72 on Monday. Tulsi Gowda made news for her humble appearance while receiving the award. She was barefoot and briefly greeted the Prime Minister before approaching the President.
President Kovind presents Padma Shri to Smt Tulsi Gowda for Social Work. She is an environmentalist from Karnataka who has planted more than 30,000 saplings and has been involved in environmental conservation activities for the past six decades. pic.twitter.com/uWZWPld6MV

— President of India (@rashtrapatibhvn) November 8, 2021
US teen rescued after she used One Hand Signal
A teen in the US was rescued after she used the One Hand Signal in a video. The teen was in a car when she used the signal. The signal is made with one hand, where one hand is raised, with thumbs tucked in first, with all other fingers folded over it. This is a universal silent symbol for domestic violence.
Geeta Singh Gour becomes third crorepati of KBC 13
Geeta Singh Gour became the third crorepati of KBC 13 on Tuesday. She went on to answer all the fifteen questions correctly to win Rs. 1 Crore. However she could not answer the last question for Rs. 7 Crore. 
#KBC13 ke manch par ₹1 crore ki dhanraashi jeetne ke baad, Geeta Singh Gour ko mila @HyundaiIndia ki ore se Hyundai i20 car ka shaandaar uphaar! Dekhte rahiye #KaunBanegaCrorepati mein, Mon-Fri, raat 9 baje, sirf Sony par.#SawaalJoBhiHoJawaabAapHiHo @SrBachchan pic.twitter.com/To1MuOZ2hf

— sonytv (@SonyTV) November 10, 2021
The last question to her was- 
"Which of these is not the names of three of Akbar's grandsons when they were briefly converted to Christianity after being handed over to Jesuit priests?"
Nykaa Founder Falguni becomes India's richest self-made billionaire
The founder of the beauty unicorn, Falguni Nayar became India's richest self- made billionaire after the shares of her company surged by almost 89% on its market debut. The billionaire founded the company just a few months shy of her 50th birthday in the year 2012.
#womenempowerment #FalguniNayar #nykaaipo #nykaa pic.twitter.com/I0kfywBiPE

— CA Deepika Goyal (@Deepika12312) November 13, 2021
Malala Yousafzai gets married to Asser Malik
Nobel Peace Prize winner Malala Yousafzai got married to Asser Malik in Birmingham, England. The 24- year old shared pictures of her Nikaah on social media. Asser Malik is an official in the Pakistan Cricket Board. 
In Malala, I found the most supportive friend, a beautiful and kind partner — I'm so excited to spend the rest of our life together.

Thank you all for the wishes on our Nikkah. In following our cricket team's tradition, we had to do a victory cake cutting. pic.twitter.com/KSGQOHsY64

— Asser Malik (@MalikAsser) November 10, 2021
This was the list of women in the news this week. Stay tuned for next week.
Liked this post?
Register at One World News to never miss out on videos, celeb interviews, and best reads.