Hot Topics
Why Lalu's son changed his constituency from Mahua to Hasanpur?
Tej Pratap Yadav ditched Mahua and is contesting from Hasanpur constituency
---
Political equations have changed in this year's election due to changed alliances. Some leaders had to forcibly change their constituency due to changed equation. Lalu Prasad Yadav's elder son Tej Pratap Yadav, who changed his assembly from Mahua in Vaishali district to Hasanpur assembly constituency in Samastipur constituency, is one of them. Tejashwi Yadav, the RJD President wanted to create an atmosphere by fielding his elder brother from Hasanpur.
The elder Yadav son won the 2015 assembly election from Mahua seat, but this time he has changed to Hasanpur seat due to changed equation. Nitish Kumar is not in the Mahagathbandhan which means there would have been a JDU candidate from the seat.
There were reports that his ex-wife Aishwarya Rai could have contested from the seat. Chandrika Rai had also indicated that Aishwarya will contest the Mahua seat, so Tej Pratap decided to change his constituency. Although Aishwarya was not fielded from there, JDU fielded Ilyas Hussain's daughter Asma Parveen as the candidate. Mahua, being a Muslim-rich seat, could have resulted in cutting many votes of Tej Pratap. The Muslim vote was in JDU's favour along with BJP's votes and JDU's own votes, it would have been a risk for Tej Pratap to re-contest from Mahua.
Read more: Bihar Assembly Election: Hot seats in the second phase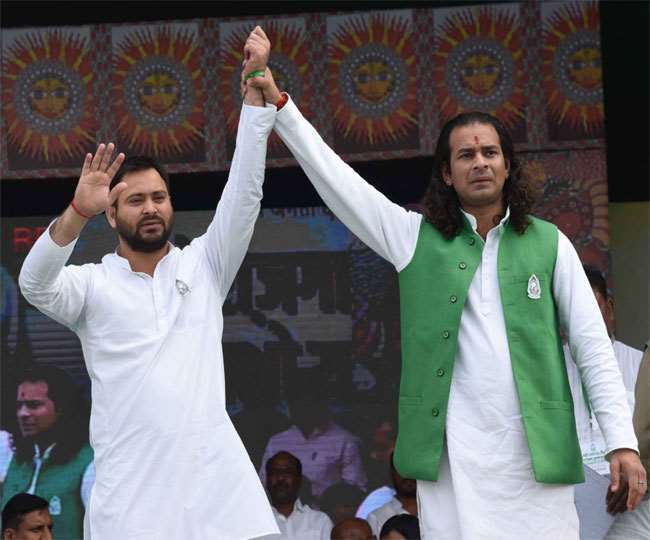 Now he had to choose a constituency which had Yadavs in the majority. Hasanpur being a Yadav belt with a history of many Yadav leaders from the constituency, was an appropriate choice for him. Gajendra Prasad Himanshu has won as many as 8 times from the Hasanpur constituency. Sunil Kumar Pushpam has also won twice from this constituency. Rajendra Prasad Yadav had won from this seat in 1985. After the delimitation, the seat has been occupied by the JDU leader, Rajkumar Rai (also a Yadav) since 2010.
Hasanpur assembly has more than 70,000 Yadavs, nearly 40,000 Muslims, 18,000 Paswans, 12,000 Kushwahas and more than 10,000 upper caste votes.
Tej Pratap's thought behind contesting from Hasanpur is very well researched. However, only time can tell that the 2,40,948 voters chose which candidate as their MLA on 3rd November. Tej Pratap has chosen this seat because he thinks that it is a safe seat for him.
Tejashwi Prasad has addressed a rally in Hasanpur, giving to boost to chances of Tej Pratap. Tej Pratap is also making sure that he gets as much as attention as he can. He was seen playing cricket, driving a tractor, sharing litti chokha and sattu (gram flour) with youngsters.
Have a news story, an interesting write-up or simply a suggestion? Write to us at info@oneworldnews.com