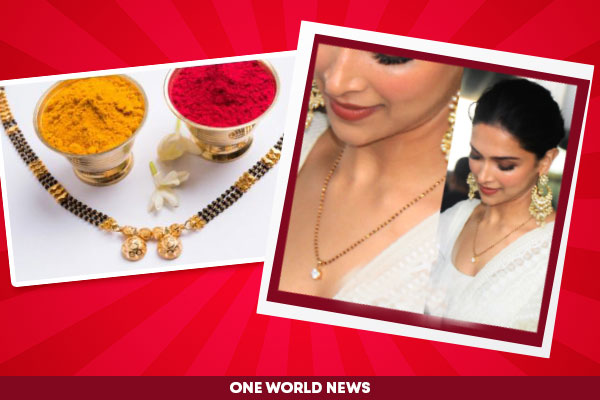 Indian Women revealed how they felt after wearing Mangalsutra for the first time, many called the moment 'Surreal'
---
Highlights
Why do Indian women wear Mangalsutra?
Essence of wearing mangalsutra
Is it too patriarchal? Women revealed how they felt after wearing mangalsutra for the first time
Mangalsutra is an important ornament for married women in India. It symbolizes that mates cannot be separated until death separates them.  The wife is meant to wear it all her life to indicate the love and commitment towards the husband. However, a lot of people call wearing Mangalsutra too patriarchal in nature because only one partner has to do all these things. Recently, Priyanka Chopra too talked about the moment when she wore the mangalsutra for the first time.  Indian women on the internet too revealed how they felt after wearing Mangalsutra for the first time.
 What is the essence of wearing Mangalsutra for Indian women? 
Well, Mangal Sutra means Mangal – Holy, auspicious and sutra means thread.  It is a necklace that the groom ties around the bride's neck and it helps in identifying her as a married woman.  Notably, the origin of Mangal Sutra goes back to 6th century AD, when a single thread was tied around the bride to protect her from evil energies and other men. This social practice is widespread in India, Nepal, and Sri Lanka. Started as a part of tradition, now it has become a style statement for many modern age brides. Notably, they are finding different ways to style it and opting for sleeker designs just to stay close to their culture and traditional heritage.
So is wearing Mangalsutra too Patriarchal?
A lot of people call it patriarchal as only one partner has to do all these things. Recently, our Desi girl also spoke about the same. Well, Indian women have different opinions on the same. We decided to speak to a few women, who recently got married and asked about their opinion on wearing mangalsutra.  Without any further delay, let us take a look at the answers:
"Well, it is completely your choice. We all have grown with the idea of wearing after marriage. When I wore it for the first time, it was a surreal moment. As a modern woman I love to stay rooted to my culture so I love wearing it, says Shruti Pathak, 28, IT Professional. "
Read more: Prajakta Koli becomes UNDP India's First Youth Climate Champion, says 'I am Truly Honoured'
"I had a discussion with my partner before getting married and told him that I don't believe in the idea of wearing Mangalsutra. Since we share the same values, he and his parents agreed. I wore it for the ritual but I don't wear it regularly. In fact, on our wedding day, my husband wore it too, says Deepika Khatri, 29."
"If you talk about scientifically, when a bride wears mangalsutra, it activates Surya Nadi in her body and activates inherent energy in her body. And it is essentially wore to ward off evil. I got my mangalsutra customized and when I wore it for the first time, I was actually crying. It was indeed a special and sacred moment for me", says Mahi Khanna, 32.
"I like to keep the balance of both. For me staying rooted to my culture is important. But I think it should be completely a woman's choice. Next generation girls might do it differently and that's should be completely fine", says Surabhi Verma, 29.
Read more: National Girl Child Day, Women shared Feeling of being Unwanted
What does Sadhguru have to say about it?
The literal meaning of Mangalsutra is the sacred thread that is tied around the neck of the bride. The components of the mangalsutra have different significance: Black beads ward off the negative energy, Gold or Silver – it takes free energy positive from the atmosphere, 2 rounds of cup in the mangalsutra signifies the form of Shiva and Shakti.  Notably, it also helps in regulating blood pressure.  Sadhguru in a video explained – That mangalsutra doesn't work that way.  The mangalsutra has to be processed and activated.  To follow any tradition, it is important to know the science behind this.
Read more: Mirabai Chanu Joined Manipur Police, From Sports to States, 10 athletes Serving the Nation
Conclusion
Wearing mangalsutra should be a choice.  Notably, Indian women revealed that they like to keep their individual identity intact without compromising on their culture and traditional heritage. Let us know your opinion in the comment section below about the same.
Liked this post?
Register at One World News to never miss out on videos, celeb interviews, and best reads.