ENTERTAINMENT
Here are some Bollywood actress 'Oops' Moments of Wardrobe Malfunctions
Wardrobe malfunctions happen to celebrities as well and they can't even get away with that as the paparazzi make sure that the whole world knows how they messed up!
---
Just like us, celebrities too face various uncomfortable and embarrassing moments as a result of wardrobe malfunctions.
Bollywood is known to be one of the world's most thriving film industries today and as attractive and dazzling it looks, it is really a home to all the current fashion trends and styles.
Multiple well-known actors and actresses work around the clock for their fans as well as the country's fashionistas in the Bollywood business. While fans anticipate and follow new fashion trends, it is not always easy for actors to carry their looks flawlessly and glamorously all of the time.
Read on to know more about these instances where Bollywood actresses had to go through an 'awkward moment': 
1. Sonam Kapoor: The actress is well-known for her bold and unique outfits however, once in an event, she was dressed in a black jumpsuit that exposed more than she wanted and at the time of the incident, photos revealing her adjusting the dress went viral on social media as it looked uncomfortable and a big fashion disaster.

2. Kareena Kapoor: Bebo was a victim of a wardrobe malfunction which was clearly spotted by the paparazzi. In an event, Kareena faced an oops moment and had to take the help of a safety pin to fix her blouse. She had to make a temporary remedy by using a safety pin which became more than just a rescue to save her grace.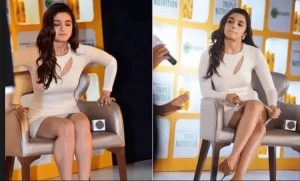 3. Alia Bhatt: The actress was promoting her film with Varun Dhawan when it happened. Both performed a number of acts that drew the audience's attention when her wardrobe malfunction was caught on camera showing her white underwear. Alia had to face that awkward wardrobe malfunction after Varun Dhawan lifted her when she was wearing a transparent dress, revealing her inners. Reports also suggest that there were many instances like this, that she has faced due to short dresses choices.
4. Parineeti Chopra: This was a total disaster when Parineeti Chopra's dress had a small tear at the zip, so she had to run for cover before it got any worse. The chirpy actress faced an embarrassing wardrobe malfunction after the dress she was wearing ditched her and ripped part which was clearly visible at the back, leaving the actress not only embarrassed but also ashamed.
5. Priyanka Chopra Jonas: Bollywood's desi girl may be renowned for her desi and gorgeous avatars but she has also been a victim of various wardrobe malfunctions. However, the most embarrassing one took place when the actress slipped after stepping on her own gown which was caught on camera showing her in a long, pretty gown with her husband Nick Jonas but unfortunately, the actress slipped revealing herself.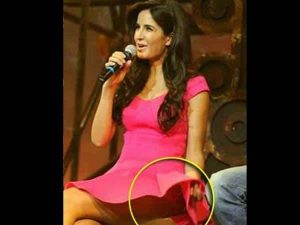 6. Katrina Kaif: The actress also faced various oops moments when her inner-wear was caught on camera because of her short dress. Also, it is being said that, Salman apparently urged Katrina to cover her cleavage and sit properly at an IIFA event.
7. Kangana Ranaut: The fearless Kangana is always in the headlines because of her bold statements, but this time, the actress has also been a victim of wardrobe malfunctions after her nipple appeared due to the body-hugging crop top that she was wearing. Guess, she just doesn't care to look in the mirror before going out.
8. Gauhar Khan: The elegant Khan has also faced an embarrassing situation of a wardrobe malfunction on a fashion ramp walk during a live show. The actress was on the live show and her skirt tore from behind. The actress obviously felt extremely embarrassed however, she resolved the issue by hiding the tear with her hands.
9. Aishwarya Rai Bachchan: Former Miss World, was also a victim of a major wardrobe malfunction during a music launch event after her breast was visible due to her short blouse. Unfortunately, her transparent saree didn't hide how the blouse exposed her.
10. Ankita Lokhande: Popular Television actress Ankita Lokhande on her 36th birthday celebration was with her friends and family when she faced a wardrobe malfunction resulting in a major 'Oops' moment.  The actress  was engrossed in a romantic embrace with her boyfriend, Vicky Jain and in the process, the actress fell prey to a fashion disaster as her dress got lifted upwards exposing her undergarment and the pictures of the same went viral on social media
Liked this post?
Register at One World News to never miss out on videos, celeb interviews, and best reads.