Hot Topics
Elon Musk Now Owns Twitter, These Banned Twitter Accounts Likely to Revive Now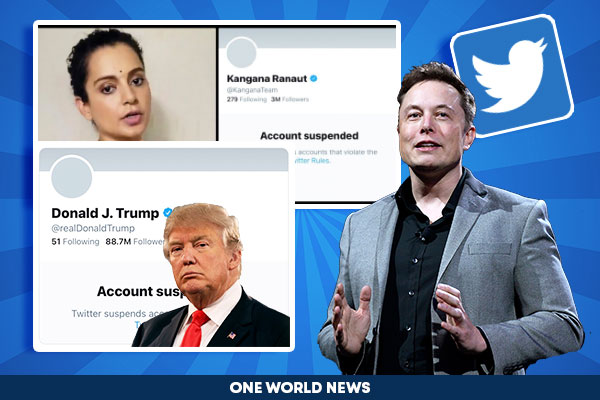 From Kangana To Donald Trump, all Banned Twitter Accounts may make a comeback
---
Banned Twitter Accounts: After weeks of speculations, finally, Elon Musk, tech billionaire & CEO of Tesla, sealed the mega-deal of the Twitter buyout for $44 billion. Twitter will now be a privately held company with the big newsbreak that Twitter's stock jumped 5.7%.
It also leads to significant concern about how Musk, the world's richest man, will handle extremist content and free speech questions.
Musk had made it clear repeatedly that he does not agree with all of Twitter's previous bans on users for posting content that might be considered hateful or used to incite violence.
While making the big announcement, Elon Musk wrote, "Free speech is the bedrock of functioning democracy, and Twitter is the digital town square where matters vital to the future of humanity are debated."
Meanwhile, there were some renowned personalities whose Twitter accounts were banned in the near past. However, as Musk takes over the charge, they may likely see a revival.
Donald Trump
Twitter permanently banned Donald Trump after the Jan 2021 Capitol riots, citing "the risk of further incitement of violence."
A likely 2024 presidential candidate, Trump said that he would not return to Twitter even under new ownership. Instead, he will formally join his own TRUTH Social app.
Kangana Ranaut
Kangana Ranaut was 'permanently suspended' in May 2021 by Twitter after she posted a series of tweets in reaction to the recent West Bengal 2021 assembly election results. A Twitter spokesperson had said her account was suspended 'for repeated violations of Twitter Rules, specifically our Hateful Conduct policy and Abusive Behaviour policy.'
Soon after, Kangana turned to Koo's homegrown social media platform while she frequently shared her opinion on Instagram.
Abhijeet Bhattacharya
Singer Abhijeet Bhattacharya's account was suspended in May 2017 after posting a string of "offensive" tweets, especially against women. The move by the micro-blogging site came after social media users accused the 58-year-old singer of using "insulting and inappropriate" language. The singer had received dissension on the social media site for a series of inflammatory tweets against journalist Swati Chaturvedi, who registered a police complaint against him last July. Twitter still shows his account @abhijeetback as suspended.
Katie Hopkins
Columnist Katie Hopkins was banned from using Twitter when she made insensitive comments against Muslims, immigrants, and others. According to the BBC, the account was banned as the media personality violated its Hateful Conduct policy. Katie Hopkins' Twitter account was suspended on June 19, 2020.
Read More- IITians to Harvard Alumnus, 7 Tea entrepreneurs of India
Anjem Choudary
Anjem Choudary's social media accounts were shut down within five days of joining. Twitter said the 54-year-old hate preacher's page was 'permanently suspended for violating the rules of its violent organization's policy. He was also jailed after being convicted of inviting support for the Islamic State terror group, and he left Belmarsh's high-security jail on license in 2018.
Choudary was also prohibited from speaking in public, his internet and mobile phone use was restricted, and he was banned from contacting people who may be suspected of extremist-related offenses without prior approval.
Liked this post?
Register at One World News to never miss out on videos, celeb interviews, and best reads.