Lifestyle
Popular TV Celebrities who found Love again after heartbreak
Will you take a second chance to fall in love when you least expect it?
---
Do you believe in finding yourself in the heat of romance again? We all know it's never too late to fall madly (gently or even sacredly) in love. When you lose a significant other, it is probably one of the most heartbreaking things a person can go through in life.
Many celebrities too have had to experience those devastating hard moments and have dealt with the loss of a partner. However, their hearts eventually healed, when they found love of their life again.
Someone once brilliantly said that some couples get lucky in love right away while some take a second shot at it and eventually find happiness.
Let's take a look at the TV Celebrities who found Love again:
Karan Singh Grover
The famous Dil Mil Gaye star known for his Casanova persona in the television industry remarried not once, not twice, but thrice. He first married Shraddha Nigam in 2008 but their relationship fell apart in ten months. He later married his Dil Mil Gaye co-actor Jennifer Winget in 2012 but sadly, their relationship did not last long either. And then finally, he fell for his Alone co-star Bipasha Basu and married her in 2016.
Shraddha Nigam
The actress was best known for her role in Sony TV's series, Choodiyan and Krishna Arjun married Karan Singh Grover and got divorced in less than a year because of Karan's flirting nature with other actresses as per multiple news reports. Shraddha bravely and gracefully moved on to later married TV actor, Mayank Anand who played the role of Karan's best friend in the hit series, Dill Mill Gayye. They both started off as friends and as business partners the two tied the knot in 2013.

Rucha Gujarathi
The actress became popular for her role in TV's Ganga and had an unsuccessful first marriage with Mumbai-based businessman Mitul Sanghvi where she was a victim of physical violence and mental abuse by her x-husband Mitul and in-laws. There were several reports that Rucha was even beaten on many occasions and tortured and was also deprived of food.
However, the actress found love again when she met Vishal through a common friend and later got engaged in 2016.
Shefali Shah
Shefali Shah made her debut in the movie Rangeela and married TV actor Harsh Chhaya back in 1997 but stayed together till 2001. Later, she found love in producer-director Vipul Shah and got married.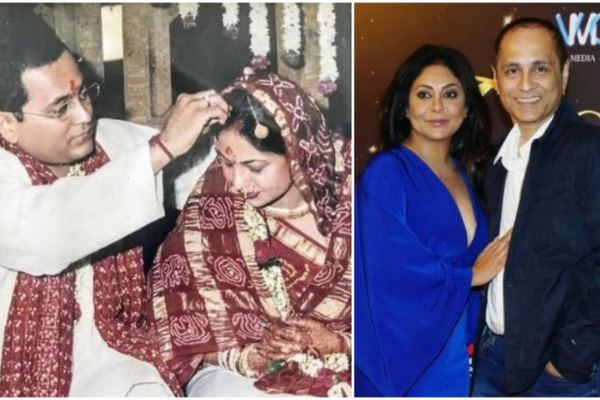 Archana Puran Singh
The laughter queen of reality shows had a failed marriage before she met Parmeet. After an unsuccessful first marriage, the actress had lost her interest in men and took a vow that she will never marry anyone however things changed when he met Parmeet and she was quoted as saying:
The couple had a live-in relationship for 5 years before officially getting married.
Gautami Kapoor
Gautami and Ram make a perfect looking pair and both have been television's most loved couple but did you know that it was a second marriage for Gautami. She was first married to a commercial photographer, Madhur Shroff. Gautami and Ram fell in love and got married in 2003.
Initially, both Ram and Gautami's families opposed their decision but the two convinced them anyway and got married.
Rubina Dilaik
The Bigg Boss 14 star finalist had fallen in love with Avinash Sachdev on the sets of their serial Choti Bahu. Multiple media reports say that the actor had come closer to another TV star following which Rubina broke up with him. The diva is now happily married to Abhinav Shukla who was also a candidate in Bigg Boss 14 house. After dating for several years, the duo got married in 2018.
Sana Khan 
Another Bigg Boss diva revealed that she had broken up with Melvin Louis as she was a victim of domestic violence. After dating him for two years, Sana was shattered when he had cheated on her thrice. Later, in 2020, the actress found true love and got married to Anas Saiyad, who completed her happily ever after story.
Bollywood Celebrities Who Had Cherished Parenthood Via Surrogacy Or IVF
Anita Hassanandani
The actress and Eijaz Khan met on the sets of their television show, Kkavyanjali. However, their love story went to shit Anita found out Eijaz was cheating on her. In fact, Eijaz himself admitted the same on a chat reality show and confessed everything. Anita is now happily married to Rohit Reddy.
Liked this post?
Register at One World News to never miss out on videos, celeb interviews, and best reads.