Hot Topics
What is the truth of detention centers in Assam?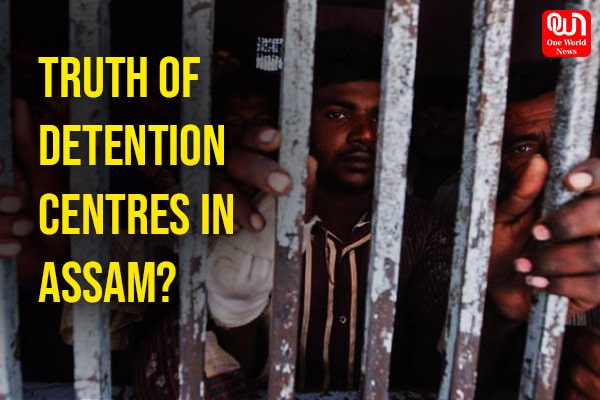 Is speculation of putting NRC-excluded people in the detention centre right, Know the truth of detention centre in Assam
---
Prime Minister Narendra Modi at a rally in Ramleela Maidan on December 22, 2019, said that there are no detentions centres in India. Union Home Minister of state, Nityanand Rai admitted the existence of six detention centres in Assam on February 4 in Lok Sabha. Few people protesting against National Register of Citizens have often alleged that government is sending all those people to detention centre whose names were not included in the NRC list.
Detention Centres history in India
The government of India has authorized the state government to set up detention centres to keep illegal foreigners in custody until they are deported to their country of origin. Atal Bihari Vajpayee-led NDA government issued the notification to establish detention centres to all the states and Union territories in 1998. Although, detention centres were not made until 2009 in Assam. Assam's Congress-led government set up three detention centres, attached to the district jails in the state. Currently, there are six detention centres in Assam.
As per the India Today article, about 834 people including 559 Muslims and 275 Hindus are housed in the detention centres. The Supreme Court in April 2019 ordered the release of declared foreigners who had completed three years in the detention if they fulfil conditions. The conditions are-  two people should give the surety, their biometrics will be taken, they will have to sign a bond of Rs 1 lakh, and they have to furnish a verified address. According to the government's data, 761 persons were released from detention centres in 2019.
Are detention centres not for those excluded in NRC published in 2019
All the individuals who were not included in the NRC list published in 2019 will not go to the detention centres automatically. About 18 lakhs people were excluded in the National Register of Citizen list. There are detention centres in other states also where no NRC list has been prepared. Detention centres/holding centres to keep illegal foreign nationals exist in Rajasthan, Punjab, Delhi NCR, Tamil Nadu and Gujrat. These detention centres are meant to restrict the movements of foreign nationals staying illegally in India so that they are physically available at all times for expeditious repartition.
Read more: Oscars 2020: Joaquin Phoenix wins Best Actor for Joker| Full list inside
People who were not included in the list of NRC will continue to get all the rights, including the voting rights until they are declared an "illegal foreigner" by the Foreign Tribunals. Individuals who were excluded from the NRC list will get a chance to file an appeal before a designated FT, which will decide the status of the individual. If not satisfied with the decision of Foreign Tribunal order, the person can move to higher courts. In case the person doesn't appeal, the district magistrate may refer to the Foreign Tribunal for its opinion on whether the person left out of the NRC in Assam is a foreign national or not according to the Foreigners Act, 1946.
Have a news story, an interesting write-up or simply a suggestion? Write to us at info@oneworldnews.com