Hot Topics
Trade Fair 2021 Highlights : Things that became Historic This Year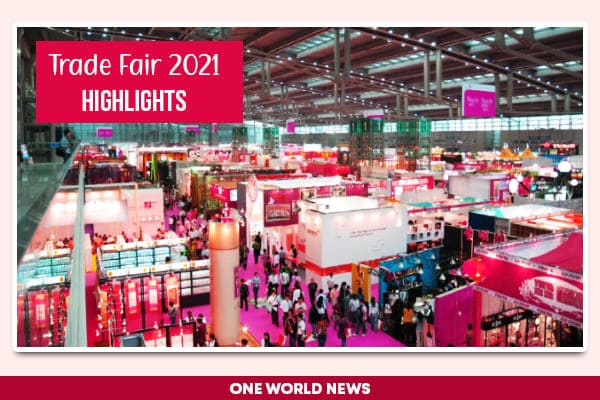 Trade Fair 2021 Highlights : Bihar Pavilion grabbed Gold medal to Promotion of Assam tea by a Prominent Minister
---
The India International Trade Fair (IITF) was held at Pragati Maidan in New Delhi. The event started on November 14 and concluded on November 27. This year Trade fair 2021 promoted the theme 'Atmanirbhar Bharat', the vision of new India.' The idea behind the theme is to focus on the country's economic export potential, infrastructure, supply chain, demand, and vibrant demography.
After a gap of one year, IITF 2021 confidently made a comeback since the covid-19 pandemic. Trade Fair is an excellent place for Indian and international entrepreneurs to exhibit their products, services, and brand. On the other hand, these marts also work as a one-stop destination for those who wish to buy things from various corners of India as well as abroad.
Taliban Rule in #Afghanistan: Afghan Traders could not fly in to attend the Trade Fair in Delhi, as no flights are operational.

Only 12 Stalls of Afghan Traders at Pragati Maidan, compared to over 40 in 2019.

But must visit these stalls, amazing Dry Fruits…@FMamundzay pic.twitter.com/4RKCJPwSyw

— Shalinder Wangu (@Wangu_News18) November 15, 2021
Trade Fair 2021 was special for various reasons this year. Let us look at the major highlights of the Trade fair 2021.
Bihar Pavilion clichéd gold at Trade Fair 2021
Bihar has been adjudged Number #1 in the India International Trade Fair (IITF) 2021 organized at Delhi's Pragati Maidan. Bihar Pavilion has been conferred with Gold Medal among exhibitions of 24 States and some foreign nations. This is a moment of extreme pride for all Biharis. pic.twitter.com/s8xp22Qi8l

— Syed Shahnawaz Hussain (@ShahnawazBJP) November 27, 2021
Bihar Pavilion grabbed many eyes as it managed to bag the sixth gold medal for its wonderful execution of the theme- Atma Nirbhar Bharat. The State's pavilion was inaugurated By Shahnawaz Hussain, Industrial Minister, Bihar. It displayed the live demo of prominent handicrafts like Manjusha arts, Madhubani, terracotta, and many more.
Palka Sahni, Bihar Resident Commissioner received an award on behalf of the Bihar Government from the Union Minister, Mukhtar Abbas Naqvi, Minister of Minority Affairs.
Amid Afghan crisis, Fewer Vendors turned up to Trade Fair 2021
In the previous editions of IITF, the ratio of traders from Afghanistan was more compared to this year.
As per sources, the traders faced major difficulties due to the non-availability of Delhi-Kabul direct flights. They also discussed the security situations back home that affected their business to a large extent.
NETA Promotes Assam Tea at Trade Fair 2021
Assam Tea being promoted at the Assam Pavilion at India International Trade Fair, New Delhi pic.twitter.com/EImHpzZAJW

— Tea Board India (@teaboardofindia) November 18, 2021
North Eastern state Assam Shined at India International Trade Fair 2021 as NETA (North Eastern Association) promoted Assam tea. The NETA collaborated with the Industries and Commerce department of the government of Assam, to promote authentic tea from the gardens of Assam.
Bidyananda Barkakoty, the advisor at NETA, said that visitors thronged at the Assam tea stalls to sip in favour of authentic Assam tea. Dignitaries like cartoonist Jagjeet Rana, Dr. KK Dwivedi, and Biswajit Daimary visited the Assam Tea Stall at the fair. 
Hunnar Haat 2021 receives a silver medal at Trade Fair 2021
Indian International Trade Fair 2021 held at Pragati Ground at Delhi…5 Self Help Groups are selected to represent themselves at 'Hunnar Haat'- One of them is 'Jay Bahuchar Sakhi Mandal' from Sarsavni Village of Mahemdabad@DDO_Kheda @indiatradefair @ArjunSinhBJP @MoRD_GOI pic.twitter.com/tjFx3ithEn

— Paras Chauhan TDO Mahemdabad (@chauhan_paras) November 15, 2021
The Ministry of Minority Affairs organized Hunnar Haat 2021 and bagged the prestigious IITF 2021 silver medal. The medal was given for staying committed to the Vocal for Local and delivering a strong presence at Trade fair 2021. On the last day of the mega fair, Mukhtar Abbas Naqvi, Minister of Minority Affairs, visited Hunnar Haat and said the initiative had managed to promote and encourage craftsmen and artisans from all across the country.
He also added that Prime Minister Modi's mantra of "Swadeshi to Swavlamban and "Vocal for Local" has preserved the ancestral legacy of handloom handicrafts. With this minister, Naqvi informed that the next Hunnar Haat will be held at Surat from 11 to 20 December and at JLN Stadium in New Delhi from 22 December 2021 till 2 January 2022.
Madhya Pradesh pavilion wins Bronze at Trade Fair 2021
On behalf of the state government, Shri BN Tiwari, Deputy Chief General Manager of Small Industries Corporation, and Shri Ajay Malik, in charge of Electronics Development Corporation, IT Park received the bronze medal at India International Trade Fair 2021.
This year, the MP pavilion displayed its idea of 'Self-reliant Madhya Pradesh'. These included topics such as good governance, physical infrastructure, health and education, employment, economy, tourism, arts and crafts, women's empowerment, MSME, skill development, agriculture-sector, smart city, and horticulture.
Liked this post?


Register at One World News to never miss out on videos, celeb interviews, and best reads.