Kaam Ki Baat Karona
Tractor Rally Violence, another Tale of Cruelty in a span of one year: How is Delhi reacting to it?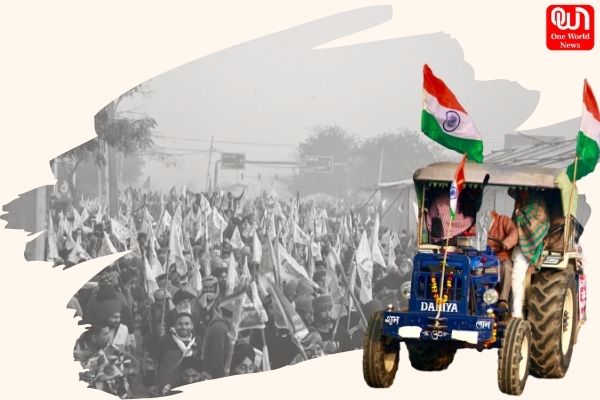 From Dilwalo ki Dilli to Dil Dehlane wali Dilli: How common people are reacting to this chaos?
---
Recently, I was speaking to one of the relatives and suddenly, he said, "Tum Log ko toh adat ho gyi hai, Delhi mai toh yeh sab Roz ka hai."  His remarks left me wondering, is he right? Have we become immune to all this? Well, there are many questions – Why there is always unrest in Delhi? And how does it impact a common person in the city?  To find out, our team decided to talk to people in Delhi to understand their state of mind. Does it impact them? Or they have just become immune to it.
On January 26th when the entire nation was celebrating Republic Day, the tractor rally turned violent. It left many police personnel injured and a farmer dead.  In the span of one year, this is the second time when such kind of violence has taken place in the national capital.
Last year, around Republic Day the attention was focused on the women protesting against citizenship law in the Shaheen Bagh. People from all walks of life and different spheres, including activists, poets, authors, celebrities stood together and opposed the act.  The protest might seem a distant memory today, but it led to brutal riots in Delhi.  A year later, another peaceful mass protest led to violence in the national capital
What exactly happened on that day?
Since November 26, 2020, farmers all across the nation, especially from Punjab & Haryana were protesting against the recently passed Farm Bills.  Several discussions were held between the government and the farmers but they couldn't conclude.  Recently, farmers were granted permission for a tractor rally in the National Capital on the occasion of Republic Day.  Notably, thousands of farmers knocked down the barricades at Delhi's border and entered the city. Amid the chaos, protestors were tear-gassed and baton-charged. According to reports, Kisan Parade was scheduled between 12 pm -5 pm but protestors started the rally much before time and deviated from the agreed routes. The peaceful march turned violent resulting in the death of a farmer and leaving many cops injured.
By afternoon, a large group of farmers reached Red Fort and tried putting up a yellow flag, where the PM hoisted the National Flag. The mayhem left us wondering what is happening?
There are several heartbreaking pictures on the internet of the chaos. The turbulence in the city left us thinking is this New India? This what we deserve? We are celebrating our 72nd Republic Day, an occasion to rejoice in the rituals of the largest democracy, but that the nation witnessed another ugly day.
Read more: Protest and Moral Policing: Is the Argument of Farmers' Protest weakening because of society's moral policing attitude?
Is this the New India?
In a span of one year, this is the second time when such kind of violence has taken place in the national capital. Our constitution provides pathways to accommodate various point of views and India is the largest democracy all across the globe. But over the years, that very democracy is becoming fragile. Many who disagree with the government are demoralized. Even if we look at the reports and statistics, they point out that a sense of despondency is setting in.  Notably, the Press Freedom Index has ranked India at 142nd position out of 180 countries covered. Apart from it, Freedom in the world 2020 report stated that India received the largest score decline among 25 of the World's biggest democracies.  The acid test of democracy is when everyone can express their views without the fear of prosecution.  That very idea is fading away from our country and this is also tarnishing India's image internationally.  What happened on January 26 is another reminder that there is something that has to be fixed. We all dreamt off a country where everyone can express themselves freely and everyone's ideas and faith deserve respect. Today, what we see is not the India we dreamt off. When citizens go unheard in a democracy, it creates mayhem.
How Media coverage make things worst?                  
Media plays an important role when it comes to shaping society. A lot of people form their opinions based on the information they consume. Be it Shaheen Bagh or Farmer Protest, news channels need to choose their words wisely while reporting. A lot of fake news gets circulated and facts are being misreported which can further fuel up the situation. Clearly, we are living in an era, where wrong facts are circulated in seconds and it makes the situation worst.
What we as a citizen can do?
Yes, we agree it has become difficult to do a fact check in today's world. A plethora of forwarded messages and many misleading facts can make anyone fall for any false news. But as a citizen of India, we need to understand our own responsibility. Before forwarding any messages it is important to check it. Your one fake message and fuel up a tensed situation.
Have a news story, an interesting write-up or simply a suggestion? Write to us at info@oneworldnews.com