JOYOUS NEWS
Tick-off These 5 Bucket List Items with Personal Loans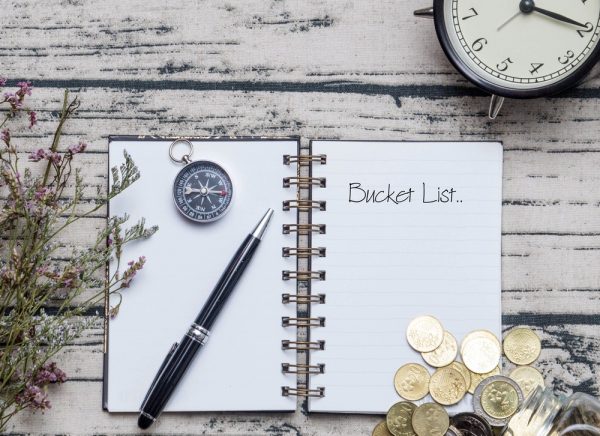 Tick-off These 5 Bucket List Items with Personal Loans
---
"The biggest adventure you can take is to live the life of your dreams." – Oprah Winfrey
Do you have dreams? A certain set of aspirations? Yes, these are stupid questions because everyone has one or more, right? However, how often do we tick things off our bucket list? How often do we go to an upscale restaurant and question our life choices because the right side of the menu is heavier than what our heart desires? We have to say No to a lot of things due to money. An instant personal loan can help you in fulfilling your dreams. Tick of these 5 -Bucket List items with personal loans.
The truth is – everyone aspires to experience that 'one' thing they have always wanted. It can be anything – from wanting to climb Mount Everest or getting served by Gordon Ramsey or even attending the craziest concerts on this planet. More often than not, the only thing limiting execution is – money.
If you have a bucket list with items or item – singular – you should really just get it done, because life is short and there is a lot to do. An instant personal loan can serve you just right and turn your dreams into reality. Nowadays, personal loans are granted instantly, and they are a blessing for people who do not let money deficit limit their dreams and desires.
What is a Personal Loan?
A personal loan is a type of unsecured loan that helps in meeting your short-term financial needs. Personal loans are easy to apply and often are approved instantly depending on the financial institution. However, interest rates and repayment tenure will vary. Only choose trusted lenders and understand all charges associated with the loan.
With a personal loan by your side, you can experience a plethora of things and tick off many from your bucket list.
Here are 5 Most Popular Bucket List Items You Can Tick Off with Personal Loans
1. Take That Dream Vacation
Everyone has a dream destination that gives them tingles down their spine. If you day-dream about the beaches of Santorini or get mesmerized by the Plitvice Lakes in Croatia or want to let your hair down at Tomorrowland in Belgium – do not let financial deficit come in your way. Traveling is a great way to unravel from the monotony of everyday life. It can be a life-changing experience and sometimes the only thing we need.
2. Take a Sabbatical from Work
Most of us are bound in the shackles of a 9 to 5 job where the world is asking us to choose a life by ourselves. Working for years leaves us drained – to a point where our creativity takes a toll. Taking a sabbatical from work can actually improve productivity and give you a new perspective on life. It might sound scary at first, but it is one of the best things you can do once in your lifetime.
3.Renovate Your Home
Overhauling your home can pump a new life inside you and is one of the best things you can do. If you have always wanted a modular kitchen or a man-cave for your late-night Netflix and gaming sessions – do not wait anymore. You can even overhaul your bathroom by adding a jacuzzi or give your living room a new theme. Add a home garden, change floorboards, buy a new home theatre system and more. If you have any of these things on your bucket list, start acting towards it now!
Also Read: How Does Insurance Premium Of Used Car Vary?
4. Start a Business
Have you always wanted to be your own boss? In the current scenario, a lot of us are charmed by entrepreneurship, but seldom execute it due to lack of funds. In such a case, you can reward your entrepreneurial spirit with a personal loan. If you are just starting on a business idea, a personal loan can aid in many more ways than a business loan. It is much easier to get a personal loan as it requires zero documentation for sanction, no collateral and is quickly approved. Most people test waters before going all the way – and a personal loan is one of the best ways to go about before starting a business.
5. Buy a Car
Having a car is like having a second home for many people. The convenience it offers is unmatched and allows a person to be genuinely free. Today, it is easy to buy a car, provided you have adequate income to get a loan. Even though car loans are available, they only fund up to 80-90% of the price of the car. The rest amount is paid as a down-payment. Many people do not make enough savings to pay for a down payment – making a personal loan the best way to pay. So, tick off that car from your bucket list and become a fresh owner.
Conclusion
Life is too short, and decades can pass by in a moment's notice. The next thing you know – you are past mid-life and realize you have not lived fully. Start experiencing life on a grand scale and do what you have always wanted to. If you do not have a bucket list – make one, if you do have one – start accomplishing them now. Money should not be a problem. An instant personal loan from financial institutions offers quick disbursals with a flexible tenure. Moreover, financial institutions like ABFL Direct have no collateral or ask for documentation for sanction on personal loans. Do not be afraid of dreaming again!
Have a news story, an interesting write-up or simply a suggestion? Write to us at
info@oneworldnews.in