Editor's Pick
The Great Khali Joins BJP, Will Janta Accept Him as their Neta?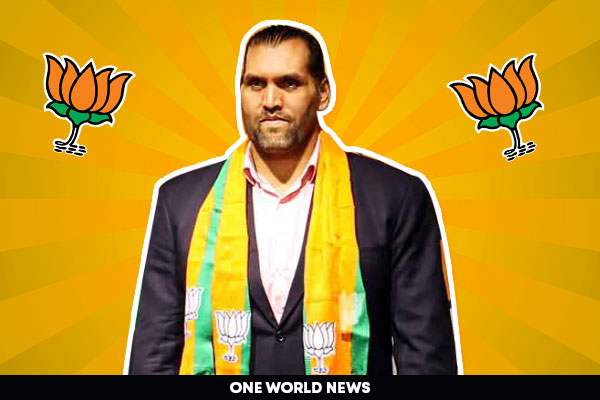 The Great Khali set to try his luck in politics joins BJP. Once again flooded with bizarre requests from netizens.
---
Highlights:
WWE Star 'The Great Khali joins BJP in Delhi 
Great Life of The Great Khali
"Sir Kood ke bhukamp la do na", Netizens asking weird questions From Khali  
WWE champion, Hollywood, Bigg Boss, and now politics, The Great Khali is always making headlines. From throwing his weight around both in the ring and outside (remember Ambuja Cement)? To sparking memes fests, like it or not, The Great Khali is a superstar. Now, he is all set to try his luck in politics.
WWE Star 'The Great Khali joins BJP in Delhi 
The Great Khali joined the Bharatiya Janata Party on 10 February 2022. He joined the party in presence of Union Minister Jitendra Singh, Rajya Sabha MP Arun Singh, and Lok Sabha MP Sunita Duggal. Khali's inclusion in the party came days ahead of the Punjab assembly polls. He joined the BJP at its headquarters in Delhi. The wrestler shared that he was influenced by the party's national policy. Khali heaped praises on Prime Minister Narendra Modi's work.
"So, by joining the BJP, I abide by their values, their dedication to working long hours, and their morals of putting the country forward. So that is why I joined them and I feel very good", said Khali in the press conference. He further added, "I have done wrestling throughout my life. There is rarely any country where I have not wrestled. I want to keep it short since it is my first day. If I just loved money and fame, then I would have stayed in the United States and in the WWE. However, I have always loved my country. And our prime minister has worked a lot for India. Looking at that I realised our country has found the right person. That is why I want to stay here (India). And help us so that we can prosper even more."
Read More- Mount Everest is melting! Why is this alarming?
Great Life of The Great Khali
Khali hails from Ghiraina village in Sirmour district, Himachal Pradesh. Khali was first noticed by a Punjab police officer who recruited him to the force. He then began to work out at the local gym and honed his wrestling skills. The wrestler, standing 7-foot-1, made his debut in wrestling in 2000. And from then on, there was no looking back for Dalip Singh Rana, his real name. He was inducted into the WWE hall of fame as part of the 2021 class. He has also appeared in films like "MacGruber," "Get Smart", and "The Longest Yard".
Read more: India gets maximum Spam calls: Are you also tired, here is how to tackle it?
"Sir Kood ke bhukamp la do na", Netizens asking weird questions From Khali  
Khali's comment section is the real pandemic, here's why…. pic.twitter.com/XYpb0wWF7P

— tish (@jitishaha) May 30, 2021
My new fav pastime is scrolling through the comments on khali's insta. pic.twitter.com/1mnSsZmeyG

— Mohil Khare (@iMohilKhare) May 30, 2021
Apart from his professional life, Khali is famous for memes in which netizens often make bizarre requests from him. Once he became one of the top trends on Twitter. And the reason behind it is all the Instagram comments. People were commenting on Khali's Instagram posts asking him to complete some impossible hilarious tasks. He posted a video on Instagram that triggered a barrage of requests and memes. Since it was Khali the great, netizens could not just let go. From asking him to jump to shake the world, to bringing a flood, to stirring a storm, his fans made all sorts of requests to him.
Now, The Great Khali has joined BJP and received mixed reactions on social media. It will be interesting to know what the former wrestler is going to put on the table.
Liked this post?
Register at One World News to never miss out on videos, celeb interviews, and best reads.