Kaam Ki Baat Karona
The Future Of Electric Vehicle: India Might Soon Replace Its Petrol And Diesel Vehicles With EVs
The Government Seems Highly Positive To Be The Global Leader As A Electric Vehicle Manufacturer
---
India might soon see quieter roads and cleaner air as the government aims for 100% electric mobility by 2030. The soaring price of petrol and growing concern for the climate crisis increased the demand for electric vehicles in India and the government wants to prepare itself for a greener future. Several big automotive manufacturers and start-ups such as Arther energy, Ola electric, and STROM Motors are building their presence in the EV market. In 2020, Ola Electric announced the launch of its first electric scooter in India and stated it a revolutionary move.
Ola set up its 'future factory' in Tamil Nadu for ₹2,400 crores which is spread over 500-acre. With Over 3000 AI-driven robots, the factory has the capacity to produce 10 million scooters annually. The automotive giant Tata has already built its presence as a growing four-wheeler EV manufacturer in the country. With two EVs in the market and a few inline, Tata's EVs are already running on India's streets with pride.
Read More- Congress-Mukt Opposition Soon to Turn into Reality? What's Your Opinion?
As the auto industry is betting on environment-friendly vehicles, the road to make EVs as the replacement for petrol cars still seems long and tough. Despite the efforts from the manufacturer and government, the push to convenience the consumers is failing. Here is a look at how the future for EVs looks in India.
India As A Leading Producer & Consumer Of Evs
Currently, India is the fifth-largest automotive industry with over 3 million new car units registered in 2021. The Indian automotive industry is set to be the third-largest market by 2030, and the government is trying to make a swift transition to EVs from fossil fuels.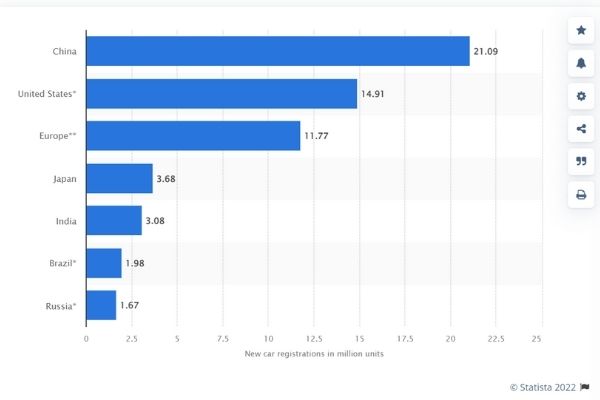 Constantly growing demand for private transport is putting pressure on the economy and environment. The Indian government imports 80 percent of its petrol and diesel worth ₹8 lakh crore. If the demand continues at the current pace, India's import bill could reach ₹25 lakh crore in the next five years.
The transport sector in India accounts for 18% of total energy consumption, equivalent to 94 million tonnes of oil annually. If the current trend follows, the total energy consumption will reach 200 million tonnes of oil. In an effort to reduce the oil import bill, the government is planning a big change in the EV sector.
read more- Men Ki Baat: Are All Laws in India Gender-Biased? No, There Are Some Exceptions!
The four big ministries – Ministry of Power, Ministry of Petroleum and Natural Gas, Minister for Road Transport & Highways, and Ministry of Environment are planning to make India a leading market and exporter of electric vehicles within a decade. By 2030, India aims for 30% EV sales penetration for private cars, 70% for commercial vehicles, 40% for buses and 80% for two- and three-wheelers. Last year at the first edition of the Ananthkumar memorial, Union Minister Nitin Gadkari said India's automobile industry's turnover was ₹7.5 lakh crore, which could be more than 15 lakh crore within the next five years.
In 2016, then power minister Piyush Goyal at an event said "India could become the first country of its size to run 100 percent electric vehicles."
As per a study by CEEW Centre for Energy Finance (CEEW-CEF), India's EV market will be $206 billion by 2030. During 2021-22, EV sales accounted for only 1.3% of total vehicle sales in India. However, India is seeing decent growth for two-wheeler EVs. According to a report published in  Deccan Herald, nearly 60,000 two-wheeler EVs sold in the last financial year, nearly 40,000 more than the last financial year.
The Challenges For EVs
Despite the government pushing EVs, there are still speed bumps for electric vehicles in India. The lack of infrastructure, higher cost for owning an EV, range anxiety, and limited charging points are a few major issues with the EVs.
An EV is way more expensive than a person or a diesel car. The price for a Tata Nexon EV starts at ₹14.29 Lakh and goes up to ₹16.90 Lakh, while the petrol and diesel versions for Tata Nexon start at ₹7.39 Lakh and goes up to ₹13.73 Lakh. Similarly, an electric scooter such as Arther 450x or Ola S1 costs nearly ₹1.2 lakh after the FAME II subsidy, while the regular petrol scooters range between ₹80,000 to ₹1 lakh.
The production cost for an EV is much higher than a regular vehicle due to what goes in it. EVs are powered with rechargeable lithium-ion batteries, which are a bit pricey. The cathode is the most expensive component in a battery that fuels the EVs, making the Evs' production costly. The production of lithium-ion batteries is limited to a few certain countries, and India heavily relies on other countries for the import of lithium to produce lithium-ion batteries.
India's lithium import rose to $929 million in 2019 from $383 million in 2016. The unavailability of lithium reserves in the country is yet another major challenge for the EV market to tackle in India. However, the Indian government is confident that they would manufacture lithium-ion batteries within the country soon and would be the top player in the world in manufacturing electric vehicles.
"India has got tremendous capability for making green power… Within six months, I am confident that we will be in a position to make 100 percent lithium-ion batteries in India, there is no shortage of lithium," said Nitin Gadkari at Amazon's Smbhav Summit last year.
Gadkari further added that the cost of EVs would be the same as the petrol/diesel vehicles in the next two years.
Government Initiative To Push Environment-Friendly Vehicles
The Indian government has introduced several schemes to promote EVs and hopes for a positive outcome. Union Minister Nitin Gadkari said that India's automobile industry's turnover might reach 15 lakh crore in the next five years.
Finance Minister Nirmala Sitharaman in the union budget 2022-23 announced further schemes to push EVs. Sitharaman said that the government will introduce a new policy for battery swapping to promote the use of electric vehicles.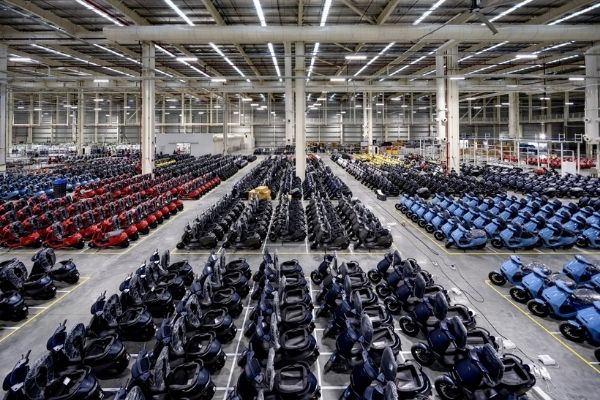 "To promote a shift to the use of public transport in urban areas. Special mobility zones with zero fossil fuel policy to be introduced. Considering space constraints in urban areas, a 'Battery Swapping Policy' will be brought in," said Sitharaman.
In 2019, the government introduced the FAME II (Faster Adoption and Manufacturing of Electric Vehicles-II) subsidy to promote green mobility and make two-wheeler electric vehicles more affordable. In September last year, the government revised the FAME II subsidy to 50% more at ₹15,000 per kWh from ₹10,000 kWh.
Following the revised FAME II subsidy, the government further approved a ₹26,058 crore PLI (production-linked incentive) scheme to accelerate domestic manufacturing of electric and fuel cell vehicles. According to an estimate, the scheme would attract ₹42,500 crore investment in the auto sector over five years.
To tackle the charging issue range anxiety, the government has announced several plans. Union Minister Dr Mahendra Nath Pandey announced plans to install 6,000 charging stations for electric vehicles across nine expressways in the country soon. Nath has also asked Automotive Research Association of India (ARAI) to develop technology to reduce the charging time for EVs.
The NHAI has already announced plans to install about 700 EV charging stations across its major highways in the country by 2023. Along with the government, several private companies, including Tata, Magenta Power and Energy Efficiency Services Limited (EESL), have already announced their plans to install charging at several locations, whereas Tata has already installed over 1000 charging stations in 180 cities.
Conclusion
India has come along with EVs in recent years and a vast EV market is expected in future. India already stands fifth in the automobile market and would jump to the third position by 2030, making it one of the largest auto markets. The government and auto manufacturers have already started pushing electric vehicles to open doors for green mobility. As the government positively grows towards renewable energy, India might soon become a global leader in the electric vehicle segment.
Liked this post?
Register at One World News to never miss out on videos, celeb interviews, and best reads.