TOP STORIES
#Tastyworld: How to make baby potato masala at your comfort zone?
Recipe of Masala Baby Potato: How to prepare it in just 10 mins
---
Potatoes are the most loved vegetable in India. No chaat is complete without a potato dish.  The samosas, Kachoris, the pani puris nothing will be same if we will remove the potatoes from them. Almost everyone loves potato. They are easy to make and can instantly rejuvenate your taste buds.   Today, we will be sharing the recipe for Masala Baby potato with you all.  Try it at home and treat the foodie in you.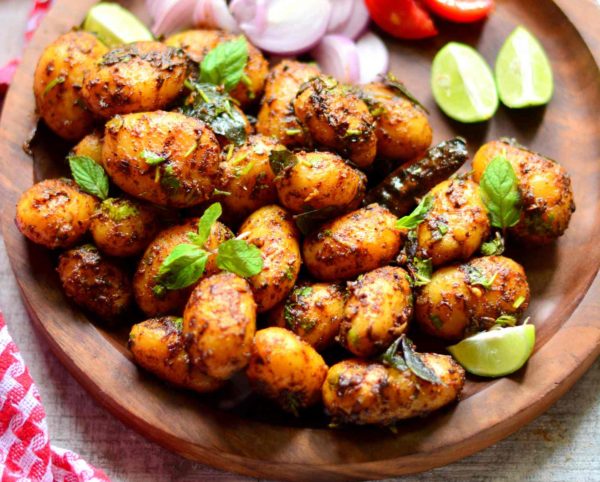 Here, we go! 
Ingredients 
300 gms baby potatoes
1 tsp spoon coriander powder
1 tsp chaat masala
1/2 tsp cumin powder
1 sprig of curry leaves
1/4 red chilli powder
Juice of 1/2 lime
Salt to taste
2 tbsp olive oil
Read more: 10 Best Foods For Shiny Hair
How to Prepare it?
1. Wash the potatoes and pat them dry. Do not peel the skin. Some of the skin will come out when you will pat them dry.
2. Cut int halves and quarters depending on the size of the potato
3. Heat oil in a nonstick pan
4. When the oil is hot add the cut potatoes, cover it, and cook it for at least 5 minutes.
5.  The potatoes will now become little soft and tender
6.  Now, add all the spices and curry leaves and again cook it for 10 minutes.
7.  Toss them and if you think potatoes are sticking to pan, you can add a little water on the lid of the pan. This will help the steam inside the pan to condense. We don't want a lot of water but just enough for potatoes to become tender.
8.  Now, serve it hot. Do not forget to drizzle lemon juice and a pinch of chaat masala for the garnish.
So, if you want to try something chat pata as an evening snack. This could be a wonderful option. Just think when you had a long tiring day and baby masala potato comes to your rescue, isn't that great?
Have a news story, an interesting write-up or simply a suggestion? Write to us at info@oneworldnews.in