Kaam Ki Baat
Swachh Bharat Abhiyan completes 6 years, here is what the campaign has achieved so far
The Government of India declared India open-defecation free, are we free though?
---
The Swachh Bharat Abhiyan or Clean India campaign is the most significant cleanliness campaign started by the Modi government on Gandhi Jayanti 2014. This year the campaign has completed 6 years.
There was a lot of buzz when the cleanliness campaign was started. PM Modi led a cleanliness pledge which was joined by more than 30 lakh government employees across the country.
During the launch of the mission, PM Narendra Modi exhorted people to fulfil the dream of Mahatma Gandhi of a clean and hygienic India. Prime Minister Modi himself initiated the cleanliness drive by picking up the broom to clean the dirt at Mandir Marg Police Station. He asked people not to litter or not let others litter by giving the mantra of 'Na gandagi karenge, Na karne denge.' He also invited 9 people to join the campaign and requested each of them to draw 9 more into the cleanliness drive.
While the opposition attacked PM Modi, calling the broom event of PM Modi, a PR stunt, his admirers praised him for a great initiative.
For a few days, the cleanliness campaign was dominating the debates and it almost became a National Movement as common people joined the Swachh Bharat Abhiyan.  A sense of responsibility was evoked among the people, at least for a few days. It was thought that with citizens becoming active participants in the cleanliness drive, the country will soon become a 'Clean India.'
People from different sections of the society had joined the cleanliness campaign. From security personnel to government officials, sportsperson to Bollywood actors, spiritual leaders to industrialists, all lined up for the noble work. NGOs and local community centres also joined the drive and spread awareness about hygiene and the importance of cleanliness.
Read more: What is all to know about Ayushman Bharat Yojana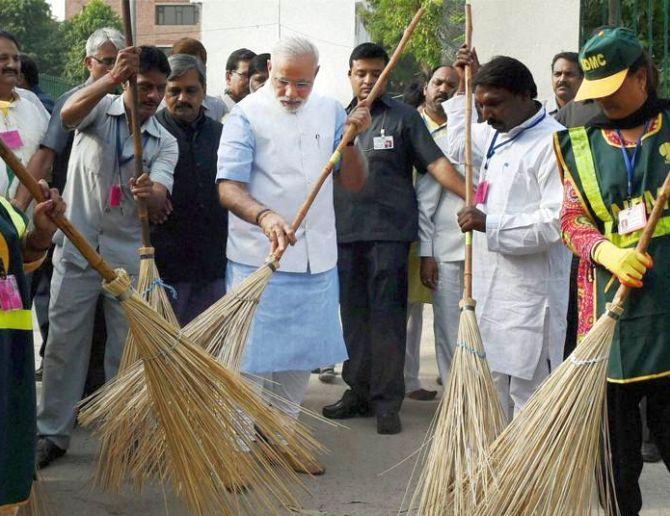 Open defecation free India
One of the primary goals of the Clean India Campaign was to make India 'open defecation-free' by building 12 crore toilets across urban and rural households. Prime Minister Modi announced last year in October that India has become 'open defecation-free'. India might have been successful in decreasing open-defecation, but it has not been fully eliminated in the country.
A survey conducted by the Research Institute for Compassionate Economics (RICE) found out that open defecation decreased 26 percentage points till 2018. The survey was conducted in 3,235 households in four states in north India between 2014 to 2018. Access to household toilets rose to 71 per cent in 2018 from 37 per cent in 2014.
However, access to the toilet does not mean that open defecation has stopped. The RICE survey found that 23 percent of the people who had a toilet in their house, still defecated in the open.
The objective of the Clean India Campaign is also to create sustainable solid and liquid waste management systems across the country by improving sanitization for women and marginalized communities and ending manual scavenging.
Visit www.oneworldnews.com to read more such articles
What has the government focused on?
The mission to make India 'open defecation free', has focused almost entirely on toilet construction and ownership. Toilet construction was meant to take up 33 per cent of the budgetary allocation, and 50 per cent was to be used towards improving solid waste management. But from 2014 to 2018, 51 per cent share of the urban budget was used towards toilet construction and only 38 per cent was used towards solid waste management.
How does the toilet construction work?
The government provides Rs 12,000 for a basic twin-pit household latrine constructed under the Mission. The Central government contributes Rs 7,200 while the rest of the expense is borne by state governments. The family has to build the toilet with that money.
This money is a great assistance and has helped crores of households to make toilets. But, in many cases, toilets have been constructed through threats and coercion as district officials are under pressure to meet the target of the mission. There have been instances when several villagers in Rajasthan were forced to build toilets under pressure from Panchayat officials who threatened to cut off their welfare benefits if they didn't comply.  Some lower-caste and low-income households in the village were completely struck off government records because they could not afford to construct toilets.
The 2018 RICE survey said that Dalit and Adivasi households in north India faced high rates of threats, coercion and harassment from officials who were trying to implement the Swachh Bharat Abhiyan.
What have the outcomes been?
The government claimed that 93.21 per cent rural households had access to toilets in the National Annual Rural Sanitation Survey (NARSS) 2018-19. 96.5 percent of these people used the toilets. It also claimed 90.7 per cent of the surveyed villages that had been declared ODF were actually free of open defecation. 95.4 percent of the villages were found to have a minimal litter and stagnant water.
In urban areas, the government's target was to build 67 lakh urban toilets. They claim that they have made 66 thousand household toilets and 6 thousand community /public toilets, far exceeding the target by August 2020.
Construction of toilets does not mean that they are being used. The RICE survey of 2018 found open defecation rates of 53 per cent and 25 per cent in Rajasthan and Madhya Pradesh respectively. A total of 9,812 people were surveyed in the study.
One reason why India is not open defecation free is because the government has been making ODF declarations on the basis of latrine ownership and not on actual usage of the latrine. Payal Hathi and Nikhil Srivastava did a research which found out that NARSS surveyors were under pressure to get data which matches the data of the Ministry of Drinking Water and Sanitation on construction of Toilet.
The regular toilet-use claim of 96.5 per cent in NARSS is questionable. The Centre for Science and Environment did a survey Uttar Pradesh and Bihar in 2017, and found out that regular use of toilets was low because of the lack of water connection in many toilets or twin-pit toilets were designed poorly. The study also found out that construction of pit latrines was not completed or latrines were often turned into storage sheds.
Government failed to change the behaviour of people towards cleanliness
The clean India initiative has been welcomed by everyone but the mission has not impacted much because we are inherently untidy and feel that only our house should be clean. We are not concerned about the surrounding. So, until the government becomes successful in changing the mindset of people, real change is very difficult. Several programs with the same aim, like – Nirmal Bharat Abhiyan and central rural sanitation program were started by the previous governments but the results were not encouraging.
There is no doubt that the government has constructed the toilets, but they lack in bringing a behavioural change in the rural population. There have been reports which suggested that UP several villagers are using the toilets to keep their cattle and still practising open defecation.
Many campaigns are launched every year, but they fail in India because people do not follow up on them. How often have we talked about the Clean India Campaign apart from Gandhi Jayanti and the time when it was flagged? Cleaning surroundings once is not going to help, one needs to learn not to make it dirty first. The government has failed to change the habit and attitude towards cleanliness in the Swachh Bharat Abhiyan.
Celebrities and common people came on roads for a few days, but later they got busy with their daily schedule and forgot about the campaign. Social media savvy youths might have posted and liked the idea on social media but did not become a part of the movement.
Even the infrastructure and bureaucratic systems in the country are not flexible to effectively implement these ideas. For example- people are asked not to urinate outside but sufficient public toilets are not available at all locations. This compels people to urinate in the open.
Many of us still use roads as a dumping area because there are no dustbins around. A handful of places which have dustbins go missing after some days.
Had Clean India Campaign worked in all these years, Brahmani river in Sukinda, Odisha would not have contained dangerously high levels of hexavalent chromium, which can cause diseases like cancer. The Yamuna river in New Delhi would not have been home to garbage and sewage and marine life would have existed in it. Corner of the streets would not have been filled with garbage. Varanasi would not have been amongst the dirtiest cities in the world.
Have a news story, an interesting write-up or simply a suggestion? Write to us at info@oneworldnews.com