Hot Topics
Sukesh and Jacqueline Viral Picture row : Will Bhaijaan come to her RESCUE?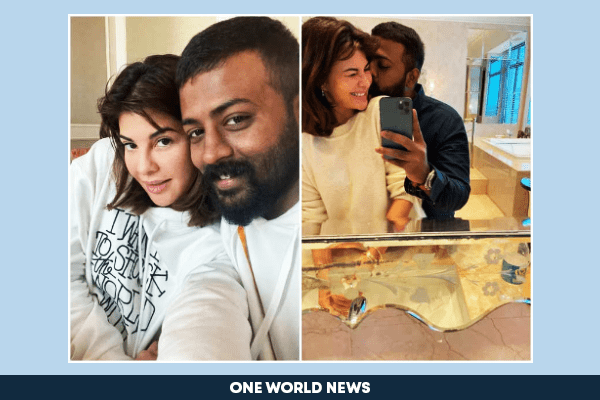 Who is Sukesh Chandrasekhar? Why did Sukesh and Jacqueline pics sparked controversy?
---
Srilankan beauty Jacqueline Fernandez landed up in a trouble puddle soon after she posted some cozy pictures with conman Sukesh Chandrasekhar on the internet. And now, a second picture of the rumoured couple is going viral. The squishy mirror selfie saw Fernandez planting a kiss on Chandrasekhar's cheek while he captured the loved-up moment. Jacqueline looked really comfy in a white top and shorts, while the conman was wearing a casual sweatshirt. Going by this photograph, it is quite evident that Sukesh and Jacqueline shared a strong bond. The photo had left everyone wondering if Jacqueline was dating Sukesh Chandrasekhar?
What is the whole issue?
Recently, Sukesh Chandrasekhar was accused of running an extortion racket worth ₹200 crores. Interestingly, he did all this sitting in Tihar jail. In this case, he had cheated Aditi S. Singh, the wife of former Ranbaxy promoter Shivinder Singh. ED officials had recovered the call records of Sukesh that revealed Jacqueline's name.
200 ਕਰੋੜ ਦੀ ਠੱਗੀ ਮਾਰਨ ਵਾਲੇ Sukesh ਨਾਲ ਰੋਮਾਂਸ Jacqueline ਨੂੰ ਪਿਆ ਭਾਰੀ, ਹੋਈ ਬਦਨਾਮhttps://t.co/rzy6K05NEE#JacquelineFernandez #SukeshChandrasekhar #Conman #Fraud pic.twitter.com/JwqndpoU2h

— Jagbani (@JagbaniOnline) December 1, 2021
These pictures were reportedly clicked somewhere in April-June of 2021 when the millionaire conman was out on interim bail. Sukesh and Jacqueline had reportedly met about four times in Chennai. According to Ed, he even had arranged a private jet for the actress so that she could be with him for these meetings.
In October 2021, Anant Malik, Sukesh's lawyer had claimed in his argument that Sukesh and Jacqueline were dating.
As per the reports, Sukesh had told the agency that he used to send expensive gifts worth crores to the Aladdin famed actress.
During the questioning, Sukesh and Jacqueline were made to square up against each other, as the ED wanted information about the 'suspicious transactions' between her and the fraudster. Moreover, while Jacqueline was summoned by the investigation agency for questioning, her spokesperson had denied the relationship allegations.
Her spokespersons had issued a statement that reads, "Actress Jacqueline Fernandez was summoned by the ED to testify as a witness. She has duly recorded her statements and in the future also, be completely cooperating with the agency with the investigations. Jacqueline categorically denied alleged slanderous statements made about her relationship with the involved couple."
Fernandez first appeared before the ED in august and recorded her statement in the case. She was summoned again in October. The actress had even confronted Madras Café actress Leena Maria Paul during the questioning who is also Sukesh's wife.
Jacqueline Fernandez does 108 yoga to combat the gym lockdown, Watch video inside!
Jacqueline is not the only celeb who was linked with the money laundering case. Last month, dancer- actress Nora Fatehi too was summoned by the federal agency.
How did Jacque fall for this? 
Sukesh Chandrasekhar started talking to Jacqueline as a reputed personality. He would make spoof calls to her from Tihar Jail using advanced technology. Reportedly, he used an app called "Crazy calls" for making spam calls. When the actress started believing him, he duped her. Other details of the case remained undisclosed by the ED.
His wife and partner in crime, actor Leena Maria Paul was arrested by the Delhi Police for her involvement with Sukesh Chandrasekhar.
 Who is Sukesh Chandrasekhar?
Sukesh Chandrasekhar owns a millionaire lifestyle but is also always involved in a constant chase with the police. As per reports, his conning life started at the age of 17. Born in a lower middle-class family based in Bengaluru, Karnataka, Chandrasekhar's father wanted him to be educated and do a decent job. However, Chandrasekhar had different plans for life. He decided not to study after Senior Secondary and started working in the real estate sector. 
Before even turning 18, Sukesh got involved in conning and started duping high-profile personalities by posing as a government officer or a bureaucrat. 
He went on a jail tour several times for looting prominent personalities including Bollywood celebrities, politicians, and many business giants. However, as soon as he is out of jail, he starts preying for the next.
Liked this post?
Register at One World News to never miss out on videos, celeb interviews, and best reads.