ENTERTAINMENT
These Singers walked off stage in the middle of a concert
'We want our money back': Fans after
singers walked off stage in the middle of a concert
---
Unfortunately, this happens all the time when things go wrong in the world of the performer, they can also go wrong too.
One of the worst and disappointing moments that music fans can experience is seeing their favourite stars walking off stage in the middle of a live concert after they have paid a huge amount of money. Fans expect to have a great time nodding their head to all the tunes. But concerts don't always go according to the plan, and sometimes artists walk off stage for all sorts of reasons. List of 14 singers who walked off stage in the middle of a concert.
So, let's read all about the craziness of singers who by nature, performers are needy, mercurial people and who can create magical moments when the elements perfectly align.
Read More:- Skincare routine after 30: 15 minutes routine that every woman should follow!
Kanye West: The rapper is famous for going off in public and sometimes, he can go to extremes, as he did with Taylor Swift in 2009 so this may not be a surprise. Kanye West in 2013, stormed off stage during the concert at Tampa Bay Times Forum as he was not happy with the technical arrangements of the show like lasers and microphone connections. During the concert, he walked off stage as he wanted the lights off, according to The Huffington Post reports. Later, he returned a minute & as per music critic Sean Daly, he yelled at his tech crew. In November 2016, he suffered an on-stage meltdown four songs into his Sacramento shows & shocked the crowd by walking off stage.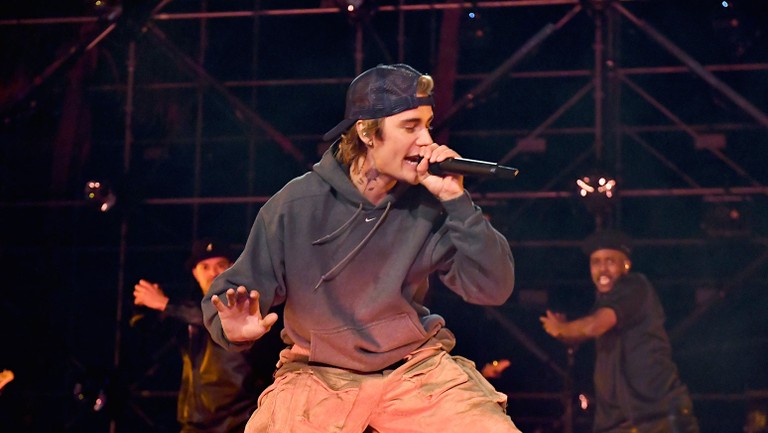 Justin Bieber: During a concert in Norway in 2015, the singer stormed off stage after a fan spilled something to which Justin quickly got frustrated and exited the stage saying, "Never mind, I'm done. I'm not doing the show." Also, in 2016, the pop star made news headlines for stopping in the middle of his concert just to scold his audience for talking over him. According to E!, when he was talking to the audience, the crowd was screaming too much in the breaks which stopped Bieber to continue to further. He said, "I don't think it's right that when I'm trying to say something you guys keep screaming". And, however, the audience still continued to scream forcing Bieber to drop his microphone and walked off stage. He returned after a few minutes and said, "Let's do the music. Obviously Manchester just can't handle it."  He also stormed off stage in São Paulo, Brazil, back in 2013, when a concertgoer threw a water bottle at him and knocking the microphone out of his hand.
Britney Spears: After three songs, the all-time pop star left the stage while performing in Vancouver because of the cigarette smoke in the building that was coming from the crowd. Later, she, however, returned to the stage and performed "Me Against the Music." & continued performing a while before leaving again. After the concert, her crew members released a statement saying, "We would like to apologize to all the fans who attended the Vancouver show tonight for the brief pause in Britney's set."
Zayn Malik: When he was still working with One Direction, pop singer Zayn ended up walking off stage while performing in Perth, Australia and letting the rest of the band carry on as a foursome. However, according to the team's spokesperson, "Zayn was taken ill during the show but it's nothing serious," And, later, it came out that he was struggling with anxiety which affects his performances.  In 2015, he left the band to pursue a solo career where his collaboration with Sia on the song 'Dusk Till Dawn', saw him top the charts. However, in 2016, he ended up cancelling a concert due to his anxiety issues.
Selena Gomez: The famous pop singer was performing at KIIS FM's 2013 Jingle Ball concert when she reportedly got upset after experiencing all sorts of sound and microphone malfunction. She ended up saying, "What the f*ck!". Later, the former Disney child star did return to the stage apologized to the crowd saying, "Sorry, the sound isn't working!" She also said, "Are you guys having a good night? Is it OK if I perform two more songs for you and you guys can get along? I really appreciate you supporting everything that I do." She then finished her last set.
Billie Joe Armstrong: The punk rock band 'Green Day' was on the stage to perform at iHeart Radio's annual concert but their time was reportedly going to get cut short to make room for Usher. According to Fuse, Green Day lead singer Billie Joe Armstrong wasn't happy about it and said "I am going to play a f*cking new song." "F*ck this sh*t. The singer ungraciously treated the audience and used the F word several times before storming off stage and reportedly cursed out Justin Bieber, smashed a guitar, and walked off stage. Later, there were many headlines that revealed Armstrong was going to rehab.
Madonna: In Santiago, the performer witnessed fans smoking in the crowd during the concert which made her stopped in the middle and said "There are people smoking right now," and according to The Huffington Post, she said. "No smoking. If you're going to smoke cigarettes then I'm won't do a show. All right? And I'm not kidding. I won't sing if you keep smoking cigarettes … You're looking right at me and smoking cigarettes like I'm a stupid f*cking idiot.".
Fiona Apple: The American singer got angry during a live show at a party for Louis Vuitton in 2013 because so many people in the crowd were talking, and even made a sound using a small metal bell to get attention. Sources revealed that she told the crowd to "Shut the f*ck up!" which didn't work and she later said, "Predictable! Predictable fashion, what the f*ck?" before walking off.
Drake: The Rapper Drake since his 2010 debut album Thank Me Later peaked charts, he's sold over 170 million records. During the Camp Flog Gnaw Carnival, a music festival in Los Angeles, California, the crowd wasn't too pleased with Drake, as they'd come to see Frank Ocean as the surprise headliner. Drake gracefully walked off stage obviously not on purpose and in one of the most professional storm-outs way in concert history.
Nickelback: The rock band Nickelback with over 50 million albums sold ranks as the most successful band to come out of Canada. In 2002, the Canadian band had a hard time on a Portugal stage and at the Ilha do Ermal festival, Nickelback had to walk off stage after being pelted with rocks.
Liam Gallagher: English singer-songwriter Liam Gallagher rose to stardom as the lead of the rock band Oasis and later began a solo career in 2017. The 48-year -old, saw huge success and has sung his heart out but in February 2020, right before the pandemic, Liam's vocals couldn't hold it anymore at a concert in Hamburg, Germany forcing him to storm off stage and cancelling the event.
Lil Wayne: The rapper Lil Wayne became an influential artist with over 120 million records sold worldwide who also won several awards, including five Grammys, and topped charts worldwide. Wayne walked off stage after performing four songs for a crowd in Bristow and later explained that, the crowd which was there specifically for the Pop-Punk band was 'not his swag'.
Courtney Love: She had a ranting crisis at a 2011 show in Brazil when the musician spotted a concertgoer holding up a picture of her late husband, Kurt Cobain. She left the stage after insulting gay people.
Vince Neil: This was his first on-stage solo held recently on May 29, 2021. According to Fox News, the musician from the band Mötley Crüe had initially forgotten the lyrics to the record forcing him to exit the show while his band continued to jam out to  sing its background vocals.
Liked this post?


Register at One World News to never miss out on videos, celeb interviews, and best reads.