spiritual
Significance of Worshipping ShailaPutri : How to seek her blessings?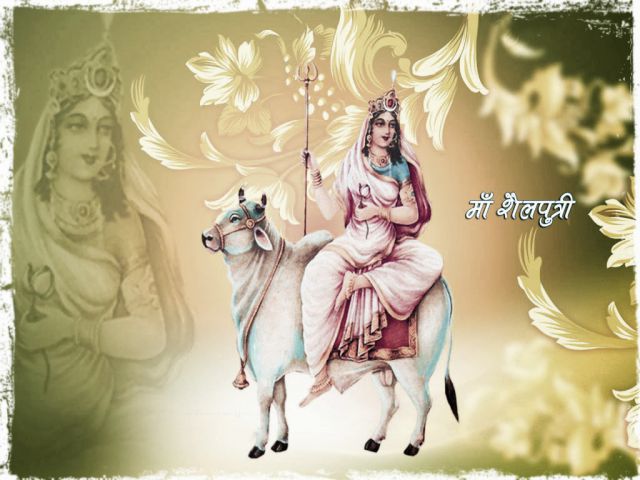 Goddess of root chakra and Daughter of Himalaya 'Shailaputri'
---
Goddess Durga is worshipped by Hindus in her nine forms which is known as 'Nava Durga' during the Navratri festival. Shailaputri is the first Goddess among the 'Nava Durga'. She is believed to be the Daughter of Himalaya. Her name literally means daughter (Putri) of the mountains (Shaila). Shailputri is the first and foremost one. She is known as the goddess of root chakra.
On first Navartri Maa Shailputri is worshipped by devotees and special pooja is performed to seek her blessings. Shailputri Maa is the daughter of the king of mountains, the Himalaya. Goddess Shailaputri is also known as the absolute form of Mother Nature. Her weapon is a Trident and a Lotus. She is believed to be the incarnation of Goddess Parvati who is the better half of Lord Shiva and mother of Lord Ganesha and Lord Kartikeya.
Maa Shailputri has a half moon on her forehead. She has a trident in her right hand and a lotus flower in her left hand. She rides on Nandi Dev. The abode of Maa Shailputri is believed to be in the Muladhara Chakra. Realizing this divine energy is considered as an important step towards spiritual enlightenment. Knowing the importance of different forms of Maa Durga will help you to perform your Navratri pooja with ultimate devotion and dedication.
Dhyana Mantra of Shailputri and the most important mantra of Maa Shailputri are:-
VANDE VAANCHHIT LAABHAAYA CHANDRARDHA KRITA SHEKHARAAM, VRISHAARUDHAAM SHULADHARAAM SHAILA- PUTRIM YASHASVINIIM
It's Meaning:-
Worshipping Goddess Durga in the Maa Shailputri form will help in overcoming any bad effect of the moon, which is governed by this form of Adi Shakti.
Bhog or Prasad for the day:-
There are different Bhog or Prasada that are offered on each day of the Navratri festival. On the very first day of Navratri, pure ghee is offered at the feet of the deity. Indian sweet dish is distributed to everyone at the end of prayer sessions. Therefore, worshipping Maa Shailputri makes life worth living is what all Hindus believe.
Have a news story, an interesting write-up or simply a suggestion? Write to us at info@oneworldnews.in