Hot Topics
Rewind 2020: Incidents that restored our faith in humanity
A look at best small humane efforts which restored faith in humanity
---
2020 has been a disastrous year because of the pandemic. We witnessed many troubles when the lockdown was imposed. But it is said that 'every cloud has a silver lining'. There were some great charity works, humanitarian, kind and comforting moments which restored our faith in humanity. There were many big announcements, from Akshay Kumar's 30 crore donation to PM-CARES FUND to Ratan Tata's pledge of 1500 crore to support the situation in India after the lockdown, from Sonu Sood's big heart to migrant workers to Azim Premji's 7,904 crores support. But, here we are going to take a look at small moments which made us believe that humanity is above everything.
People queued up at Baba Ka Dhaba
After the video 80-year-old owners of Baba Ka Dhaba in Malviya Nagar, Delhi went viral, many people came in support queuing up at his stall. In the video shot by a food blogger, Gaurav Wasan, the couple had shared their pain of getting no customers due to pandemic. The blogger who made the video mentioned that the rates at his dhaba were very reasonable and still it was not bringing sales for them.
After the video was shared by the blogger, it became viral with many people calling each other to come out in support of the Dhaba owners. Suddenly, there were hundreds of people around the shop to help them increase the sale. Several celebrities had shared the video too and asked for support and help for the owners of Baba Ka Dhaba.
Two Young Journalists
After the nationwide lockdown was imposed in India on March, migrant daily-wage workers were the most hit. Although Shramik Special trains had started, NGO's and some kind people were arranging buses, many migrant workers were stranded at the railway stations to reach their home. Two young journalists, Ramandeep Kaur and Gargi Chauhan along with their other friends helped the stranded migrant workers at New Delhi Railway station by booking train tickets for them. The young journalist-duo had used their savings and asked help from other friends to donate any amount. Later NGOs joined them, who helped with food and arranging buses. Ultimately they were able to help hundreds of migrant workers.
Read here: journalists helping migrants
Free haircuts to Farmers
As farmer protest continues to accelerate with thousands of people gathered at the Singhu and Tikri border, many people are coming to help them. The latest entrant is Labh Singh, who runs a saloon in Kurukshetra. He has put up a stall at the Singhu border and is offering free service to the protesting farmers. He came to the protest site with 5 workers, who are helping him in the cause. He said that he earns 90 per cent of the money in Kurukshetra because of farmers, and today they are in trouble so he will give the protesting farmers free service till protest lasts.
When farmers were reaching Delhi, many of them had said that they are coming to Delhi for a long-time. They had converted their trucks and trailers of tractors into desi R.V.s and gathered food to last for months. Knowing that there has been no development during the talks, it is expected that farmers are there for a long haul. It has been more than 23 days since the farmers have arrived at the borders. It is obvious that they would need to visit saloon.
Gurudwaras opened their gates to riots victims in Delhi
After the violence in North-East Delhi, many people who were looking for a place to save themselves from brutality, went to Gurudwaras. Delhi gurudwaras opened their doors for them and provided them food, a place to stay, and most importantly safety.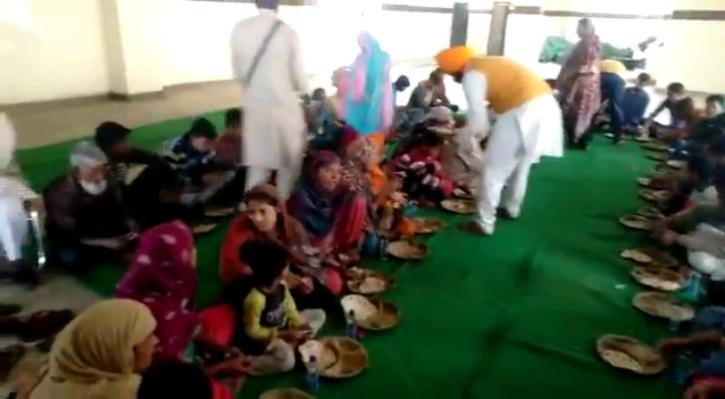 A couple ditched lavish wedding and used savings to donate for hospital beds and oxygen cylinder
Indian weddings are a big event and we often break our budget to make weddings as glamourous and grand as they can get. Hundreds of people are invited. But due to the coronavirus chaos, many weddings were cancelled or postponed. Some weddings were celebrated in a limited capacity.
One couple gave up the lavish celebration of the big-fat wedding and used the saved money to donate oxygen cylinders and hospital beds to a rural COVID-19 centre.
The 27-year-old Merlin and 28-year-old Eric Anton ditched the plan of having a big fat traditional Christian wedding surrounded by hundreds of people, amazing dishes and gallons of wine. And instead used the wedding money to help the local hospital in the Vasai-Virar, Maharashtra by providing them 50 hospital beds and oxygen cylinders.
Have a news story, an interesting write-up or simply a suggestion? Write to us at info@oneworldnews.com