JOYOUS NEWS
Recipe: Chicken Manchurian will rejuvenate your taste buds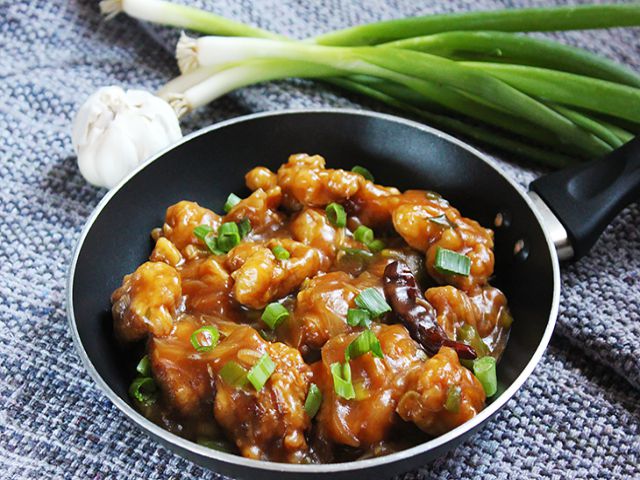 How to prepare Chicken Manchurian?
---
Chicken Manchurian is a very popular starter recipe and it is relished by people of all age groups. It is considered a Chinese recipe and it could be served with fried rice of Hakka noodles. Interestingly, the chopped, marinated chicken cubes minced with Manchurian sauce makes it a quick recipe which can be enjoyed without putting a lot of efforts.
This mouthwatering dish can also be served as an appetizer, if you have guests coming over, then you can definitely go for it. It can also be served on special occasions like Kitty party, house party and even for a birthday party too.
Related : Bengali Food can satiate your soul: Here is why you should try it at least one?
Total Time: 30 minutes
Prep Time: 10 minutes
Calories: 234
Here we go!
Ingredients
 250 gm chicken
1 tablespoon all-purpose flour
1/4 cup refined oil
1/4 teaspoon crushed green peppercorns
1/4 teaspoon chopped green chilli
120 ml chicken stock
 1/4 teaspoon ground black pepper
30 ml water
 1 tablespoon corn flour
 1 beaten egg
1/4 teaspoon crushed ginger
 1/4 teaspoon crushed garlic
1 handful chopped into cubes cilantro
10 ml light soya sauce
1/4 teaspoon sugar
1 finely chopped spring onions
How to prepare it?
Step 1
To prepare this scrumptious recipe, take a bowl and add corn flour, flour, salt and pepper along with the beaten egg in it. Now, mix all the ingredients well and then, prepare a batter. Next, dip the chicken pieces in the batter one by one. Make sure it is properly coated.
Step 2
In the meantime heat the oil over a medium flame. Once the oil gets heated, place the coated chicken pieces into it and deep fry it till the turns golden brown. Once done drain the excess oil and keep it aside for further use.
Step 3
Now, it's time to prepare Manchurian sauce, heat oil in another pan over medium flame. Once the oil is hot enough, add the garlic and ginger in it. Fry till it becomes slightly brown in colour. After this, add green chillies and cilantro leaves. Mix them for a minute or so.
Step 4
Then, bring the flame to low and add in the chicken stock, soya sauce, salt, sugar and pepper. Now, cook the mixture for five minutes. Once it's over, add in corn flour along with water in it and bring the mixture to boil.
Step 5
The last step is to place the fried chicken pieces into the manchurian sauce. Bring the flame to medium low and allow the dish to cook for close to 5 minutes.
Step 6
Once it's done, turn off the flame and transfer the chicken into a bowl for serving. Garnish with chopped spring onions and serve hot with fried rice or noodles.
Hope you liked the recipe. For more such recipes stay tuned to One World News.
Have a news story, an interesting write-up or simply a suggestion? Write to us at info@oneworldnews.in