Unfiltered
Fact Check:  Was there no Shubh Muhurat for Bhoomi Pujan, we decided to verify the claim? 
In a video, Swami ji claiming there was no such Subh Muhurat: Why there is a controversy?
---
Our team got this Whatsapp forward in which a Swami Ji is claiming that foundation stone of a temple in Hindu religion is laid on the "Shubh Muhurat" and Hindi calendar of "Bhado" month doesn't have any fortunate time. "It is not Ram Mandir which is being constructed, Sangh's office is being made. Prime Minister is coming as per his convenience and making the temple not as per the Muhurat," the person claimed in the video.
What do other experts believe about Bhumi Pujan of Ram Mandir?
We tried to crosscheck this claim with some other astrologers. An astrologer with more than 34 years of experience on the condition of being anonymous said that the claim is true and "We should have waited for few more days or laid foundation stone earlier but doing it in the month of "Bhado" is not ideal. Raksha Bandhan is the full-moon day was ideal, there were Ravi Yog and Ayushman Yog on this day. Foundation stone should have been laid on 3rd August only. As per the Hindu calendar, the month of Bhadrapad (mostly in August September) is not ideal for any function.
Another anonymous expert on the matter said,  "We have won this long battle after so many years and now that we have a chance of celebrating the victory, why should we put hindrances. No time is bad for Lord Ram Ji's work. Also, we have just named it "Bhumi Pujan" but the temple is already there, only renovation work has started, so month and time doesn't matter. Had it been some other work, time would not have been appropriate."
Read more: Bihar VS Mumbai Police on Sushant's case: Is Ego -Clash delaying justice?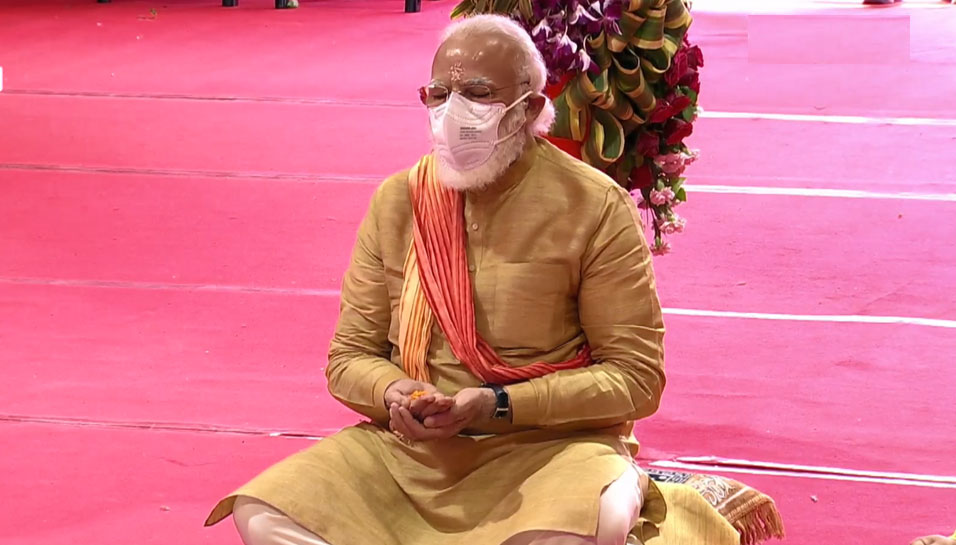 Basically, it could have been done on the more auspicious day!
It's not just about the fortunate time but also about the situation of the pandemic in the country.  The country is battling Covid-19 and economic loss due to it. Bihar and Assam are witnessing deadly floods. Many people have lost their jobs, some have taken big financial losses in business.
Why Bhumi Pujan now?
Now, the question arises, Why Yogi Adityanath and Prime Minister Narendra Modi were in so hurry to laid the foundation stone? Did they want to deviate the attention of alleged failure of government in handling Coronavirus and floods? Was there a political motive as Bihar Election is due in October-November, West Bengal Assembly election is next year and also a Panchayat Election in UP in December?
JDU+BJP+LJP government in Bihar has completely failed the state during the coronavirus. They are already using Sushant's case to deviate the attention from the critical situation of health infrastructure in the state.
Ram Mandir stone foundation event is taking all the limelight as the majority of the population is happy with the "Shilanyas" of the Ram Mandir in Ayodhya. Well, this a  moment which was awaited by many. And people all across India have welcomed with all their heart.
Have a news story, an interesting write-up or simply a suggestion? Write to us at info@oneworldnews.com