Unfiltered
Press Freedom Day 2020: Journalism during Global Crisis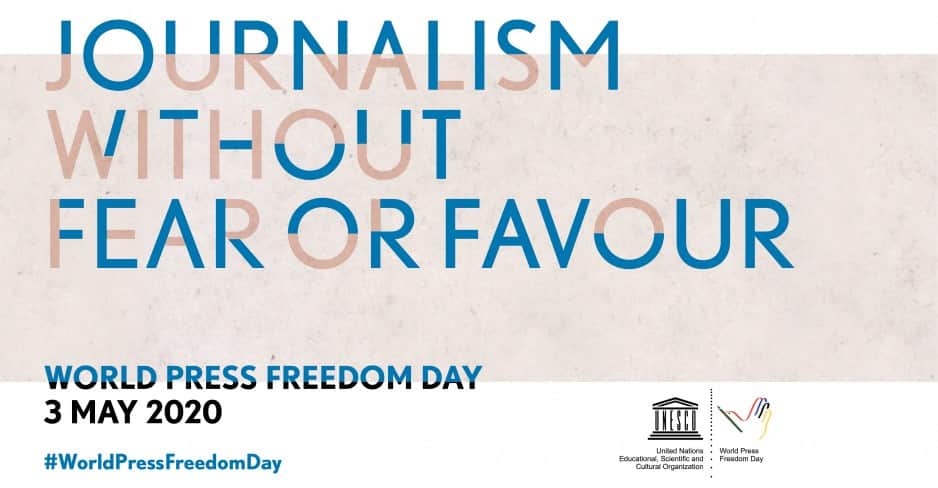 Press Freedom Day 2020 theme is 'Journalism without fear and favour'
---
Press Freedom Day is celebrated every year on 3rd May to spread awareness about the importance of Freedom of Press in information providing, functioning, its significance and to awake the government of its duty to respect and uphold the right to freedom of expression. People across the globe celebrate the fundamental principles of press freedom, to defend the media from attacks on their freedom and independence, to assess the state of press freedom across the world and to pay tribute to journalists who lost their lives.
Journalism in New India 
Journalism students are taught that Media is the fourth pillar of democracy after Legislature, Executive and Judiciary. Well, recent developments in the media industry not just in India but in other countries have surely dented the 'fourth pillar' tag. Journalism all across the world is going through a tough time. To simply put, there is no more passion to talk about facts. Chinese media and authorities have allegedly hidden the real numbers of death due to coronavirus cases.
The job of media is to inform, educate, entertain and analyse the government policies and functioning of government. But media houses have now become a part of the system which is compromised. They are not willing to reach the ground-level and know what exactly is going on. TV media is now more focussed on bringing TRPs by putting hundreds of graphics in a single screen, too much of music and repetition of the same thing again and again.
Read more: Lockdown 3.0 guidelines: Everything you need to know about the new guidelines
Reporters are decreasing and anchors are increasing
The numbers of reporters who bring information are decreasing and their space from TV is decreasing. The number of anchors and panel discussion with no motive are increasing. News-reading is becoming more of a role-play where the anchor is asked to read from the teleprompter.
India in the recently prepared list of World Press Freedom Index stood at 142nd position in the list of 180 countries. India ranked 2 points below than last year. Constant press freedom violations, including ambushes by political activists, police violence against journalists and reprisals instigated by criminal groups or corrupt local officials were cited as the reasons of India's fall.
Every cloud has a silver lining 
However, the whole media hasn't gone completely rogue. There are many journalists who are doing great work in the field of media. They are the one who is saving grace for the country's media. We have seen that many journalists are doing investigative journalism and finding the truth and unravelling corruption. Some journalists even risk their life while reporting when they are covering natural disasters, crime or corruption.
Media persons are doing a commendable job during the ongoing extra-ordinary time of the global pandemic. While we are safely enjoying the quarantine-time, journalists are taking the risk of doing ground reporting, knowing that they can get infected. Some journalists are fighting with the government by questioning them for the ill preparations against the pandemic. Some even got infected during the process.
UNESCO brings together the media professionals, UN agencies and press freedom organizations every year and the conference is centred on a theme. This year the theme is 'Journalism without fear and favour' which will take place online due to lockdown. Well, we should ask the media of China, North Korea, Vietnam, Iran and Saudi Arabia if this theme suits them well.
Have a news story, an interesting write-up or simply a suggestion? Write to us at info@oneworldnews.com