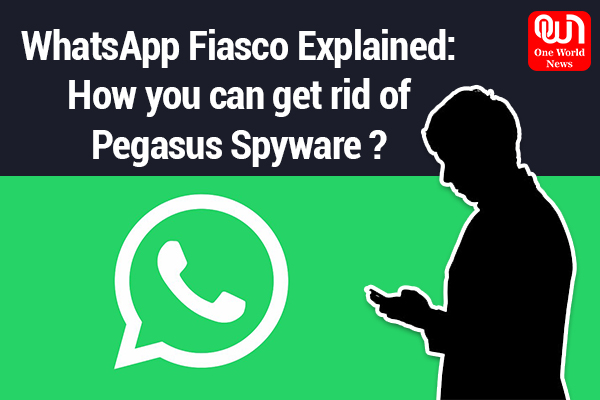 Explained: What is Israeli Spyware Pegasus?
---
Israeli Spyware Pegasus is trending on all social media platforms for the last two days. A lot has been said and written about this malware. What is Israeli Spyware Pegasus? To whom it is going to target, and is your account at risk? Should you stop using Whatsapp? Here are the answers to all your questions. In this article, we have explained everything about the current Whatsapp Fiasco.  A day after the Ministry of Electronics and Information Technology asked an explanation from Whatsapp on the alleged spy malware, government sources said they are "disturbed" because privacy breach issue was not brought in their notice neither by Whatsapp nor by its parent company Facebook.
On the other hand, Whatsapp on Friday said, "It had notified relevant Indian and international government authorities in May about "a security issue" that it had resolved, and it also tried to reach the target users.  However, the source in response said, "May notification was too technical Jargon." It is said that information didn't have anything related to privacy breaches.
What exactly is Pegasus?
All spyware does what the name suggests – they spy on people through their phones. Pegasus works by sending an exploitive link. If the target user clicks on that link, the malware or the code that allows the surveillance gets installed on the user's phone. After that, the attacker has complete access to the user's phone.  The spyware Pegasus has been created by Israeli company NSO group. Facebook-owned Whatsapp has already sued the NSO group.  Notably, Pegasus spied some powerful Indians including Journalists, Activists & Actors for 2 weeks during Lok Sabha elections.
What all information hacker can access?
The malware allows the hacker to access files, photos, cameras, microphones, emails,  and even encrypted messages. Notably, it can affect the iPhone and Android. The hacker just has to do a WhatsApp call to the phone he wants to infect. The worst part is that the receiver doesn't even need to answer it but the phone will still get infected. Whatsapp has the list of users who have been affected by this spyware. Whatsapp and digital security firm citizen lab is sending alert messages to the people who have been affected but we still don't know the exact number.  A lot of users who have got the alert messages have posted those messages on social media which is currently the only visible way to know who has the pegasus spyware on their phones.
Read more: Public Health Emergency Declared in Delhi/NCR: 5 Important Points
Is there any way to get rid of it?
It will come as a shock to you but there is no way to get rid of Pegasus. You can get rid of it only by discarding your phone as Pegasus spyware doesn't account for any unusual activity.  It just sits inside your phone and feeds all the information on the phone which can be used by hackers. You need to discard your phone if you want to get rid of it. Also, when you buy a new phone install an updated version of every app & change your cloud password too.
Have a news story, an interesting write-up or simply a suggestion? Write to us at info@oneworldnews.in