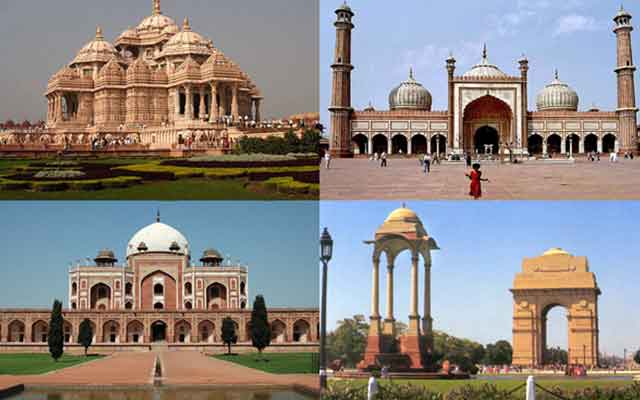 Delhi, being the capital of India offers a plethora of options. There are so many places here that need a visit that it will be impossible to cover them all at once. So, spread them out and plan, but, do go to these places. (No particular order)
Because there is nothing better than marvelling the beautiful architecture and and delving in to history.
The majestic structure is marvellous sight. Must visit for everyone
Nothing beats the calmness this place offers and obviously, the langar and halwa.
        Hauz Khas Fort and Village
Go back to the history in the city and live the present in the Village. 
The small lanes with delicious food is everyone's paradise. 
Relive the great poets' life as you walk through the corridors of the Haveli.
The huge temple with its light and sound show will take up almost a whole day. 
Beacuse Delhi boasts of some of the best historical monuments. 
As you take a walk at this place, you will feel weirdly happy. 
Appreciate the aesthetic view it offers
Have a picnic at the gardens and chill for some time.
One of the most important historical places. Must visit for a good evening 
They have some masterpiece collection.
Drive up to India gate in the middle of the night and have an ice cream while admiring the massive structure
       

Nizamuddin Dargah and Basti
It is a small world of its own
The place, the atmosphere, the people and the food. What else do you want?
Have a news story, an interesting write-up or simply a suggestion? Write to us at
info@oneworldnews.in