Lifestyle
Munching On Your Desk? Switch To Healthy Office-Time Snacks
Here is the combination of healthy office-time snacks that will satiate you.
---
Do you find yourself munching mindlessly on your desk? Not to worry if you are still munching and reading this article. Because we are actually here to help you. Office evenings often invite cravings. To satisfy those we carry packets of chocolate, or sometimes fruits even as office-time snacks.
Bingeing with them could be satisfying but will ruin all your workouts and diets. Some of you carry a fruit, say apple, to the office. But that might not be enough to suppress your hunger. Eating snacks will be an overdose of carbohydrates. So, what should you do? If you eat an apple with peanut butter or roasted peanuts it will satiate you immediately.
Physiologically and scientifically, when we combine two or more foods our body feels more satiated.
So, here we are combining such healthy foods that will satiate you and can be treated as office-time snacks:
Makhana or Lotus Seeds or Fox Nuts 
These Makhana or lotus seeds will give you a popcorn feel. They are low in calories and rich in minerals. They are also high in fibre and have some amount of protein. Lotus seeds are super low in sodium which makes them a great snacking option for somebody who is suffering from high blood pressure.
Roast them in a Kadai with a pinch of salt. You can also microwave them for a few minutes.
To enhance your office-time snacks you can combine them with unsalted peanuts.
Date with red dates (khajur)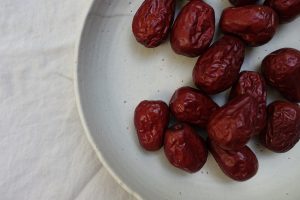 Red dates and jujubes are some of the most popular superfoods even in Chinese traditional medicines. Combined with walnuts this snack is packed with antioxidants, fibre, and healthy fat.
Simply slice the date to create a small pocket. Remove the seed and insert half of a walnut into the date.
These stuffed dates have about 36v calories. Consume four to five servings to keep hunger at bay.
3-ingredient Oat Bites
If you crave a chocolate bar, replace it with Oat bites instead. They are chewy, nutty, and sweet but way healthier than the typically high-fat, high-calorie chocolate bar.
All you need are 3 basic ingredients. Melt the maple syrup and peanut butter in a pan under low heat until smooth. Do not overheat it. Turn off the heat and add in the oats. You can also add other ingredients such as sunflower seeds and cocoa powder. Mix them well. Now, shape them into 24 bite-size balls. Chill in the fridge for an hour until it gets firm.
Having just one oat ball provides you with only 60 calories and will satisfy your sweet tooth.
Veggies with Yoghurt dip 
You can dip the chopped vegetables into the homemade yoghurt dip. You can also buy it fresh from the store.
Dip can be prepared by
one cup of yoghurt
One minced garlic clove
One tablespoon of freshly squeezed lemon juice
One handful of chopped fresh mint
And a little bit of lemon zest
Each tablespoon has less than ten calories.
Split Pea crisps (Matar Dal)
Split Pea crisps are a very popular snack in Indian culture. These peas are high in fibre, protein but low in fat.
Soak 1 cup of peas for at least 4 hours
Drain the water and pat dry
Over medium-high heat coat the pan with 1 tablespoon of olive oil.
Add the split peas
Stir frequently until golden brown and crunchy in texture for about 7-10 minutes.
Remove from the pan, and allow peas to cool down.
Season with little chilli flakes and store in an airtight container.
Yoghurt and fruit
Instead of buying high sugar-flavoured yoghurt, make your own with natural fruits.
Slice ½ cup of your favourite fruits.
Separate fruits from yoghurt to keep them fresh and pack them in a snack box separately.
Whenever you feel peckish, simply put fruit and yoghurt together.
Trail Mix
Instead of spending unnecessary money on buying packs of snacks, you can have a trail mix.
Simply choose a combination of nuts, seeds, and dry fruits. These easy and cheap nuts are packed with nutrients but they are calorie-dense.
To avoid snacking on the entire bag, be sure to measure them out ¼ cup serving. Each quarter-cup has 140-170 calories.
What are your office-time snacks? Tell us in the comments.
Liked this post?


Register at One World News to never miss out on videos, celeb interviews, and best reads.