ENTERTAINMENT
Panchayat 2 to Modern Love Mumbai: Series/ Movies that you can watch this weekend!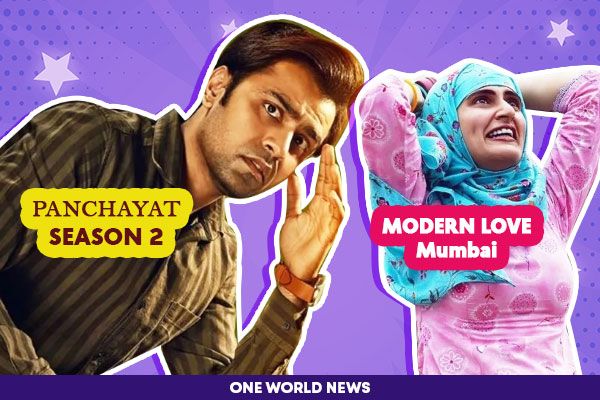 Panchayat 2 Dekha Kya? Jeetu Bhaiya is back with a bang and we loved his performance! Here is a list of series/movies that you can watch this weekend
---
Highlights
What all you can watch this weekend?
Reasons why Panchayat 2 should be your pick
Weekend is here and it's time to relax. Make time for yourself and book it for some entertainment.  OTT platforms and the big screen is filled with new releases. If you are wondering what to watch this weekend, we are here to make your work a bit easy. In this article, we have compiled the list of series/movies that you can watch with BAE, friends or even with your family. Without any further delay, let us take a look at the list:
1. Panchayat 2
Panchayat Season 2 is now streaming on Amazon Prime and it is a must watch this weekend.  Fans were eagerly waiting for the second season and finally Jeetu bhaiya is back.  To be honest, the second season has much more sentiment packed than the previous season. It's a winner! There are so many things that you will love in the series. More of Nina Gupta to Abhishek and Rinki's love story.
The strength of the series lies in how the problems are presented with simplicity.  It deals with local politics, rivalries and even relatable issues such as standing up for your friends. Apart from making you laugh hard, the series will make you think and introspect. By the end, get ready to hold back your tears.  Solid performances and crisp writing makes Panchayat Season 2 a must watch.
2. Modern Love Mumbai
Modern Love Mumbai is streaming on Amazon Prime and it is being well – received by the audience. There are six different stories and every story will introduce you to a new perspective on Love and Life! Notably, Arshad Warsi and Fatima Sheikh are receiving a lot of love for their honest performances. There are some hard – hitting dialogues that will touch your heart. If you haven't watched it yet, this weekend you can pick it. Watch this with BAE and spend some quality time with each other.
3. Bhool Bhulaiyaa 2
If you are in no mood to watch content on OTT platforms, then Bollywood is here with a complete entertainer that you can enjoy with your friends and family. Bhool Bhulaiyaa 2 starring Tabu, Kartik Aryan and Kiara Advani released this weekend and is winning hearts. If you want to end your week on a light note, Bhool Bhulaiyaa 2 should be your pick this weekend. Read our exclusive review here. Before the release, Kartik was constantly compared with Akshay Kumar, but the film will not disappoint you. Packed with humour and horror, Bhool Bhulaiyaa 2 will burst all your stress.
Read More- Kartik Aryan is attracted to girls with a great sense of humour, ladies are you taking notes?
4. Aadha Ishq
If you are a fan of romance and drama, then this series is for you. It is available on Voot.  The series stars Aamna Sharif, Pratibha Ranta, Gaurav Arora and Kunaal Roy Kapur in lead roles. The highlight of the series remained the soul –stirring words by Gulzar. Yes, Gulzar sahab agreed to pen down heartfelt poetry for the series. While talking about his experience he said, "The story drew me. It is one of -a -kind heart wrenching tales of unrequited love. Directed by Nandita Mehra, this series can be a good pick this week only if you are ready to watch the pain of unrequited love.
Gripping story of Adha Ishq follows the explosive turn of events when a young girl falls for a charismatic artist who had a romantic history with her mother.
Liked this post?
Register at One World News to never miss out on videos, celeb interviews, and best reads.