Lifestyle
Monsoon Hair care routine: How to keep frizzy hair at bay?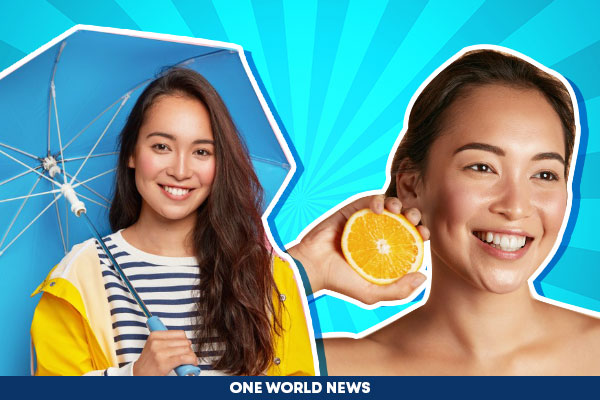 16 monsoon hair care routines to prevent hair fall
---
Monsoon season is known for bringing greenery and driving away from the blues. It brings freshness all around. However, it is also known for causing hair damage because of excessive humidity. Since the season has already begun, we carry a monsoon hair care routine that will keep frizzy hair at bay.
Take notes and enjoy the Monsoon without any tension of hair fall. Let us take a look.
Voila!
1. Keep your Hair Dry
Keep your hair dry. While you may have the urge to get your hair wet in a drizzle, remember that rainwater is acidic and dirty. It can adversely damage your hair. So, it is better to keep your hair dry. Use a towel but keep your hair dry. It prevents hair breakage. Cover your hair whenever you go out.
2. Hair dryers – A Big No
Styling tools and dryers can damage your hair adversely. You should use them moderately. Excessive heat can cause hair fall. Giving your hair a hot towel treatment after the oiling ritual would be more beneficial.
Also Read: Want Flawless Skin? Eat Strawberries As Much As You Can!
3. Hot Oil Massage works magic
Go for a hot oil massage. This will keep your scalp hydrated and will prevent your hair from looking dull. Hot coconut oil massage can make your mane strong, beautiful, and shiny. Regular oil massage adds volume to your hair and prevents hair fall.
4. Neem – The Best friend
Neem oil is the best thing you can use in Monsoon. You can mix the neem oil with hydrating oils like almond or olive oil equally. The mixture prevents dehydration. Neem oil cools and clears accumulated sweat and oil, which causes dandruff and itching.
5. Deep conditioning is important
Oiling your hair once or twice a week in the monsoon season is enough. Do not overdo it. Avoid oiling your hair every day. Giving your hair a warm oil massage once a week, followed by a hair wash, will keep your locks smooth.
6. Wavy and curly hair care routine
Wavy and curly hair is prone to damage during Monsoon. So, use hydrating shampoo to keep frizzy hair at bay. Using – sulphate-free shampoos is very important for damaged or over-treated hair.
7. Deep Cleansing Shampoo should be added to your monsoon hair care routine
Use a mild yet deep cleansing shampoo to remove all dirt from your scalp. During monsoon season, oil and dirt get accumulated on your hair and scalp. In that case, it is essential to use deep cleansing shampoo to remove all the dirt.
8. Choose Shampoo according to Your Skin Type
Always shampoo from root to tip; your main aim should remain to remove dirt from your scalp. But pick the shampoo that suits your scalp. The wrong shampoo can leave your hair frizzy and dry. If your scalp is dry, try a mild one. Again sulphate-free shampoo is here for the rescue.
9. Avoid tying your hair tight
Let them breathe. Do not tightly tie your hair. Make buns or lose ponytails, so rainwater doesn't hibernate in your hair. During the monsoon season, it is essential to keep your hair dry, and a tight ponytail will not dry the hair properly.
10. Right Comb, Healthy Hair
Pick the right comb. A wide-tooth comb is hands down, your best bet in the rain. It detangles your hair and prevents hair fall. During the monsoon season, a wide-tooth comb should be a part of your monsoon hair care kit.
11. Too much conditioner is not good
Do not use too much conditioner. Use conditioner to only the tips of your hair. Rinse it off properly, and do not use a lot of conditioners.
12. Balanced Diet – Eat Well
Eat right. To strengthen your hair, have a protein-rich diet such as walnuts, salmon, spinach, etc. Eating a small bowl of sprouts every day will help you prevent hair loss. Eat on time and say no to junk food. For good skin and hair, it is always advisable to eat healthily. You should eat right to look your best.
13. Stay hydrated
Keep yourself hydrated by drinking 8-10 glasses of water. This will benefit both your skin and your hair.
14. No gelling with hair gels
Stay away from hair gels. This can make your hair more prone to hair fall.
15. Go short
If you ever wanted to keep short, this is the right time to get a haircut. Short hair is easy to manage and is less prone to hair fall. If you plan to get a haircut, the Monsoon is the season to get one.
16. Go Natural and try your hands on natural products
You can explore a natural range of shampoos. Using natural hair care remedies, you can also minimize the risk of any irritation or reactions caused by chemicals in synthesized products.
Liked this post?
Register at One World News to never miss out on videos, celeb interviews, and best reads.