Women Talk
An Evening to Remember, Minu Bakshi mesmerized the audience with her Power Packed Performance!
Minu Bakshi Presented Legendary Spanish Poet, Federico García Lorca's compositions for the Embassy of Spain Event Celebrating Azadi Ka Amrit Mahotsav!
---
Highlights : 
Artist Minu Bakshi performed at Kamani 
Who is Minu Bakshi? 
Read more stories on the Home page 
The evening witnessed a powerful performance of singer Minu Bakshi, who mesmerized her audiences with her own rendition of the ten Spanish songs that were composed by the legendary poet Federico Garcia Lorca almost a hundred years before. The standing ovation that she received from a hall packed with Celebrities, dignitaries, Ambassadors of the Latin American diplomatic community, and art enthusiasts, has marked this concert as amongst the most successful events in the history of Indo-Spanish cultural programs.
Minu Bakshi's effortless performance was not just surprising but absolutely enthralling for each and everyone, as the audiences kept requesting more.
Minister of State for External Affairs and Culture of India, Meenakshi Lekhi was all praises for Minu Bakshi's melodious recital. The diplomatic community was charmed with a Spanish concert by an Indian singer and with such perfection. Guests included Filmmaker and Fashion Designer Muzaffar Ali, Bina Ramani, Reynu Taandon, Ex FICCI FLO President Harjinder Kaur Talwar, Interior designer Sunita Kohli, Painter Hemi Bawa, Francois Delhaye, Ambassador of Belgium to India and Mariana Pacheco Montes, Ambassador of Columbia to India.
Read More- Revisiting The Most Powerful Female Characters Of Mahabharata
To mark India's 75 years of Independence, the nationwide celebrations also witnessed the Embassy of Spain presenting their Indo-Spanish cultural events from 21st-27th February 2022 in the Capital.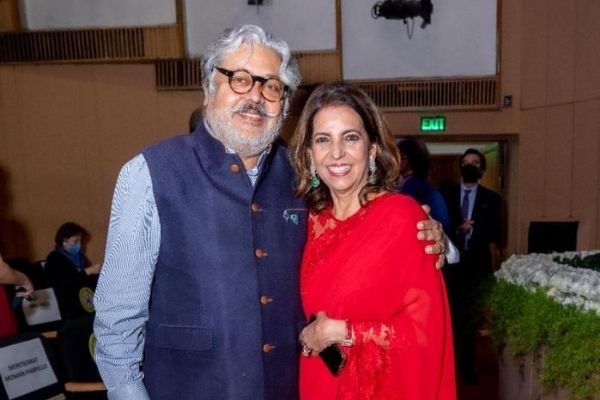 "This year marks a significant date for India since we are celebrating the 75 years of its Independence. On this special occasion, the Embassy of Spain in India presents this event based on one of the most appreciated Spanish poets, Federico García Lorca. His works represent the European vanguard and surrealism of the 20th century, they combine Spanish folklore, Andalusian flamenco, Gypsy culture, while exploring themes of romantic love, women's rights, and tragedy.
Therefore, to honour AKAM, the Indian artist and Hispanicst, Minu Bakshi, was invited to interpret ten celebrated Spanish songs based on the 1931 performance of Federico García Lorca and La Argentinita. Minu Bakshi has dedicated her life to the study of the Spanish language and culture, and there is no better artist to have interpreted these songs.
I am overwhelmed to witness Minu Bakshi's recital today. The ease and perfection with which she presented the songs are amazing. She has truly justified my faith in her and created an extraordinary fusion in her presentation of the songs keeping the flamenco flavor alive yet giving it that Indian touch, making this a cultural Sangam of both Spain and India", says H.E José Maria Ridao, Ambassador of Spain in India.
Read More – Women & The Vedas: Gender Neutrality & High Status Of Women In The Early Vedic Period
Minu Bakshi said,  "The Federico García Lorca show has been amongst my most difficult ones to date. There are various reasons for this. One, I was singing songs that I had never heard before. Two, I had only a month to prepare. Three, I had to maintain the original composition that was of the year 1931, the recording where the style of singing was completely different, the language, the Spanish was different from how we speak it today. The songs were sung at a speed that for a non-native Spanish speaker was difficult to follow."
She further added, " The original piano in the songs has been played by Federico García Lorca himself and so my pianist had to follow the staff notes as it is and I had to make sure that every word fit into those notations. The other thing was that I had never done a concert with a piano before and that also classical piano and it was the only instrument to work with. The other instrument was the castanets in place of which I  used the tabla to give that Indian feel, even the heel tapping was reproduced on the tabla."
 The next challenge was to memorize 10 songs. Remember, they were folk songs picked up from the villages from the south of Spain, so they were tough. I spent nights hearing them, getting the nuances and their feel, memorizing them. Because when you are on stage and are reading, your emotions can never be the same. To be able to emote you need to have them all in your head. That was very challenging.
 I was practicing through the afternoon and hearing them on my headphones throughout the night, to the point that I would fall asleep with the headphones in my ears and my husband would remove the headphones from my ears. So, it would not be dishonest if I say I was eating, sleeping, and drinking these songs.
Also, we tried to give it that little Indian touch by using some Indian elements like a Sangam or an alap but keeping the flamenco feel alive in a way that would not compromise the original Spanish flavor, and also not overdoing the Indian bit,  a balance that was difficult to keep. The standing ovation that we got from the Spanish community, the Latin- American diplomatic community and the request for an encore makes me believe that the program went well.
 One also felt a little stressed as it was an official Azadi Ka Amrit Mahotsav of 75 years of India's Independence. The Ministry of Culture was involved, the Spanish embassy team in India had put their life into it as for them it was a hugely important event besides they had shown so much faith in me. This program was done at the behest of the Ambassador of Spain in India and I did not want to let them down in any way.
Minu Bakshi has been conferred with the 2nd Highest Order given to a foreigner by the King of Spain in 2014, 'The Order of Isabella la Catolica' by the Spanish Government for her contribution towards the promotion of Spain and its culture. A singer with years of Hindustani classical musical training, a professor of Spanish language at the prestigious Jawaharlal Nehru University, New Delhi, an accredited Spanish language interpreter for the Indian Government, Chairperson of the NGO Savera (a society for the uplifting of underprivileged women and children) and the former Chairperson of the UK Asian Film Festival, London, Minu Bakshi is a multifaceted and versatile artist.
Liked this post?
Register at One World News to never miss out on videos, celeb interviews, and best reads.