Women Talk
Malala Yousafzai, Yami Gautam and others, a Weekly Wrap of Women in News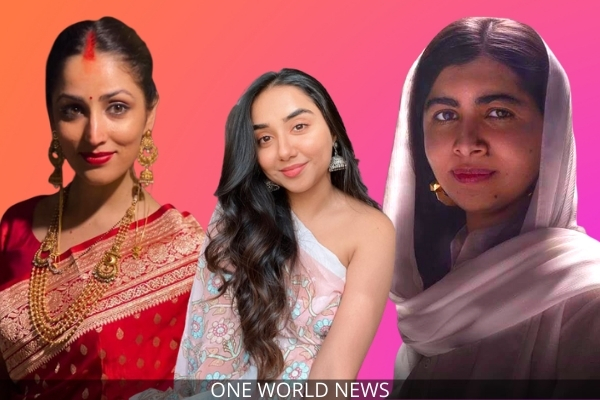 Malala Yousafzai is seen on Vogue's cover, Yami Gautam gets married and other, Women in News last week (31st May – 6th June)
---
This week, ie., the first week of June has started with the celebrations of Pride Month. The last week was a crucial week for India, considering the Coronavirus, lockdowns, and the vaccination drives. Delhi has announced unlocks on an odd-even basis and the COVID situation is getting better gradually. Other states have also been unlocked. And amid that, women have outshined and made it to headlines throughout the week. Malala Yousafzai, Naomi Osaka, Juhi Chawla, Yami Gautam  Prajakta Koli and many others have made names in the news, and here's a wrap of the same.
From Naomi Osaka to Malala Yousafzai to Yami Gautam, a wrap of Women in news last week
Juhi Chawla Filed Suit Against 5G Implementation In India
Bollywood starlet Juhi Chawla had been known to launch a lawsuit against the installation of 5G technology in India, citing safety concerns. With India among the countries moving quickly to implement fifth-generation telecommunications networks, Chawla has highlighted the possibility of radiations inflicting serious harm to flora, wildlife, humans, and the environment as a whole.
Prajakta Koli gets nominated for the Daytime Emmy Awards
Prajakta Koli, a YouTube and Netflix celebrity, has been nominated for a Daytime Emmy Award for her work in the YouTube Original Documentary created in conjunction with Michelle Obama, the former first lady of the United States. Along with Prajakta Koli, the documentary features YouTube icons such as Liza Koshy and South African native Thembe Mahlaba.
Naomi Osaka takes a mental health break, withdraws from the French Opens
Tennis superstar Naomi Osaka withdrew from the French Open, citing worries about her mental health, as a "wake-up call." In her Instagram message, she writes about her "feeling vulnerable and anxious" ever since defeating Serena Williams at the 2018 U.S. Open. She has now withdrawn from the French Opens.
Read More: Sonal Mehrotra Kapoor explains what goes into the making of a Journalist
British Vogue's July Cover to publish Malala Yousafzai's Portrait 
Malala Yousafzai, the youngest person to win a Nobel Peace Prize, will grace the cover of British fashion magazine Vogue in its July 2021 issue. On early Wednesday, the Oxford University graduate also published the cover on her social media sites.
I know the power that a young girl carries in her heart when she has a vision and a mission – and I hope that every girl who sees this cover will know that she can change the world. Thank you @BritishVogue, @Edward_Enninful & @thedalstonyears pic.twitter.com/3OYejo5Hnm

— Malala (@Malala) June 1, 2021
Selina Begum, West Bengal's first ambulance driver rewarded for COVID Duty
Selina Begum, a 27-year-old ambulance driver who has been servicing COVID-19 patients for a year received an award of Rs 50,000 for her efforts. Last Monday, she received the award from Raiganj MLA Krishna Kalyani. This is the second check she has gotten from Kalyani, who also recognized her as a "corona fighter" last year, according to News18.
124-year-old woman get vaccinated in Jammu and Kashmir
A 124-year-old woman from Jammu and Kashmir's Baramulla area was vaccinated on Wednesday. It was a part of a door-to-door vaccination campaign. "We vaccinated the 124-year-old woman during a door-to-door drive. She is healthy," said Dr Tajamul Malik, Medical Officer, PHC Shrakwara.
Jammu & Kashmir: A 124-year-old woman from Shrakwara Block of Wagoora in Baramulla received her first anti-COVID vaccine jab on Wednesday.

"We vaccinated the 124-year-old woman during a door-to-door drive. She is healthy," said Dr Tajamul Malik, Medical Officer, PHC Shrakwara. pic.twitter.com/5cO1SEz37a

— ANI (@ANI) June 3, 2021
Yami Gautam got married
Aditya Dhar and Yami Gautam got married! The couple got married on June 4 in a small ceremony attended by close family members.
Yami announced her wedding on social media, writing, "With the blessings of our family, we have tied the knot in a modest wedding ceremony today." As we begin on a journey of love and friendship, we ask for all of your blessings and best wishes."
With the blessings of our family, we have tied the knot in an intimate wedding ceremony today.
As we embark on the journey of love and friendship, we seek all your blessings and good wishes.

Love,
Yami and Aditya pic.twitter.com/W8TOpAJxja

— Yami Gautam (@yamigautam) June 4, 2021
3-yr-old girl in Nagaland reported going to the doctor by herself
A 3-year-old girl, Miss Lipavi in Nagaland has been seen getting herself checked for common cold all by herself. A photograph of her sitting in the hospital and getting herself checked went viral.
"It is heart-warming to see a little girl being responsible enough to take herself to the Health Centre. Her concern and presence of mind at this young age is an inspiration for us. Wishing her good health." – H. Khehovi, Governor of Nagaland.
It is heart-warming to see a little girl being responsible enough to take herself to the Health Centre. Her concern and presence of mind at this young age is an inspiration for us. Wishing her good health.@mygovindia @MyGovNagaland https://t.co/gjIKWG45pU

— H. Khehovi (@Hkhehoviy) June 4, 2021
Have a news story, an interesting write-up or simply a suggestion? Write to us at info@oneworldnews.com