Hot Topics
Diwali 2021: Make this Diwali festival time happy for animals too
The thunderous sound & smoke by the madness of bursting crackers is no less than a calamity for animals
---
Diwali festival, one of the nation's biggest festivals is celebrated with much honour & fervour, has now drifted from its traditional ways of celebration over the years. Today, the modern way of celebrating this festival is by producing loud noises, by bursting huge amounts of firecrackers among other things.
While many enjoy bursting fireworks and a sound show, the loud noise turns into misery for the animals by hurting the ears of the animals and making them frightened and scared to death.
It is pretty clear that you won't be taking them to the hospital when something goes wrong with them, then why injure them in the first place? 
WHAT HAPPENS TO DOGS
It's scary as hell for them, basically like an attack against them.
Permanent blindness, deafness, loss of appetite and panic attacks that sometimes lead to heart failure and death are just some of the effects that these bursting crackers does to animals.  It not only frightens but traumatises animals and birds for a lifetime when they are exposed to fireworks.  And, the worst thing is the smoke that is emitted by the fireworks which makes them nauseous & lose their appetites. Not to mention, how dangerous it is to so-called 'humans' who have brains and know everything but still continue to burst crackers. 
Later, your pet could be petrified for the rest of its life by the harmless sounds like the opening of a door, the sound of the doorbell or even a cell phone – basically making their daily survival a traumatic one.
Leopard Chased Dog, chose not to eat it & left us with question – What's most important thing in life?
And the ones on the street obviously face the worse as they are often forced to run away in panic and meet accidents. Many dog owners have reported that in several cases, their pet dogs often run away from their homes out of panic, and never being able to find the way back to their families.
A few ways that helps you to protect your pets and other stray animals during the celebration:
KEEP YOUR PET INSIDE THE HOUSE
It would be a lot better to keep them inside the house during the fireworks time as the sound of the crackers will not be very loud then. Also, you can pick up a corner of the house where no one will come and scare the pet even if you are busy and won't be able to pay attention to your furry friend. Many pets do prefer to stay inside the house or in a corner because they get scared of the loud noise. And one more thing, don't leave your dog alone at home on Diwali festival as you leaving them alone will make their situation even worse.
SOUND PROOF YOUR HOME
It actually may sound difficult or a costly job but it isn't and not entirely impossible. You know that your home is your pet's comfort and favourite place where they can do anything, any time without any fear of an outside attack. So, what you can do is make sure every single window and door is shut. And, while you are at it, draw curtains completely over the windows and doors. Heavy curtains helps a lot to block outside noises. You can also seal the gaps using the newspapers if necessary. Put on some calm music for them or you can also put on their favourite show on TV so that way you don't have to worry about anything trust me.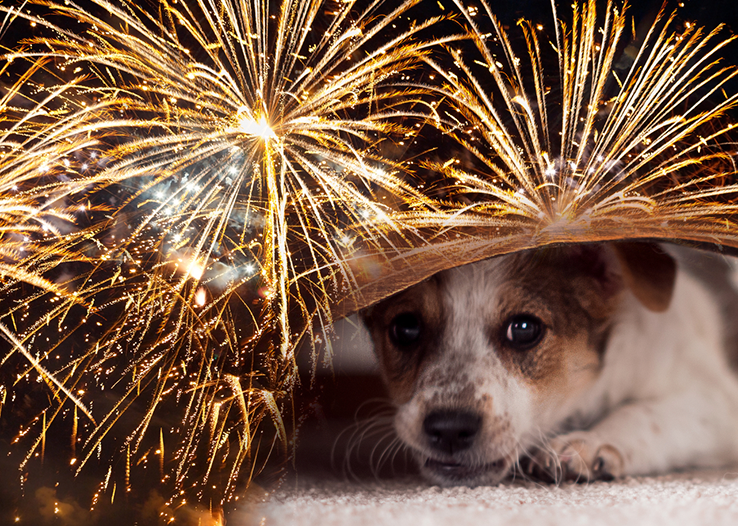 EDUCATE KIDS
Teach kids not to scare or throw the crackers at any animal. Children may not realise that it hurt animals in many ways so you can make them realise. It is essential for school teachers to teach these values to kids. 
CREATE & SPREAD AWARENESS
You can ask your locality, housing associations or building managers to put up notices that remind everyone to keep their animal companions inside their house during the festival and to not throw any crackers at them.
NO SWEETS OR FRIED STUFF
Many of you may already know that sweets and fried stuff are not good for animals as it make them sick and can damage their fur. 
EXTENDED PLAYTIME
Reduce anxiety by distracting them to a more intriguing activity. But since each pet is unique, this will completely depend on their interests and activity levels. You can involve them in long walks by making them wear headphones with silent music on, making them chase balls, or letting them engage in hiking or swimming to exhaust them. Switch on the radio or television to distract them from loud noises.
Be prepared
Make sure to prepare some first-aid kits in case of mishappenings & also ensure your pets wear collars and identification tags with your contact information on it. In case, they run away, somebody who finds them can contact you.  In case you find a lost pet without any contact info, then you can take the help of social media or a local animal shelter. 
Happy festival!!
Liked this post?


Register at One World News to never miss out on videos, celeb interviews, and best reads.