ENTERTAINMENT
Love Triangles in Bollywood: B- Town actresses who fell for the same man
Bollywood celebrities who showed us their
different shades of romance through 'Love Triangles': List of Love Triangles in Bollywood
---
Numerous love stories have evolved in the film industry, while some couples managed to stay happily married, other relationships ended on a bad note.
The fans of Bollywood have witnessed celebrities' love struggles, especially when it comes to on and off-screen love triangles. Here is a list of Loe Triangles in Bollywood. We all know on-screen romance did not have a happy ending, and neither did off-screen one.
These love triangles have led to emotional outbursts, fights, dramas, controversies, and a lot more. They make headlines even today.
Here's a look at some of the popular Bollywood celebrities controversial love triangles that are audience hot favourite:
Ranbir Kapoor – Katrina Kaif – Salman Khan
It is well-known that Salman Khan is the reason behind Katina Kaif's success in Bollywood and initially it was clear that Katrina was dating Salman. However, on the sets of Ajab Prem Ki Gazab Kahani, Ranbir Kapoor's and Katrina Kaif's romance kindled and later there were rumours that the two broke up with their respective partners after a certain period of time and started dating each other officially. And now, nobody knows the current status of Salman and Katrina's relationship. 
 Katrina Kaif – Ranbir Kapoor – Deepika Padukone
There was a time when Ranbir Kapoor and Deepika Padukone were the most talked about couple in the film industry until infidelity struck their blossoming relationship. However, it was a piece of heart-breaking news for the fans, when the news came out that they are not together anymore as Deepika claimed that Ranbir cheated on her. On the contrary, Ranbir claimed that she had done the same and the duo got separated on a bitter note. Deepika is currently married to Ranveer Singh. Sources say that Deepika is on good terms with Ranbir and Katrina but, Ranbir and Katrina haven't resolved anything yet.
Alia Bhatt – Ranbir Kapoor — Katrina Kaif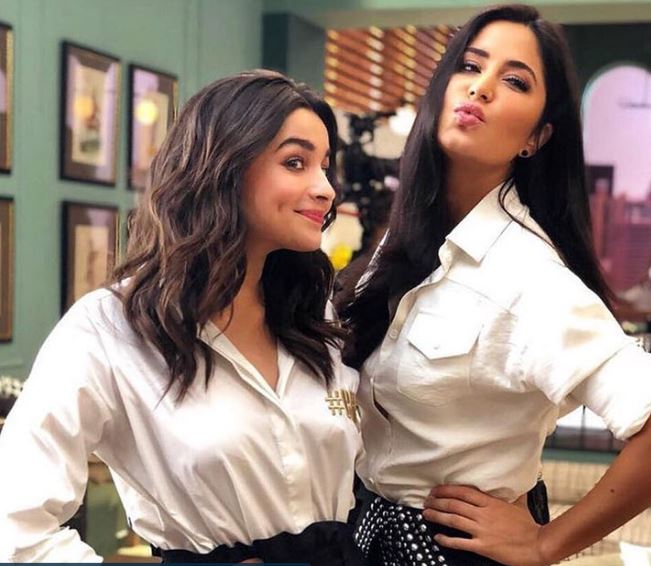 Ranbir started dating Alia Bhat after being in a live-in relationship for a long period with Katrina Kaif. It was hard for Katrina to move on. Katrina and Alia were known to be the best of friends for a long time in the film industry and were even gym buddies too. However, things changed when Alia began dating Ranbir. While the actresses have continued to maintain their friendship, and probably it is only in terms of respect.
Abhishek Bachchan – Karisma Kapoor – Sunjay Kapur
The Bachchan family first wanted Karisma Kapoor for their son and then Abhishek and Karisma got engaged to each other. And probably, their marriage would have been a grand festival in Bollywood, but sourness entered their relationship, and they broke their engagement under mysterious circumstances. Later, Karisma married industrialist Sunjay Kapur with whom she has two children and Abhishek married Aishwarya Rai. However, Sunjay and Karisma are not together now.
Salman Khan – Aishwarya Rai – Vivek Oberoi
The filming of Hum Dil De Chuke Sanam kindled romance between Aishwarya Rai and Salman Khan as things got serious and complicated and the duo is known as the most controversial couple in the film industry to date. However, their relationship ended in a brutal way when Aishwarya Rai accused Salman Khan of physically and mentally abusing her. Later, the news came out that Aishwarya had resorted to Vivek Oberoi's sympathy during the shoot of 'Kyun? Ho Gaya Na' but their relationship also did not work. Salman terrorised Vivek Oberoi too and gave him threat calls for messing with his relationship with Aishwarya Rai.
Zarina Wahab – Aditya Pancholi – Kangana Ranaut
Kangana Ranaut during her struggling days fell in love with Aditya Pancholi while he was already married to Zarina Wahab. Aditya's infidelity and temper have always been a reason for the turbulence in their marriage & even after being a father, Aditya could not stop himself from falling for Kangana however later there was news of physical abuse that broke out ending their relationship once and for all. Aditya Pancholi also dated actress Pooja Bedi and was accused of raping her 15-year-old maid during that time. The actor claimed repeatedly that it was consensual sex but later he was proven guilty. Pooja eventually broke off her relationship with him when the allegations were proved right.
John Abraham – Bipasha Basu – Dino Morea
Bipasha was well-known for keeping her relationship status transparent when she was Dino for a long time. However, Dino and Bipasha broke up and she started dating her 'Jism' co-star John Abraham with whom also she couldn't take her relationship forward and finally married TV star fame Karan Singh Grover. As per sources, Dino & Bipasha are still good friends.
Kangana Ranaut – Hrithik Roshan – Sussanne Khan
Hrithik Roshan married his childhood friend and a long-time girlfriend Sussanne Khan in 2000. Both always seemed to be in too much love and were even happily married, until Kangana alleged that the actor was dating her. Hrithik has acknowledged dating Kangana and their rumoured relationship took an ugly turn when Kangana accused him of cheating and filed a case against him. Multiple news reported that Hrithik and Kangana are still fighting court battles and their relationship still remains one of the most controversial love triangles of Bollywood.
Read more:- 5 Hilarious Videos by Misha Agrawal that will make your Weekend!
Sussanne Khan – Hrithik Roshan – Barbara Mori
On the sets of Kites, there were rumours that Hrithik came very close to the actress Barbara Mori during the shoot. It was becoming the talk of the town and eventually, the couple put the rumours to rest at that time. However, Hrithik's relationship with Sussanne could not sustain and they got separated in 2014 after 17 years of married life. 
Shahid Kapoor – Kareena Kapoor – Saif Ali Khan
Shahid Kapoor and Kareena Kapoor were one of the most loved jodis in Bollywood until the couple parted ways after dating each other for a long time. Kareena was spending more time with Saif Ali Khan and later married him. Saif Ali Khan saw love for the second time in Kareena Kapoor after an ugly divorce from his ex-wife Amrita Singh. However, the trio has built a modern family now which includes their kids a newborn Jeh, Taimur, Ibrahim, and Sara who are very close to each other and share an unbreakable bond. Shahid is married to Meera Rajput.
Raveena Tandon-Akshay Kumar-Shilpa Shetty
It was obviously a long time ago when Raveena and Akshay were quite candid about their relationship. However, it was revealed that Akshay was cheating on her with Shilpa which led to their break-up.
Shilpa Shetty – Akshay Kumar – Twinkle Khanna
According to sources, after breaking up with Raveena Tondon, Akshay Kumar started dating Shilpa Shetty but soon their relationship also fell apart when she found that Akshay was more inclined towards Twinkle Khanna. Later, Akshay married Twinkle Khanna and both are happily married now.
Rekha – Amitabh Bachchan – Jaya Bhaduri
This trio has been a trending topic for decades in the Bollywood industry. Amitabh – Jaya's marriage hit a storm when Big B fall for Rekha when they were a film ad it hit all the tabloids. However, Jaya handled the situation well and Amitabh had to leave Rekha for the sake of his family.
Liked this post?


Register at One World News to never miss out on videos, celeb interviews, and best reads.