Unfiltered
Opinion: Death to Labour Pain Vlogs, where are we heading?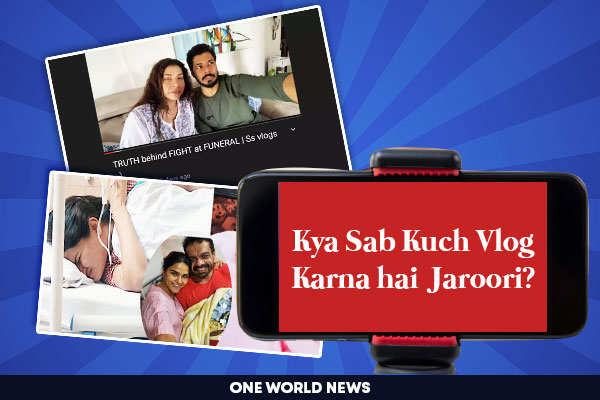 Is it Fair to Vlog every detail of your life? Death to Labour Pain Vlogs , Kya Yahi Dekhna Baki hai?
---
Highlights:
· Is it fair to vlog every small detail of your life?
· From child births to deaths, we vlog everything – Kya Sab Kuch Vlog karna hai Jaroori?
Vlogging saw a strong popularity in the beginning of 2005. A lot of people shoot vlogs these days to make good money. Vlogging means Video + Blog where most of the content is in the video format. To simply put, Vlog posts consist of creating a video of yourself where you talk about a particular topic. Honestly, vlogs have helped both consumers and the creator. If you want knowledge on a specific topic – you might be just a vlog away. On the other hand, if you are a creator, the set of audience members can do wonders to your career. These days there are many vloggers creating some interesting content. But wait! Is it okay to vlog everything? From vlogging Labour Pain Vlogs to deaths, where are we heading?
Read More- Smart Jodi Shared Their Stories on 'Being Found' & it's melting our hearts!
How much vlogging is too much vlogging?
Notably, India right now has the second highest number of Internet users after China which means there is a wide scope to use the opportunity. A lot of us consume content on Youtube. According to a report, YouTube is the only platform in India which reaches 80 percent of the Indian population. People from all walks of like consume content on YouTube. Most Indians consume content in local languages and it has given a boost to many content creators.
Interestingly, many prominent personalities too create vlogs for their fans. Be it talking about their everyday life, speaking on important issues or even addressing some fan questions, celebrities today like to connect with their fans in a more personalized way. Honestly, there is no harm in doing that and we all love to know more about our favourite celebs. But how fair is it to create a vlog on personal moments?
Creating a vlog on pregnancy or death is something that crosses a particular boundary. Yes, it's good to stay connected with your favourite personalities but at what cost? Is it worth watching a pregnancy or a death vlog? Do you remember when Sambhvana Seth was trolled for creating a vlog during Sidharth Shukla's last rites? She was slammed by many for it.
Later, she clarified that she didn't leak any picture but was it fair? It was insensitive, wasn't it? Why do we even have to carry cameras on such occasions? And when we watch such content closely we get impacted a lot more than we think.
Not only this, people these days also create vlogs on pregnancies. Becoming parents is such a beautiful moment. Instead of enjoying the process, a lot of people film it. Well, it's fine to share good news with your virtual family but how justified is it to shoot a video on labour pain? Recently, a video of a celebrity couple too went viral for shooting labour pain video, and it was then used by many to make money.
But Hadd to tab ho gaye, when some YouTubers went to an extent to shoot their Suhagrat Vlog. Obviously, they did not shoot the entire night but putting such clickbait thumbnails, sharing your highly personal moments which is meant to be kept private, all comes under the umbrella of cringe. Maybe you are not shooting the Suhagraat but your idea was to milk views over it, and use your spouse as an eye-candy for many crosses boundaries.
What experts suggest?
A lot of content is flooding on various social media platforms and just because it is a game of numbers, a lot of good content goes unnoticed. People are filming labour pains and even deaths to make money. This also reveals the content consuming behaviour of Indians. A lot of users on Quora said that it is the responsibility of creator and consumer both to promote good content but most of us fail. According to a report, if you see most of the YouTubers in India are either kids/teenagers or young adults. The audiences often confuse cringe with comedy. Apart from it, a lot of us also enjoy voyeurism. We love peeking into each other's life.
You might be a million subscriber YouTuber, But itna bhi share nhi karna hota. Do not let every emotion get soaked into the lens of the camera. What do you think? Let us know your comments.
Liked this post?
Register at One World News to never miss out on videos, celeb interviews, and best reads.